It's been quite a journey and here we are face to face with the publishing button on Steam. And we pressed it making our pixel carnage available to the world!
We hope you'll enjoy running like crazy through the monster infested levels of our game, push your speed-runner abilities to the max and chase that sweet highscore and Steam achievements as you leave a bloody trail of pixel guts and gore.
Gorescript is a classic first person shooter game, inspired by the great old classic FPS games that defined the genre. Fight your way through 18 handcrafted levels of frantic action, fast-paced gameplay, from easy to hardcore levels of difficulty.
Features:
18 hand crafted levels (2.5D)

6 weapons (5 ranged, 1 melee)

5 difficulty levels, Permadeath and Blackout modes

Global leaderboard rankings according to your total performance

Secrets are not optional but necessary to upgrade your armory

Levels can be finished with or without jumps (Jumps available only when you find the Anti-Grav Boots)
Gorescript will cater to the hardcore gamer within and you'll get more than a challenge in the Blackout and Permadeath modes. Obviously the harder you push the higher the score you'll carve in the global leaderboard.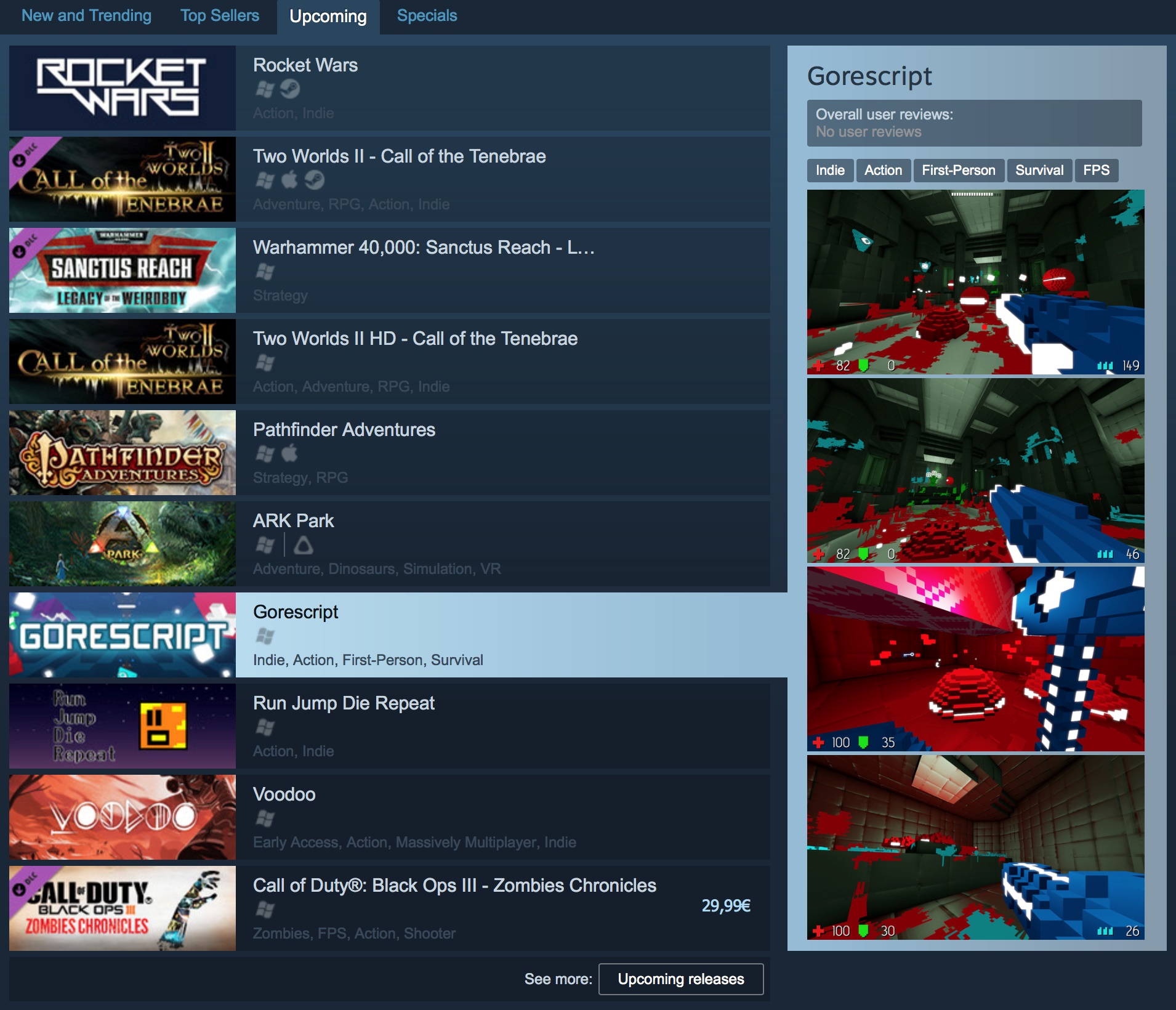 Product details:
Platform: Windows
Players: Single
Price: $9.99 with a 15% launch discount
Steam Store: http://store.steampowered.com/app/618690
Website: http://gorescript.com
About Gorescript: Gorescript is the successor to the 2014's Gorescript Classic. Gorescript classic was an experiment of the developer Sergiu Bucur to build a classic FPS game on Javascript/WebGL. In 2016 Sergiu decided to create a new custom game engine and create Gorescript as a full game, staying faithful to the way the old classics like Doom were made.
Gorescript stays true to the spirit of the old classics that inspired it, as we aim to provide a fun and intense gameplay experience with its occasional jump scares in Blackout Mode to keep you on your toes.
---
LOOK WHO CAME:
Adrian Rusu
Zer0t0nin 9