According to the thing on my desk featuring cats with random crap on their heads, it's Wednesday, which means it's time for the pre-Friday night, Friday Night Fights line-up! With the help of your
comments
and a little bit of
science
we've determined that:
A) People
love
Halo
C) Virtual Boy should make it to FNF at some point
Slater) MySpace may or may not be the social epicenter of the world
Amazing revelations, I know, but what about the games?! If you want Teh Haloz, we got 'em! If you want the WarCawks, we got 'em. If you want the SEE-OH-DEE FOREZ...well, we've said goodbye to them for now but they'll be back soon enough. And for the record, I don't know how we got started on this elaborate numbering system, but we're going to keep it rolling because people like endless sequels.
---
About FNF:
As is the norm, the shenanigans officially begin at
10pm EDT
on Friday and go into the wee hours. If you've got the itch, hop on early, you're likely to find a gaggle of Dtoiders getting in some pre-fight anger management. We encourage this to save our headsets and speakers from exploding during the long evenings. Remember, long evenings are long.
Thanks for continuing to support this, everyone!
Halo 3
: If voting for this to be part of FNF for at least the next year stops, Bungie and Microsoft have failed. Expect to see many people with the Hayabusa Helmet now that it's unspecial.
Rhubarb Six: Vegan
: With the COD4 beta closed up, we need a little something to ease the pain. What better way to do that than having your friends be terrorists and shoot them in the face?
XBLA: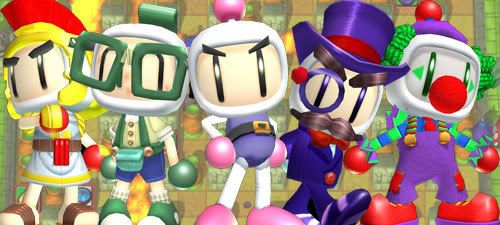 BomberToid Live
: Still one of the greatest multiplayer games ever assembled (PERIOD). Get in there, talk some smack and blow up your buddies IED style.
Now with 100% more Mr. Destructoid.
Download the
BOMBERTOID expansion pack
to play as everyone's favorite Robot. You'll need the first Bomberman Live expansion pack before you can get the Bombertoid pack. Stinks, but hey this is Mr. Destructoid in a game!
WarHawk
: The newly crowned king of PSN. WarHawk has two clans fighting for superiority with jeeps, tanks, turrets, and planes. Hop on and you'll find out why
bhive
+ tank = hating life.
We've created a spin-off to FNF with Wednesday Night Warhawk; we promise there is 100% less Joanie Loves Chachi. Come see us this evening!
Motorstorm
:
bhive
says, "Motorstorm is a blast online and is especially fun when me and
Spider_Pig
go flying off cliffs in RainGod Mesa. I laugh because I care." He's laughing because it gets him good and ready to hop in a Warhawk tank and ruin your evening. Jump on early to get on his good side.
Mario Strikers Charged
: Unfortunately it's still the only true online multiplayer game on Wii; fortunately it doesn't suck. Go kick some balls around and let us know who got stomped afterwards.
Universe at War
: one fish
Team Fortress 2
: two fish
Fortress Forever
: red fish
Halo DS
: It's more real than Duke Nukem Forever
No interest shown for PSP MP this week. Let us know if you're interested.
Thanks for continuing to support this week to week and thanks to the Dtoid editors for spreading the (AIDS free) love.
---
360: Teh Haloz
Bfeld13: Bfeld13
(host)
ConsFEARacy: ConFEARacy
(host)
Grim: warchiefgrim (based on other games, I bet he can kill your face in Halo 3)
Snaileb: Snaileb
dvddesign: Metalocalypse
Hoygeit: Never On
Knives: Knivy
cannedpasta: OhHaiZombie
nademagnet: BL00DW0RTH
backflip10019: backflip10019
DJDuffy: DJ Duffy
PacoDG: PacoDG
SLiFE: SLiFE
Kryptinite: Kryptinite
Butmac: Butmac
FrozenSpaceMonkey: HatePinata
electro lemon: electro lemon
---
360: R6: Vegas
nademagnet: BL00DW0RTH
Butmac: Butmac
---
XBLA: BomberToid
Bfeld13: Bfeld13
(host)
Knives: Knivy
cannedpasta: OhHaiZombie
DJDuffy: DJ Duffy
---
PS3: Motorstorm
bhive01: bhive01
(host)
Spider Pig: Spider_Pig
---
PS3: WarHawk
bhive01: bhive01
(host)
Spider Pig: Spider_Pig
---
PC: TF2
Knives: Knivy (needs a Steam group invite!)
shipero: shipero
---
PC: UaW
Knives
---
Wii: Mario Strikers Charged
Cowzilla: 4283 6222 8765 8660
---
DS: Halo
Hoygeit: ####-####-####-####