Microsoft Presser: "Look, we're
totally
just like Nintendo, but we're
way
better because you can pay us to customize your Mi...er, Avatar!"
Nintendo Presser: "We won. Suck it mother fuckers. Here's WiiMusic. Now, GDIAF. Hamburger Fists, out. Bitch, stop ya' yakkin' and go make me a sammich!"
Sony Presser: "Little Big Planet can be used instead of power point! Please buy a PSP and PS3 together... it's neat."
Capcom Presser: "WE'RE GOING TO HOLLYWOOD! FUCK YOU GAMERS!"
Konami Presser: "We don't need to let these girls play the game first... I mean, they're
real
musicians after all. What could
possibly
go wrong?"
Image related. It's a goldfish... the statements above were written with them in mind.
Overall, I'm excited about
voice chat
for the Wii and I hope it gets implemented into a lot of games other than Animal Crossing: City Folk. Like, a firmware update so it'll be compatible with SSB:B would be nice. I'm also happy that the Wii-mote is finally going to
work the way it always should have
, and I'll be picking up Wii Sports Resort just for the sword fighting.
Microsoft didn't really wow me with anything other than the fact that they've
finally
admitted, though in a round-about way, that they have a big DRE problem with the 360. I'm excited that I can put my
games on my HD
(20gig :\) so I don't have to worry about them not working. I hope this reduces the likelihood of a RROD, since the DVD drive won't be running. Oh yeah, I almost forgot the obligatory "ZOMG! PS GOT PWND BCUZ FFXIII CUMS TO TEH 360!!!1" statement.
Sony's Presser, while entertaining, didn't get me excited about anything either. I mean, DCU online would be interesting if it were Marvel Universe Online. And MAG? Could this game
be
any more generic? Generic name, generic look, generic concept. Tease me with God of War III, don't say shit about a new Twisted Metal, and then highlight this MASSIVE pile of fail? TRY AGAIN!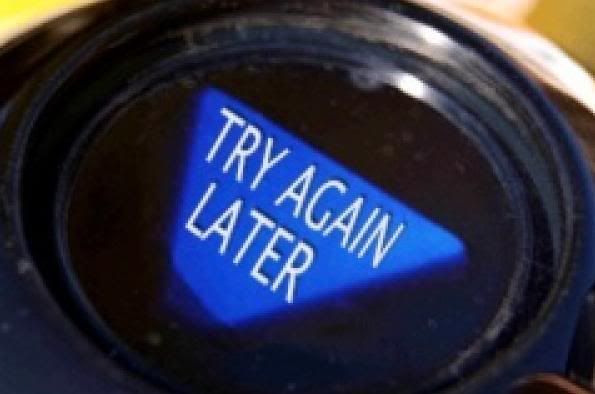 So, this years E3 consisted of lame announcements from the big three, where the only thing of interest was that they were fixing their consoles. And in the case of Sony, since it's not broken, they're not doing much of anything except for working on making massive blu-ray failure. Sorry, I meant massive
action game.
My bad.