I never heard of SNK till I played Capcom vs SNK 2 for the gamecube and then I noticed the character Rock Howard. Now not knowing much of his backstory I still found him quite interesting and his character design was pretty cool. Oh and he's victory pose was quite cool also.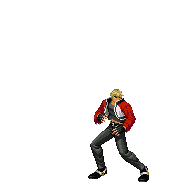 Not knowning his baackstory I went straight to the internet to find out more about his story and what other games he appeared in. Well I had no idea what Fatal Fury was and I had to get my hands on it but sadly I haven't yet. Well now I can with the release of the Fatal Fury Battle Archives and know way more about his story. I found it very interesting and sad at the same time about the little story I did know, thanks to wiki.
The idea of him trying to not turn out like his father, a little cliched and used in some fighters, and make his own path is a little old but for some reason with him I see it different with him. The other cool fact is he is Terry Bogards adopted son, Terry is another one of my favorites and that Rock has a little of Terry's moveset in his is pretty freaking awesome.
Even better now is that SNK put Rock in King of Fighters Maximum Impact series. So now I can actually know his story even more, it's similar to that of Fatal Fury and he is still trying to escape for his fathers influence on him. His desperations moves are just awesome to look at, especially the Neo Raging Storm. I can't pull of that damn Neo Deadly Rave just yet but it's getting there. I just wish SNK would put him in the 2-D King Of Fighters already and add him to that storyline.
Rock will always stay as my number favorite male fighter from Fatal Fury/King of Fighters and no one will ever make me change my mind on that.