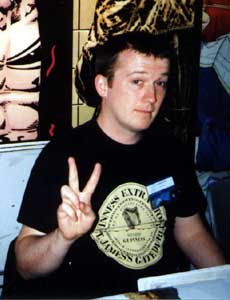 I picked up "The Authority: The Amazing Kev" and read a bit of it, instead of my game manuals, while I was on the can today. It was too funny. I laughed out loud, something most writers fail to do.
He trumps Kevin Smith. Yes, I said it, Garth Ennis is better than Smith.
he writes for the MAX label "Punisher", and I suggest giving it a read, although it's much darker than most of his other works. "Preacher" is fucking hilarious, and the Marvel Knights "Punisher" series was quite funny.
Although he writes comic books, his characters are always ordinary joes, and his serials don't even feature superheroes/villains. Well, most of them at least.
His Series "The Boys" Depicts a world where most superheroes, or supes, are sponsored by corporations, like athletes and get paid to save the world. The main character, Wee Hughie witnesses the death of his girlfriend, where she is crushed to death by a supervillain flung at her by the hero A-Train. He meets a man who tells him he's hired by the government to keep supes in line by kicking the shit out of them, or in extreme cases, killing them, he tells Hughie that he can have revenge on A-Train. He offers Hughie the job, and Hughie takes it.
(Hughie holding his late girlfriend's arms, in shock)
If anyone even just a SLIGHT interest in comics, I suggest you go out and get some trade paperbacks of some of his work. I suggest:
-Preacher
-Punisher MAX
-The Boys
-Wormwood
-A Man Called Kev
There's a lot more, but those were the ones I could think of off the top of my head.
Oh yeah, Halo 3 on XBox Live is fun.