LONG BLOG
So i've been on a crazy zombie kick since last night. Last night I watched my new DVD copy of Diary of the DEAD and thoroughly enjoyed. Lots of zombie slaying and zombie death and just overall great zombie fun. Really enjoyed. Suggest it to you all. Made me want to play Dead Rising all over again. Anyway, I was looking up stuff for the movie The Reanimator on youtube and what do I find?



Oh my god...the greatest thing ever. This song has been stuck in my dead for days.

Check it out, if you are a reanimator fan you wont be let down.


also, if you like reanimator, we did a reanimator fan film that I will now be pimping here...



Part two and three are linked on the youtube page.
---
About mudkip5000
one of us since 7:43 PM on 02.11.2008
My name is Ben. I like video games and movies.
I try to make movies, too. You should watch some of them.
The links for the youtubes are here.
Airport Road productions
Church of the Holy Weirdo
My Deviant Art Page
My podcast "Weird Dispatches"
My podcast "Airport Road: The Podcast"
I have a cat named Anguirus.
He loves Spider-man.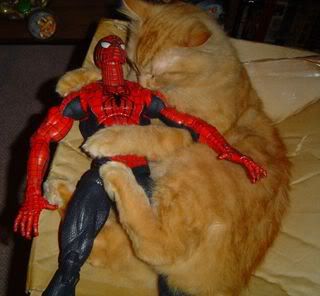 I also enjoy comic books. probably more than i should.
My Favorite Games in no particular order.
Halo 1-3
Resident Evil 5
Resident Evil 4
Resident Evil 3
Resident Evil 2
Legend of Zelda: Link to the Past
Final Fantasy VII
Earth Defense Force 2017
Super Mario World 2: Yoshi's Island
Left 4 Dead
Peggle