That stands for Not Video Game-Related But Containing Video Game-Related Stuff Anyway. Since my girlfriend just asked as I typed that out.
So, I've gotten moved into Gainesville (with aforementioned girlfriend) and decided I'd put up some pictures of the current gaming setup since I couldn't do it before, due to having a shitty room in a shitty house with a shitty setup and shitty lighting that prevented me from taking pictures of any quality other than shitty.
That'd be the pads and the computer next to an intense amount of wires. I can't wait for the unintentional-but-definitely-deserved fire that happens here.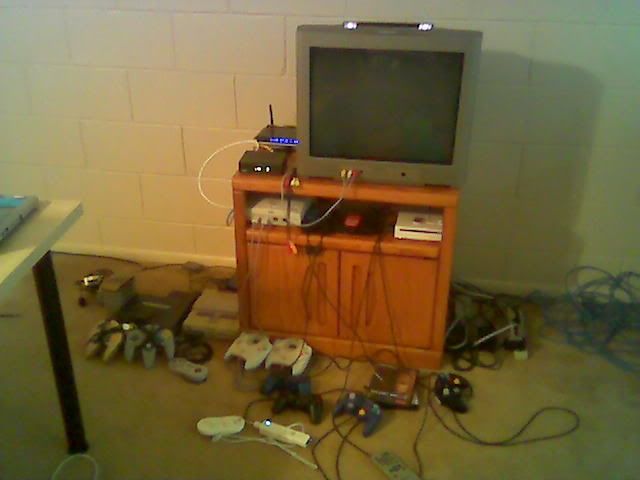 There's the mass of evil that pervades the sanctity of our home. The SNES works, but the only game I have is FF4 and it likes to randomly erase my save data. Eff you, FF4. The N64 needs a cable for video/audio action. The Dreamcast works fine though! Woot!
Just for Mr. Zimmerman, there's an assortment of board games there including Betrayal At The House On The Hill, some Munchkin games, Greed Quest, and even Heroscape (in the trash bag and postal service box). There's also a nice load of D&D and other gaming books for everyone to see so you can point and laugh at the geekery I possess. Mr. Zimmerman, I promise to buy Arkham Horror as soon as the bastids at the local gameshop have it available and not just the bedamned expansion.
Anyway, that's about it. Going to post a prelude tonight for an ongoing set of blog articles I intend to do in a little while. Thanks to everyone who wished me well in the move to here. To everyone else, you're bastids but I love you anyway.