Those of you cool enough to visit the forums will have noticed that recently I made a couple of Destructoid cards. Now most of you old-school Dtoiders likely already have a card, but since I had so much fun doing these things -and because I'm unemployed for another month- I've decided to offer my services to any interested community members.
How it works:
1) Either goto
this thread
and make a request, or drop a comment saying that you want one in this c-blog.
2) Our expert card artisans will rigorously research your past to create a customized card that fits your personality using our patented Search FunctionTM and PhotoshopTM technology to ensure accuracy.
3) Your hand crafted card will then be posted on the Destructoid card thread in the forum and sent to you via PM.
4) !!!!
5) Go bankrupt.
Here are some samples of the kind of high quality work that can only be achieved by using small children working for pennies a day in a dangerous factory in China.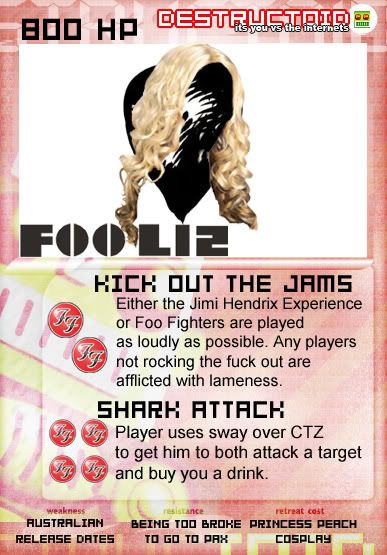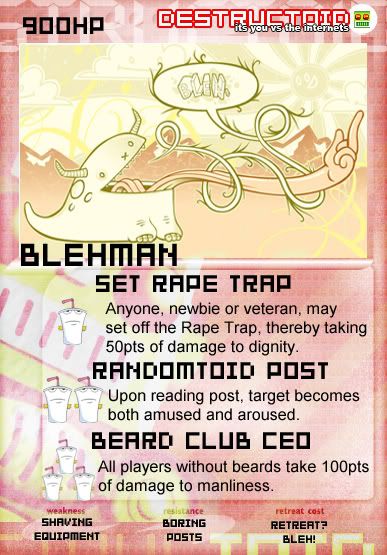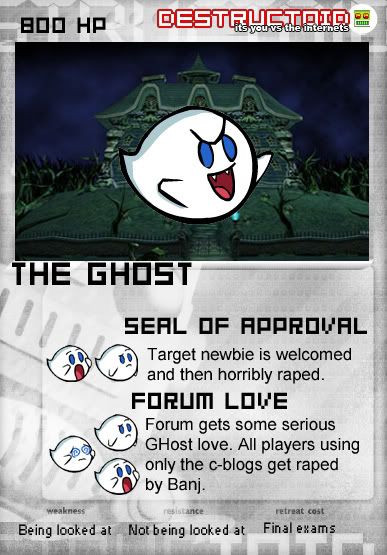 Note: I'm certainly not of the mind that I'm the ONLY one out there capable of doing this. If you post a request, I'll do it unless someone else calls dibs, in which case I'll defer to his/her likely superior shooping skills. Also feel free to say if there's anything you would like to appear on the card, giving source images you want used would also be much appreciated.
Random quote... EXECUTE!
"The conventional wisdom in that industry is that kids would rather play video games than collect baseball cards."
~Jim Barrett