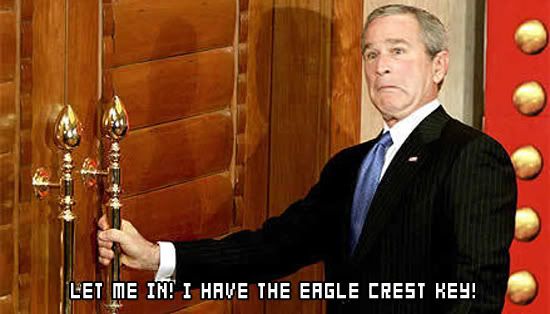 Yes, you read correctly,
doors
, or more accurately,
locked doors
.
Locked doors have been the bane of gamers for decades, constantly slowing down progress and tempting us with the unimaginable riches that lie mere inches away on the opposite side. The process of opening these doors usually involves some kind of puzzle in order to find the key, sounds fairly simple, right?
That's the problem right there, it's
far too simple
, it requires almost no thought at all on the developers side of things. Most of these puzzles feel like an excuse to pad out the gameplay for another 15 minutes (12 of those minutes is usually spent running around the area screaming "
WHERE IS THAT BLOODY KEY!?!
").
More often than not, finding these keys (or key fragments, or eagle crest parts) require the player to backtrack the current location, search every nook and cranny and make sure every monster is slain, just to progress onto the next puzzle. That's ok, I guess, but in most of these games the hero or heroes are usually some of the most powerful and skilled people in the world, yet a simple door can hold them back? I don't care how magically enchanted that door is, the one true hero of the land, armed with the magical sword should be able to rip it from it's bloody hinges.
Aside from a gameplay point of view, logically it makes no sense, granted the enemy would lock doors in order to halt the players progress, but why do they always leave the means to open the door on the players side of the door? And those ancient tomb doors will open as smoothly
now
as they did long before their creators died and stopped keeping them in working condition, but only once you move those six statues in the correct order.
Now the final transgression, and the thing that inspired this blog, the "Ambush gates". The "Ambush gates" occur whenever a daring hero wanders into a dungeon and spots a door locked with a metal gate, suddenly another huge gate drop down behind him, cutting off his only means of escape. Enemies leap out of the darkness and ruthlessly attack him. Of course the hero comes out victorious, but as that final enemy exhales his last evil breath, magically
both gates open
allowing our hero to continue onward and eventually save the world.
Who's controlling these doors? I understand the idea of an ambush, but why dear God
why
would you open the doors after the hero killed your minions?
I think video games have evolved beyond a locked door being enough for a puzzle, with realistic physics becoming more common, I can't see a good reason for these kind of puzzles.
Just look at games like "Portal",
that's
how you do a puzzle game.