This one actually got me the number one spot on GameFly :P



Be ready to think...

... And become good friends with the "Game Over" screen because you two are going to be seeing a lot of each other. The enemies are given steel weapons right from the start and will not hesitate to take advantage of any weak spot you may have revealed, starting as early as Chapter 2.

To say that Easy is as it is described is an understatement. The number of enemies are practically cut in half and are all given the crappiest weapons; while you move twice as far, hit twice as hard and earn around three times the experience. Ranged characters can even attack through obstacles.

Tutorials and help windows frequently pop up in case you have never played a turn based strategy game before, which is kind of nice but if your playing this then chances are, you know what youíre doing. Victory conditions change as well from "Escape in 10 turns" to simply "Defeat the boss". With this huge curve there really is no need to put much thought into your actions; just donít die.

The controls are pretty solid no matter which way you go so choose which ever one feels the most comfortable for you, I prefer to use my Classic Controller. If youíre a Fire Emblem fan or enjoy turn based strategy games you should definitely check this one out.
---
About CrocBox
one of us since 4:30 PM on 04.03.2008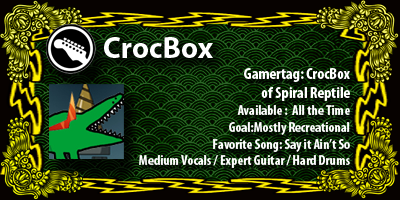 Thanks to
Cutie Honey
Currently Playing:
Mass Effect (360)
BioShock (PC)
Torchlight (PC)
Crisis Core: Final Fantasy VII (PSP)
Dissidia Final Fantasy (PSP)
Rock Band Unplugged (PSP)
Star Trek Online (PC)
Sam & Max Season One (PC)
Killing Floor (PC)
Assassin's Creed (360)
Chrono Trigger (DS)