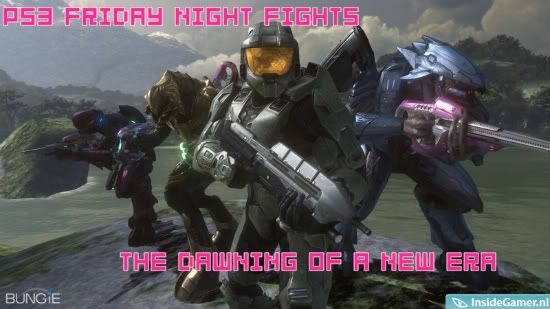 First of all I must send my regards to Y0j1mb0. He's the one who put the FNF on the map. Godspeed Jimbo, good luck from all of us.
Man, it's Tuesday and I'm already jazzed up to get online, get some like minded killers and destroy the competition. Who is with me? Who will stand next to
Mr.Sadistic, Shipero, Samit, Liam, Snaileb
and the rest of my Devil Dogs, My PS3 Mafia to get the show on the road today?? Let's rock this joint out and leave it all on the battlefield.
Before I show the times & Games let me pass a message from Y0j1mbo:
'Just thought I would drop a line or two to tell you, you wont be seeing me on my CBlogs as much as your used to. This may well be a blessing in disguise to alot of you considering my rants, and general outspoken views about anything that tickles my fancy, being thrust upon you fine people.'
'Unfortunately ( Depending as one sees it ) I have taken the added responsibilities of a new job. Don't fret as from time to time I might frequent my CBlogs to check on my PS3 peeps and as well as the rest of you rascally rabbits I call my friends. That would be alot. My MC Duties on PS3 Friday Night Fights have been officially taken over by Takeshi. Any PS3 FNF questions please PM him. I think the times will remain the same..not sure.'
'One could say you may be seeing me but in a different light. Anyway I'm off. Already busy with no time to spare. Gotta lotta beers to replenish for some crazy bearded guy and cleaning up a smelly ass fish tank.'
Also, Warhawk is moving to a later time..10:30 pm GMT+1.
Oh, and one more thing. After the FNF festivities
Shipero, Liam, Sadistic, Snaileb and I
will be doing an unofficial Video Cast on on our PS3s. Got the new PS EYE?? Well I have ONE slots open, PM me if your interested in seeing how rugged and Epic my PRETTY FACE is on video. We will of course talk of all things and show you games in our collection that will make you envious, jealous and wish you were us. We might even gossip about other members of Dtoid..*gasp*
Here's the 411 for tonight:
The Games & Times:
The Unreal Tournament Festivities will be starting at 8pm GMT+1 and will be hosted by none other than our own residential psychopath: Mr SadiesticG.
Call Of Duty 4 will begin at 9:30pm GMT+1 and will be hosted by yours truly Dtoid's own Takeshi. Tonight we fight as a team. I need some soldiers to represent Destructoid. Let's take the pain to them and rank up together.
After we finish with COD4 Warhawk will be on the menu @ about 10:30pm GMT+1 ..Password TOID..as usual. Hosted by Shipero. I'm hoping we have an open server for a clan match..I leave that to Shipero..as well as attendance.
The new era:
Shipero doesn't partake in COD4 because of these delusions of owning
HALO 3
. Samit will be there as well. Maxvest..they're looking for you to join tonight as well. Maybe you can join him and show him how it's done. Or maybe some
CRACKDOWN
? He thinks he's Superman too. Damn Shipero you need help buddy.
For those who don't own a 360 or the others don't fret as the UT3 game hosted by Sadistic will be going on until at least 10pm GMT+1 or until you get demoralized by Sadistic and quit.
Bring it gents. Hope to see the lot of you there so I can bust a cap in your face. Leave that PSN Tag below and let me know something.
Once again Y0j1mb0 Good luck man. You will be missed.