I volunteer with a group called Students For Literacy, and what we do is tutor kids from kindergarten to high school that are struggling to keep up with the rest of their class when it comes to reading. The kid that I've been tutoring is like 5 years old, and normally he gets a little fidgety, but today he was bouncing off the goddamn walls. I Just couldn't get him to calm down. Then I got an idea.
Normally I read with him in this little pirate ship that they have at the library and today the big problem was that he kept jumping out of it and running around it. So after he jumped out for like the 90th time, I asked him a question:
"Have you ever heard of CTZ the shark?"
"No"
"Well he eats trolls you see. Do you know what a troll is?"
"Uhhhhhhh?" *confused look*
"It's anyone that steps off of the boat. CTZ likes to keep the waters clear of trolls so he patrols looking for them, and once he finds one, it's all over."
"Oh!" *Jumps back into the boat*
He didn't leave the boat the rest of the time I spent reading with him, and when I went to step out at the end he yelled...
"NOOOOO! See tee zee is gunna eat chuuuuuuu!"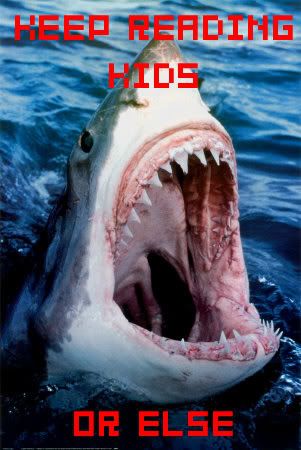 And for the record, I did not traumatize the kid. He totally knew it was a game and even told me he was going to draw a picture of CTZ the shark when he got home. If I get my hands on it, I'll post it up here :D
Random quote... EXECUTE!
"Contrary to what most people say, the most dangerous animal in the world is not the lion or the tiger or even the elephant. It's a shark riding on an elephant's back, just trampling and eating everything they see."
~Jack Handy