So I figured that since this competition is pretty much taking over the c-blogs, and all of the cool kids are posting their gaming set ups, I might as well get in on the action. So without further ado, here's a heavily modified version of a
forum post
that I did a while back.
WARNING: This post includes my entire set up. If that sounds like a waste of your time then please feel free to take off.
Not my Turning Point gaming rig.
The Computer Area
As you can see, I've got my 360 hooked up to my PC for super duper ease of swapping between the two. I could be playing Company of Heroes one second and then BAM! I'm playing DMC4. Helps keep my life unpredictable... AND DANGERESQUE!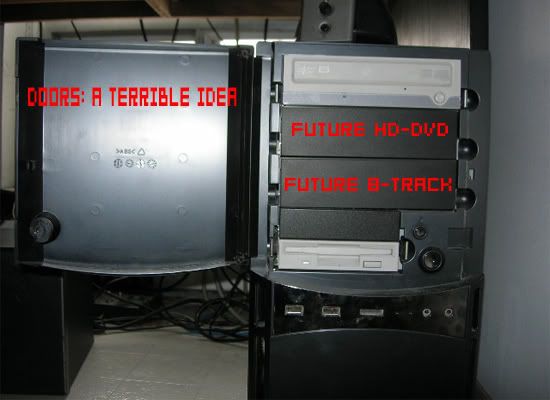 Quick close up of the front of my bad-ass machine. Built it myself last summer for around $1000 total.
Specs:
M2N-MX mobo
AMD 64 X2 5000+
2Gb Kingston RAM
NVIDIA GeForce 8600 GTS OC
SB Audigy LS
200Gb SATA 7200rpm Western HDD
Antec Sonata III case
More important than the 360 are Norman the doorman (penguin) and Sir Miles Barksworth (I'll let you figure that one out). I stole Norman from an Earl's restaurant years ago and Sir Barksworth was a present given to me by a friend. Bit of a story behind him actually.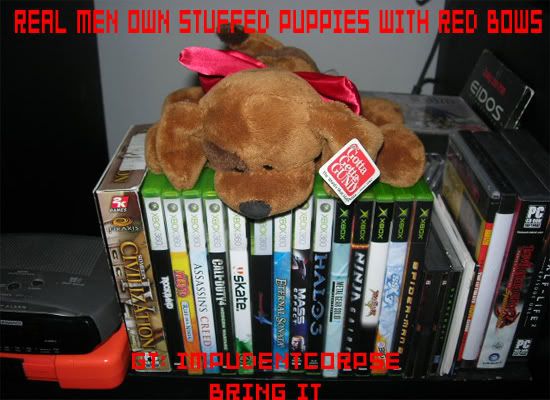 My 360 games, a handful of computer games and a couple of my XBox games. Miles usually sits on top.
I've got quite a few more computer games, but most are in storage right now.
When it isn't keeping my head warm, my slime hat chills on top of Norm. (My slime hat review can be found
here
)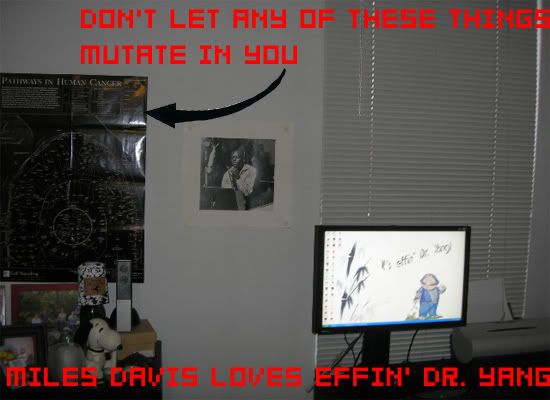 Most geeks have gaming/anime/comic posters. I have Miles Davis and the most common pathways that are mutated in human cancer.
Oncology is fun.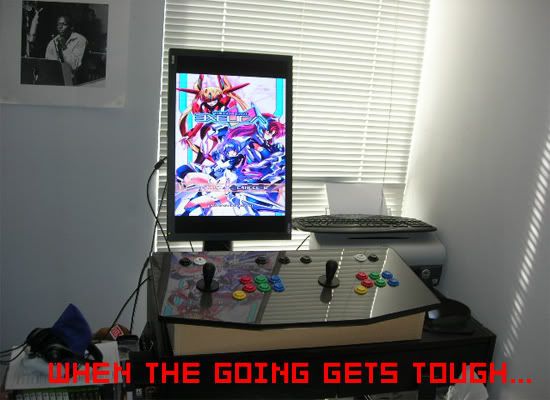 When it's time to get serious I don't hold back. The arcade stick there is a 100% home made job except for the buttons and the electronics. Wrote a c-blog about it
here.
The Living Room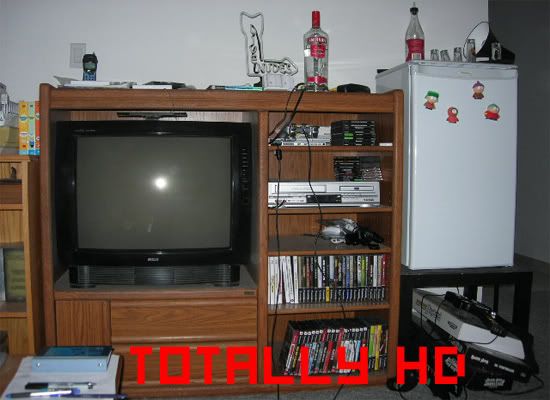 What's there: the PS2.
MIA: The Wii (roommate took it for the weekend), my NES, XBox, Gamecube, N64, Playstation and a whole bunch of games. Everything but the Wii is at my vacation home. And by vacation home I actually mean parents place. Long story behind why.
Note: That's one of TWO mini fridges :D. My room mate and I have also agreed that the area above the TV must have no less than 26 ounces of hard liquor stocked at any given time.
Shot of behind the couch. On the left is a painting I did real quickly one evening while my roommate and I were playing through both the Megaman Anniversary and X collections (we didn't make it past X4, got too drunk/tired). Banged it out between lives while we were playing through X. Yes I know that it isn't written properly etc. I wasn't too worried about that at the time ;)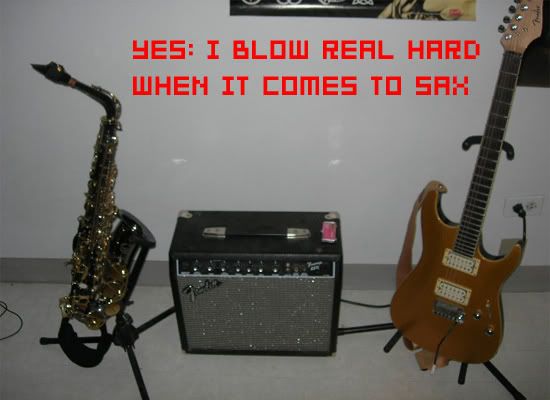 NVGR! Just a shot of my instruments, minus my acoustic guitar. Pink bubblegum flavored reeds FTMFW.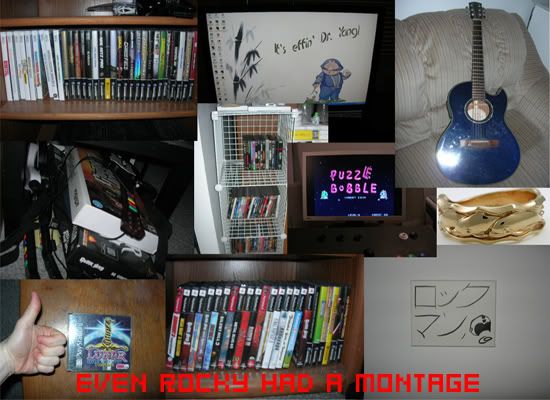 Montage of random shots I took while doing this. Picture includes: my desktop wallpaper, my other guitar, Chad/Rio's wedding ring, my game/movie collection (LOTS of games missing), our stack of guitar hero controllers (minus the GH3 Les Paul and my Rock Band stuff), the arcade stick taking on Bub and Bob, a close up of my shoddy painting and a show of approval for Lunar.
Another long post. But at least there were pictures right?
Random quote... EXECUTE!
"Modern technology
Owes ecology
An apology."
~Alan M. Eddison