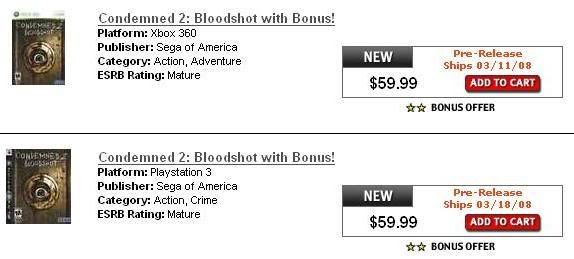 A couple of days ago, my inner fanboy expressed the early signs of "
Hulk Rage
" with the one week delay of
Condemned 2
for PS3. It was an emotional day with lots of ripped pants and Lou Ferrigno -- rough business. Being the avid fan of detective skills like my buddies Manny Calavera and Phoenix Wright, I decided to get some hard facts -- and a magnum of Dr. Pepper to keep me loaded. Thanks to a thread on NeoGaf, I was able to find an article from
PSXextreme
that shed some light on the injustice:
Unfortunately, while the Xbox 360 version will go out, Sega has been forced to push back the PS3 version for one week. Evidently, they're facing "duplication issues" and won't be able to hit the scheduled ship date, so all you PS3 owners don't need to get down to the store until next week.
Sad details, indeed. Do we blame the blu-rayz or does the rabbit hole go even deeper, right into a Microsoft conspiracy? Either way the PS3 version is still a week away and no matter what you think,
I'm not crying
. Ok, maybe just a little.
[I stole the "chokehold" comment from
AngelsDontBurn
]