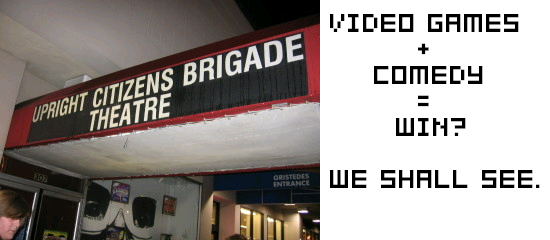 If you're into live sketch comedy, then here's some news for you. The Upright Citizens Brigade Theatre in Los Angeles is holding a video game themed month. This includes:
Freak Dance: the Forbidden Dirty Boogaloo
- Every Friday this month, 8:00 PM
Rock Band: the Video Game: the Show
- Friday, March 14th, 10:00 PM
The State LIVE!
- Saturday, March 15th, 10:00 PM
Halo 3: the Show
- Thursday, March 20th, 9:30 PM
Doug Benson Loves Interrupting Video Game Movies
- Thursday, March 27th, 9:30 PM
The address for the theatre is:
5919 Franklin Avenue
Hollywood, CA 90028
It's a bit puzzling why some of these were included in the press release for Video Game Month, as Freak Dance appears to have nothing to do with video games, and the information on The State is so sparse that it's unclear whether it will relate to video games. Also a bit odd sounding is the Rock Band show; according to its description, it's just going to be some people who happen to be comedians playing Rock Band together.
If he/she may editorialize for a bit, the individual who programmed my Los Angeles robot self used to
adore
The State when it was on MTV, and he/she would
love
to make it to that show, were it not for two complications: it's happening on the same night as
the party at Chad's place
, and tickets are already sold out.
Otherwise, the Rock Band show could be fun for us Los Angeles people, as they're allowing two audience-based teams compete, and the Interrupting Video Game Movies one sounds promising, as it reminds this robot author of the brilliant
Mystery Science Theater 3000
, but with video games. Is there any interest among the rest of you for any of these?