So very happy to see SMT enjoying a noticeably more attentive success with SMTV. Twitter even deemed it relevant enough to give its hashtags their own emoji! Now lets ride that hype wave by remastering Digital Devil Saga, Raidou and Persona 3. Shaka brah!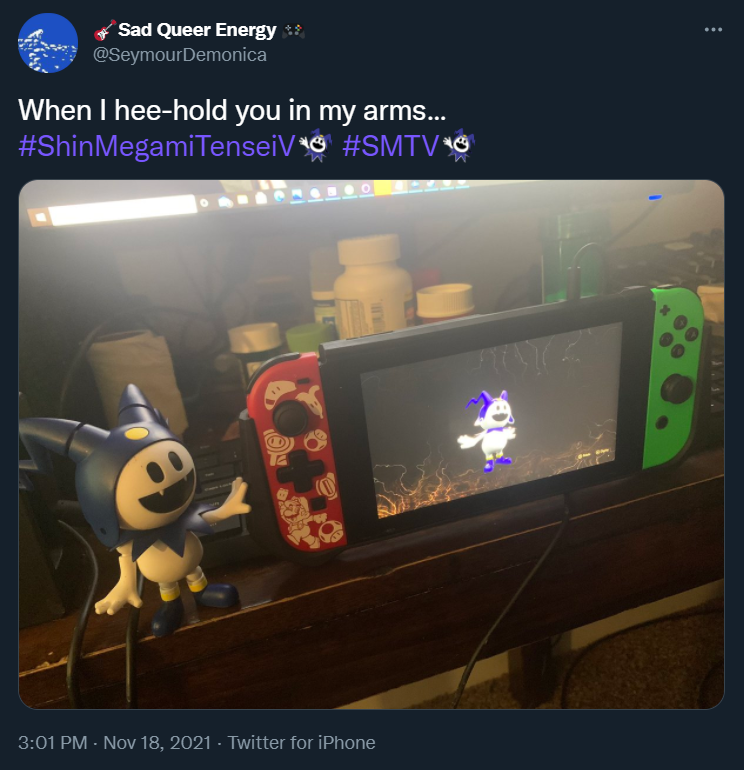 ---
About Seymour
one of us since 7:20 PM on 08.28.2011
Your resident sad queer and Shin Megami Tensei lover. Just don't ask me to place a name to most of the demons.
I also love musical sounds and even make them!
Check it out
!
Favorite Games:
Credit to Dango for this awesome side banner!
Honorable Mentions~!
The Legend of Zelda: Twilight Princess
Enter the Gungeon
GTAIV: Episodes from Liberty City
Super Crate Box
Dig-Dug
Overwatch
Half-Life 2
Day's Gone
Shin Megami Tensei III: Nocturne HD
Ratchet & Clank: A Crack In Time
Dead Rising
Dead Rising 2: Off the Record
LIMBO
Uncharted 2: Among Thieves
The Long Dark
Deadly Premonition
Team Fortress 2
The Darkness
Death Road to Canada
DKC2: Diddy's Kong Quest
Halo: Combat Evolved
Left 4 Dead 2
Hades
Elite Beat Agents
The Last Of Us: Remastered
Silent Hill: Shattered Memories