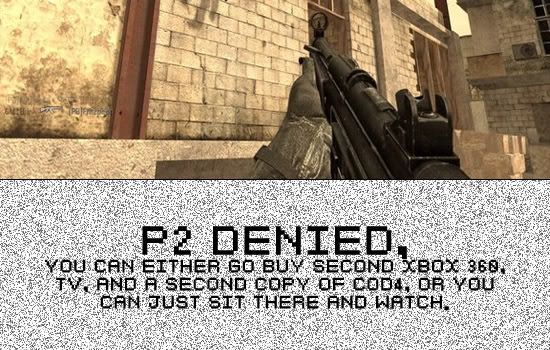 The other day my brother finally picked up a copy of COD4 for the 360, so we both sat down at his Xbox, logged into our Live accounts and expected to be online and pwning n00bs for the rest of the night. That's what should've happend, but it didn't. Instead, I was forced to sit there and watch my bro have all the fun because
COD4 doesn't allow splitscreen multiplayer on Xbox Live.
I'm finding that more and more games are fazing out the splitscreen multiplayer option (Team Fortress 2, you bastard!) and it's a trend that I want to see stopped. It may seem like a small thing to bitch about, but it's really not convienient to have to go and buy a second Xbox 360 just so I can play online at the same time as my brother (and I'm sure there's plenty of people out there in the exact same position I'm in).
There's probably a long list of technical reasons as to why the developers chose not to include splitscreen on Live, but when games like Halo 3 & Gears of War can manage to do it without any problems, its frustrating to see some of the best multiplayer games on Live leave the option out.
If you're pissed about the same thing with Call of Duty 4, try signing
this petition
, and if it's possible for Infinity Ward update this kind of thing with a patch, maybe we'll see splitscreen in COD4 sometime soon.