<(Guardian Tales Supports)> There are 2 types of supports Healers and Buff/Debuffers. Healers are very touchy when they get their EX they become insane I'm not sure who the best healer is anymore. Loraine is very underrated with hers she can literally double your HP I don't like how they have limited charges on their heal ability just increase the cool down if needed and let them keep doing what they do or their entire role is just gone. Someone like Loraine has to manage this a lot since she cannot heal without her ability at all. I'm going to allow all healing to go above max HP as health shields as preventative maintenance I like to call it look at Beth with her EX its insane.
Support Perk: If you heal past max HP they become health shields should be maintained through rooms and count as healing done because of this the AI should heal whenever possible to try and stack health shields. Remove limited heal charges but probably have to increase some cool downs accordingly. Other roles can only do so if it's in their EX like Beth's (Predator). Supports usually arent going to do much damage so they need to be able to atleast debuff with their normal attacks or benefits from healing to help the team damage is very low unless you're Gabriel.
Support AI: Depending if you're a Healer and Buffer or Debuffer should retreat to your tank if you have one or aid low health allies. If there is an enemy at low health they could finish them off or go after high threat enemies like Succubus or Doom Towers I don't know their exact names but the colored ones especially the purple one I hate that one can't count how many times that things killed my team.
(Aisha)-(Untrustworthy Leader) I do not like her approach to basically everything I'm sure her and Craig wouldn't get along they are polar opposites to me but they both are nothing without teammates she's more of a coach than leader honestly on her own she can't do much. She has her moments but comes off as very rude/cold to me but she is young and why all black people in anime gotta have white hair?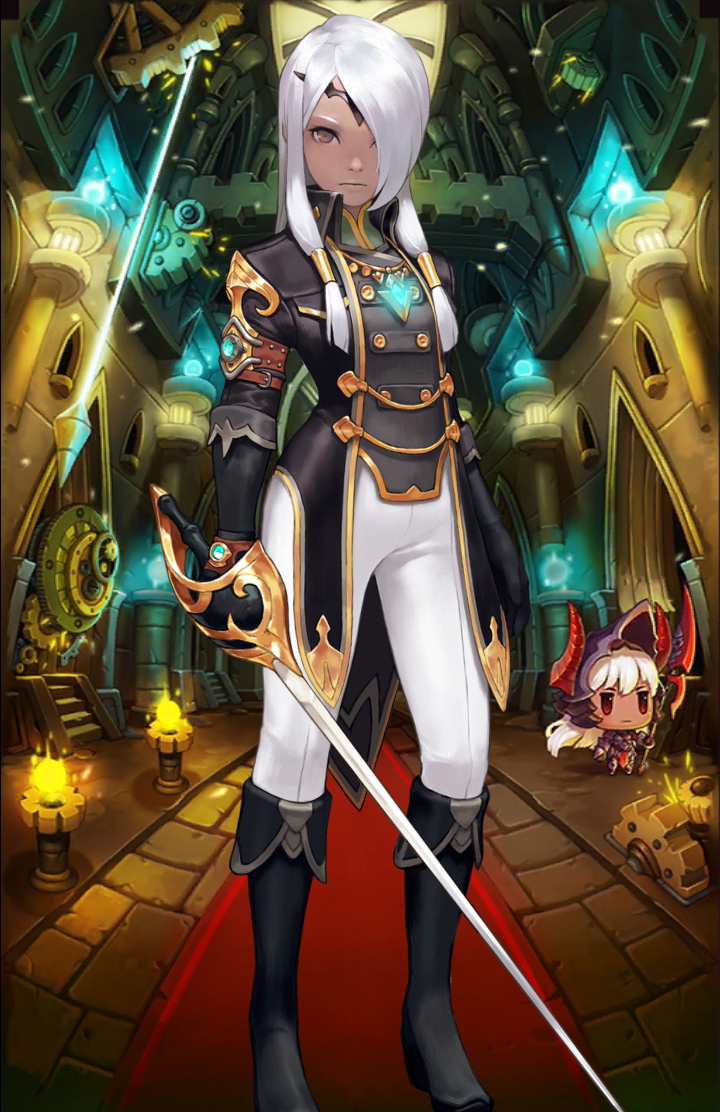 I use her all the time like Craig is on my rare hero Coliseum team she's the 4th she's maxed but I'm not sold on keeping her there she's done enough to deserve being max limit broken though her impact isn't felt much anymore mostly because there's just a bunch of future princess teams. Like Craig her success is only as good as her team she can buff the hell out of their offense but if they die she's always the last one standing. She's a very solid support tank since she can equip a shield but her supporting skills need improvements and she dies too easily for having a shield kinda like Lapice I'm not sure why ones with shields not a Tank seem to die so easily something with the AI gets them destroyed her buff is HP too... I love her 5 star evolution her costumes however I don't care for.
Normal Attack: When using Morale Boosting gives everyone a 5% health shield.
Chain Skill: I am not a fan of chains that do 0 damage it's very strong but could be better Idol Eva's does damage why not hers? Veronica basically does her job better as long as they critical hit. Should do 150% or so DPS Damage and to add potency to her buff increase all allies attack speed by 30% for 5 seconds. If she can get this off and you have the damage still alive you should tear everything apart.
Special: Should give herself 2% shields instead of 1% maybe she won't die so easily now 1% is barely anything at all unless you increase the chances of it activating but still I rather 2% than more RNG.
Max Limit Broken Special. For Honor: The less teammates you have alive or on the map Attack increases by 15% stacks up to 3 times and she always critical hits at max stacks the reverse Craig basically maybe can be a factor in Arena now.
EX Weapon (Veritas): Morale Boosting increases teammates Defense by 15% and lowers enemies Attack by 15%. The enemy she activates the 2x critical hit gets marked/punctured and can only be critical hit for the duration and takes 50% more critical damage. I like to call something like this First Blood.
(Aoba)-(Not allowed to sleep) I love this character and she got even better with her EX she's not going to do much damage but if lucky enough can out heal everybody but maybe Favi and Miya. I bring Aoba with me everywhere definitely my favorite healer so she never gets any sleep. I love her evolutions you can actually see the growth before she fully blossoms at 5 star. I don't know much about fairies but she is 99 and counting she's kept us alive so often now with her EX she's just insane. She deserves the break but I'm sorry can't allow that. She needs some ability buffs that's all.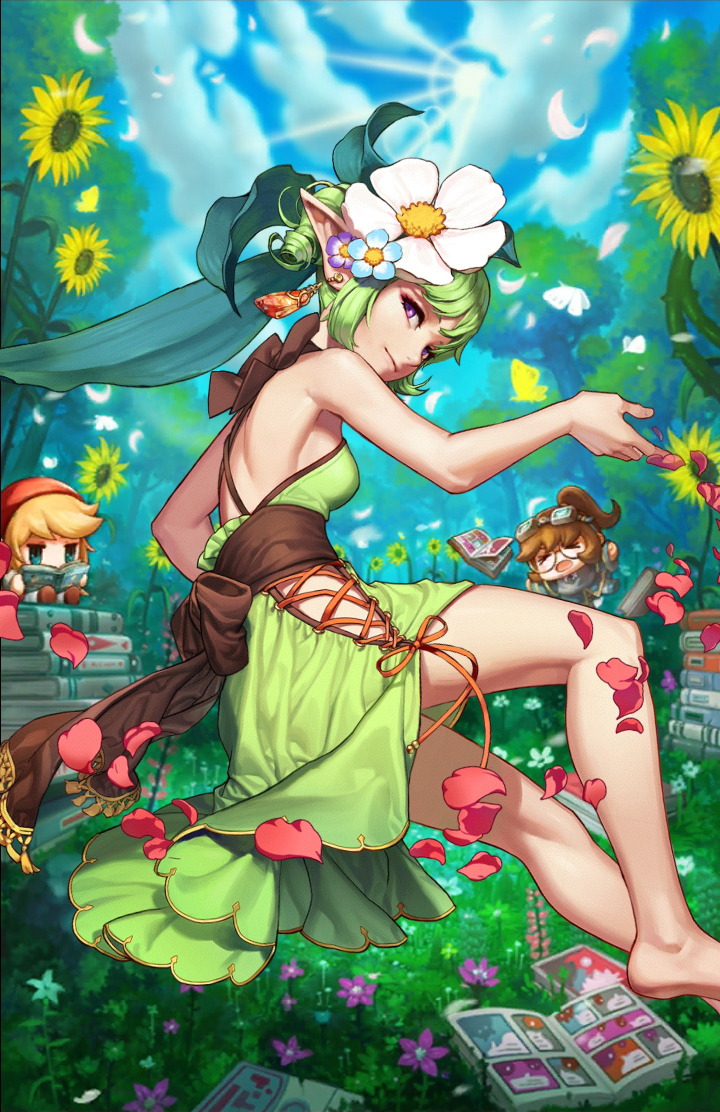 Normal Attack: Flower Bud Arrow also gives that teammate 20% Defense for 3 seconds.
Chain Skill: Increases defense by 50% to all allies for 8 seconds. It literally only heals doesn't do anything else so the defense should help out she's a healer doesn't need to do damage.
Special: Heals 1% of heal per arrow on all elementals I hate situational type specials she honestly doesn't even have one since the only water opponents she may fight that doesn't delete her is Marina and Coco I guess the new hero Veronica as well.
Max Limit Broken Special. Regrowth: Heals 1% her max HP every second.
(Loraine)-(Suspicious Smile) Will greet you with a smile as she serves you food that may or not of been poisoned you don't know if she's going to help you or try and kill you as long as everything goes according to plan she means no harm she's got your back usually. I don't think I've ever truly seen her open her eyes before other than world 6 she just smiles at you and gets the job done I personally don't think she has bad intentions unless she's like Nari doesn't look the part but very deadly but still if she offered me something to eat I'd eat it. She's sorta like Gremory in terms of liking pain and she be doing strange stuff on the side best not mentioned. I like her a lot she gets those clutch heals out just in time her EX made her a monster you can basically have 2 HP bars. I would like her defensive stats to be buffed though she's a combat medic she has to push up to heal everybody I'm excluding EX for this and get in harms way yet Aoba has better stats. Is it because she has shield increase as a party buff? That's very harsh punishment for being a party buff but it is exclusive to her so far HP is still stronger since shields are magnified off your max HP. Pairing her with Craig in Kamazone or orbital lift is an actual cheat code. I would say if she has the defense she's the best group healer in the game my Loraine is now max limit broken she's really good in Coop.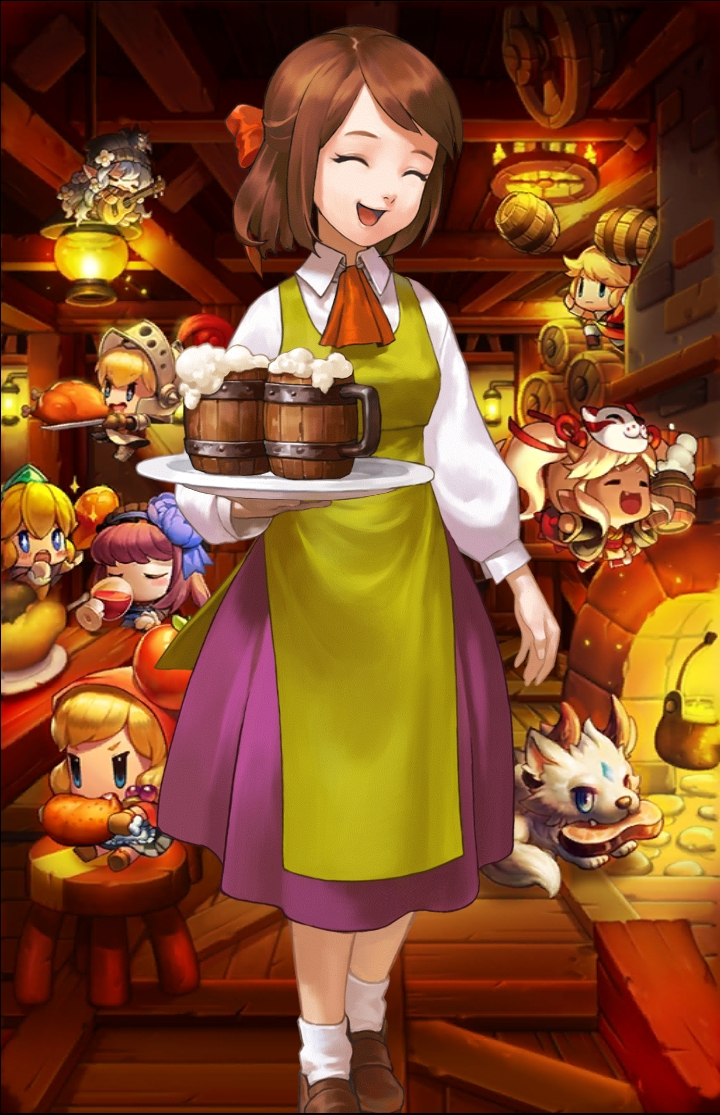 If I were to replace Aisha on my Coliseum team this is the support that would replace her no doubt but she still struggles quite a bit and I'm not forgetting about Aoba who's just better there currently. With her EX and party buff she's not necessarily a healer but preventing your team from being damaged with health shields is where she shines but needs a lot of regen to keep it up though she's not that great in coliseum if your team gets deleted and she doesn't cast her shields unless their under a certain amount of health is a big problem but the AI change should solve that. She's a healer that deals a really decent amount of damage if you get in her zone chain skill deals damage which is another bonus but doesn't heal.
AI: Just in case should cast on battle starts around herself to stack more shields and targets her heal on allies with the least shields or HP.
Normal Attack: Mushrooms should explode for AOE damage direct hits are more powerful though this will be a theme for basket users not named Nari they tend to miss often this gives them room for error. Should decrease enemies Attack by 5% for 3 seconds can stack up to 20%.
Chain Skill: Should decrease enemies resistance to all elements by 10% for 10 seconds.
Special: Needs a new one since I'm trying to get rid of limited heal charges and this specifically gives her more charges.
New Special. Maintenance: Party Members regenerate 1% health shield up to 20% each second basically regenerates her party buff.
Max Limit Broken Special. Ounce of Prevention: Heal stat goes up by the same percentage of shields on her or the teammate with the highest health shield active caps at 50%.
EX Weapon (Emma): If Loraine's HP is lower than 25% targets herself instead I would try and heal myself in Coop just for some squishy hero like Nari or Garam to eat up my heal and the healer dies which results in everyone else dying. Even when entering rooms I try and cast this out the gate so everyone has extra defense if caught by a hard attack but these people aren't patient and wait for the team runs off and eats up her heal.
(Veronica)-(Who is this?) I have a feeling like Lapice she's going to be very important story wise all uniques probably will someday. Basically a more offensive Aisha on paper at least not much to say but they need to flip her skills around doesn't make any sense. If they can't crit her active buff is kinda useless and if you're going to increase critical damage to everyone that feels like a chain skill it's very reliant on luck or if another member has crit rate she just feels designed backwards to me. If her buff was Crit rate it would be better but it's skill attack which is too high I don't know how I feel about that I will leave it alone but a Defense buff would probably have been better since she's the unique version of Aisha who has HP. The character standing alone without critical rate is really bad poorly designed through my eyes atleast she can heal with her buff.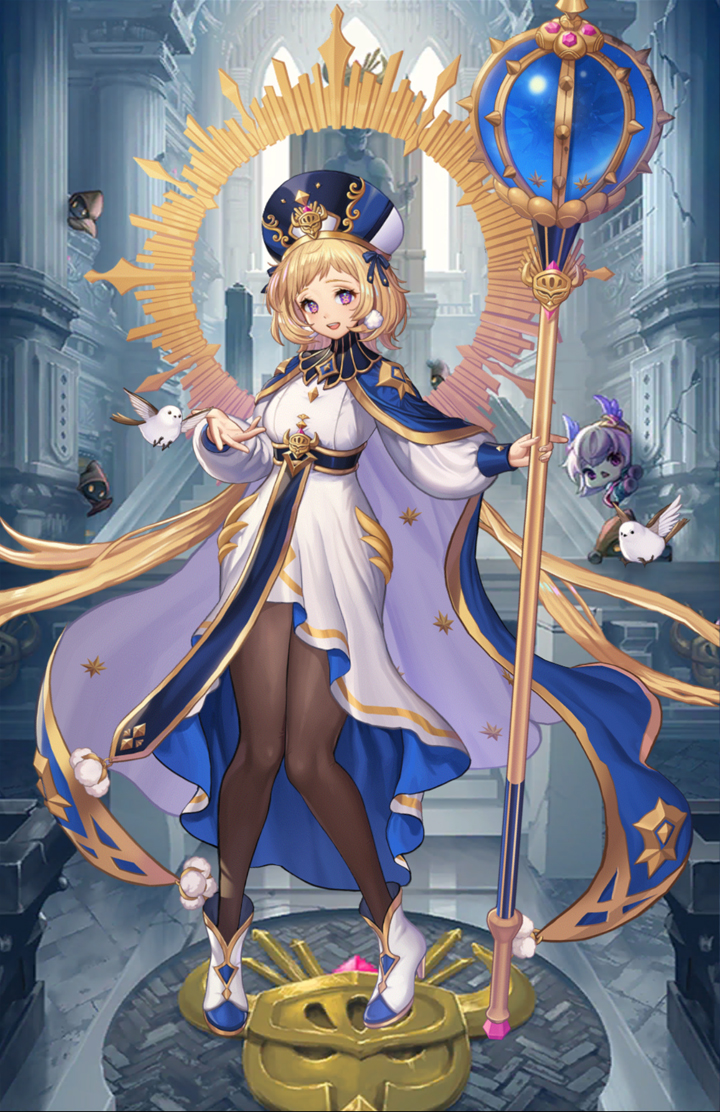 Normal Attack: Blessing should increase allies critical chance by 30% for 5 seconds.
Chain Skill: This should increase critical hit multiplier instead and boost allies attack by 30%.
(Favi)-(The Odd Specialty Healer) I don't know what to say about him they designed him shy and is like a nerd but isn't. Theres alot of holes in his personality but he's a nice guy sure doesn't look like he's 23 though. Also MALE Hero.
I don't use or see this character ever unless it's Kamazone but his heal beam heals a ton of hp and his special has his normal attack although extremely weak like a shotgun heal. What makes him very strange is his party buff you would need a bunch of heroes that target from all to injured like a Loraine and Marina to make use of it and only if you chain first otherwise it's useless it's good in Raid though. He bends your team a little too much you must get advantage first for his party buff to matter I think he's in a very bad spot PvP wise. His EX should probably allow his heal beam to chain to multiple allies and while being healed their defense increases by 30%. Additionally his Spell Bullets decrease enemies Attack by 15% for 3 seconds. Should have the highest Heal stat in the game and decent HP and Defense. Skill would probably be a red life drain type beam healing himself while decreasing enemies it passes through HP Ailments to Injury.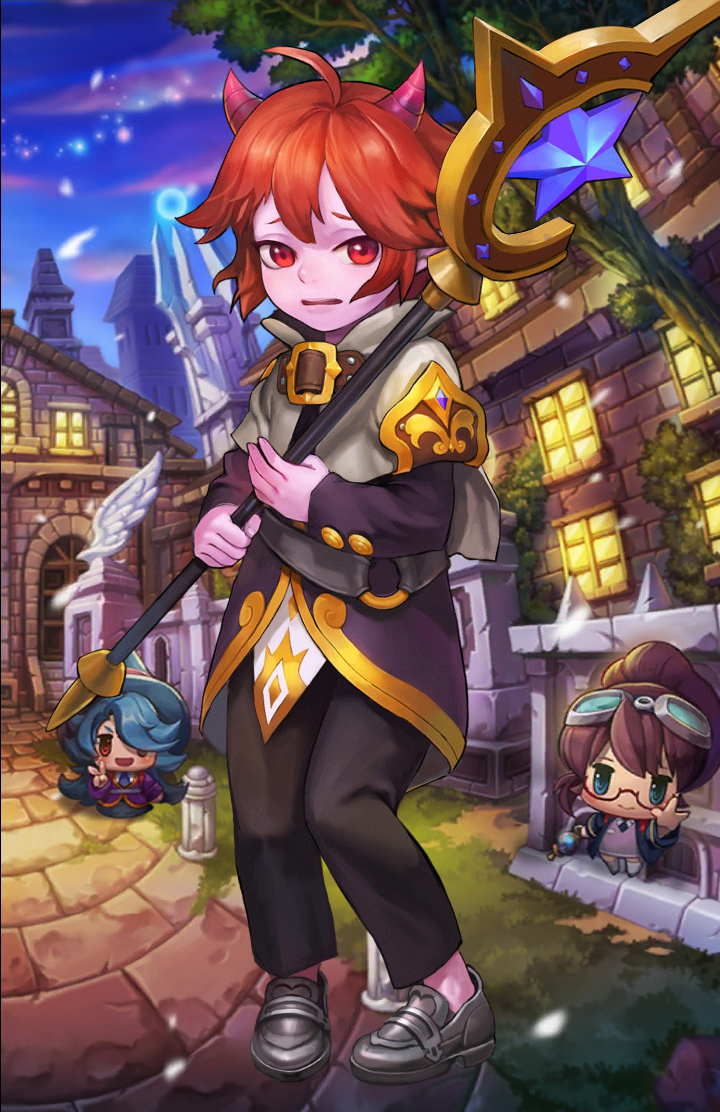 Normal Attack: Healing should increase ally movement and attack speed by 30%.
Chain Skill: Should increase allies Defense and movement speed by 30% for 8 seconds. It only heals 30% than the usual 50% and he deals like no damage I would consider letting it heal 50% or more his damage actually doesn't exist.
Party Buff: Change from this odd increase against injured to 40% HP. This change alone should make him much better and the only healer with an HP bonus should turn a lot of heads.
(Idol Eva) This was my very first unique I feel kinda bad since she looks like she's always crying because I suppose this is what she always wanted to be but she sings yet they did not give her a voice for some reason..? She isn't really a support until she's evolved to 5 star or off chain skill and it's still underwhelming. I'm giving her a little bit of everything to buff her allies to their maximum potential and be able to heal her songs give everyone energy to fight at a higher pace, do more damage and increasing their defense with all her skills combined she should be the strongest all around buffer now.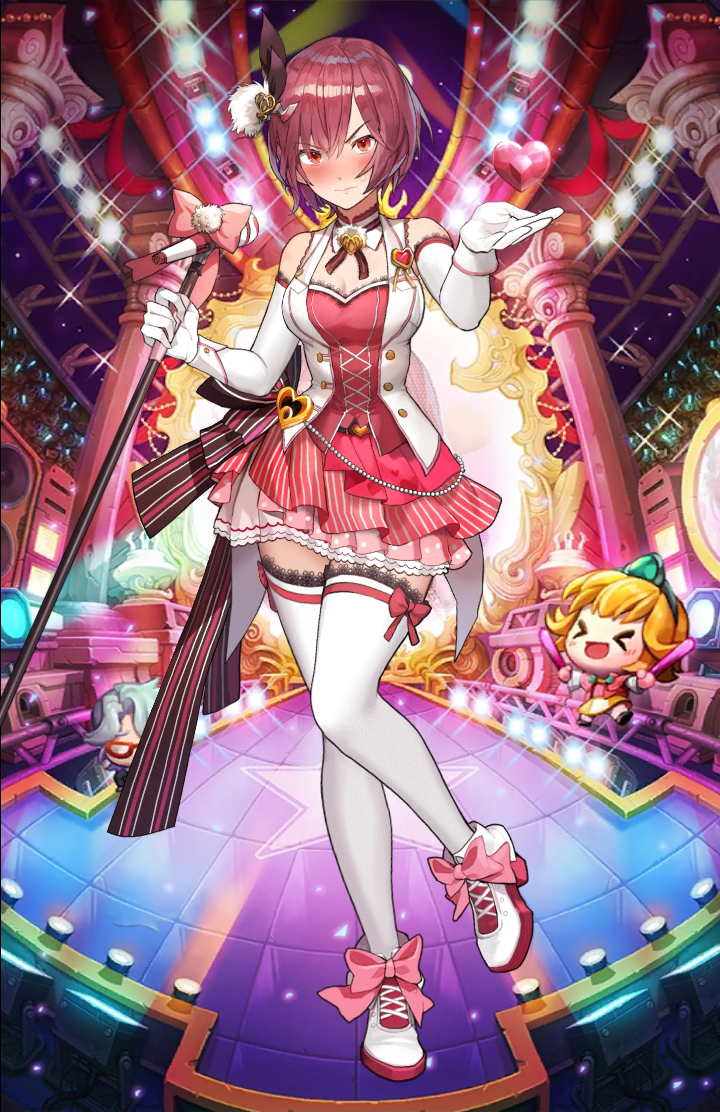 Normal Attack: When using the final attack increases allies movement and attack speed by 30% for 2 seconds. As long as she's attacking this will be a permanent buff basically also do not decrease her movement speed while attacking she should be able to be played like a Lupina for example.
Chain Skill: Should heal teammates for 30% their max HP as well.
(Miya)-(Would love to see Las Vegas) I don't have this hero yet I don't see any problems other than her party skill attack is too high and she does a whole lot of damage for a healer. I think she can self heal way to much somehow she may target herself actually if so wish Aoba could do that I seen her almost full heal in arena but am unsure how. If you get low on health her healing scales up it feels like. I do have one question what's up with those heels are they even qualified to be called heels? Their actually the same length.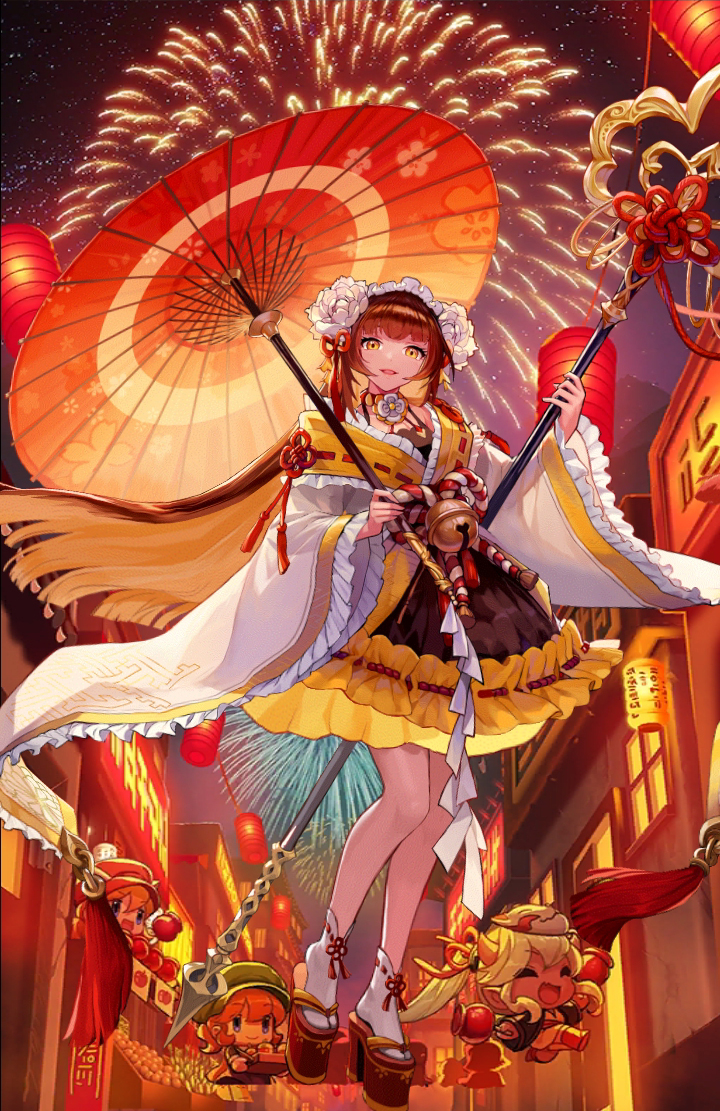 Normal Attack: Reduce damage by half she can almost out damage my Girgas and I've seen her solo the boss in Coop often. Wind of Healing should increase allies attack by 20% for 3 seconds.
(Karina)-(Carmilla) I see no problems with her why are people asking to buff her she's like the only real healer good in arena, she has death insurance with her special and heals everybody constantly the more damage the more she heals gradually though she's actually the most perfect hero in the game to me. Only downside is she needs an enemy to heal off of is a Vampire so makes sense. She's a healer with a chain skill that deals damage and heals which is the only problem. Only thing I would even think about is if the enemy has good defense then her healing goes down she doesn't have a heal stat maybe if she could decrease defense or ignore a portion and heal a percentage of the opponent's max HP but still that's kinda reaching she's fine as is.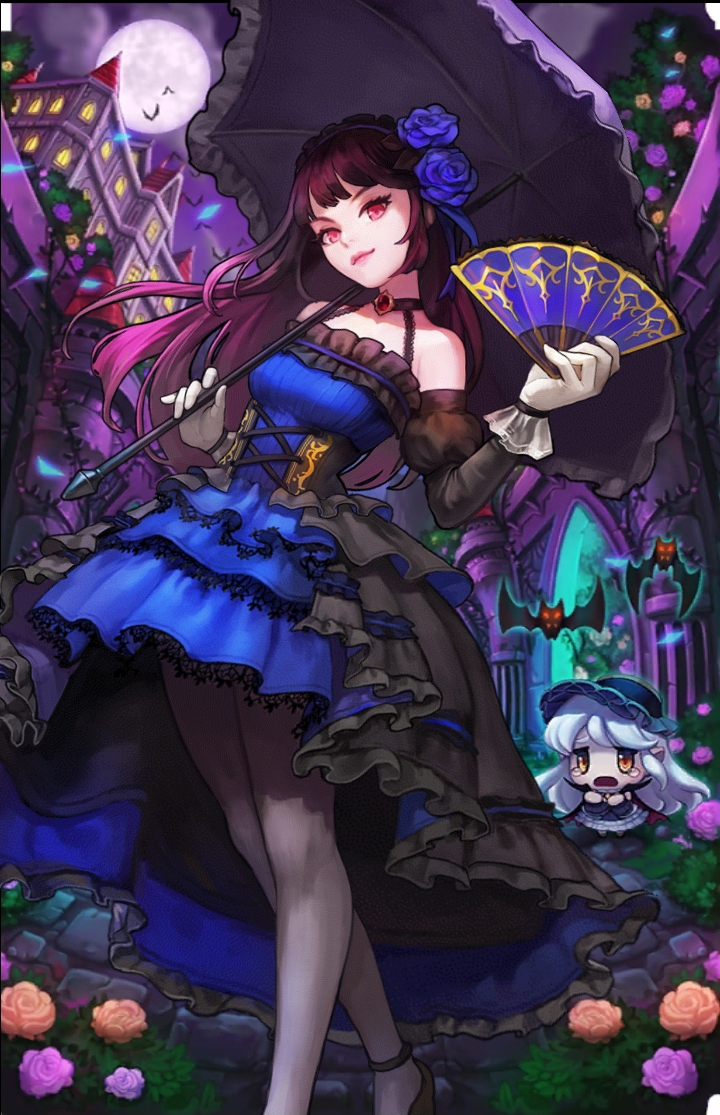 Normal Attack: Giant Bat should decrease dark type resistance by 5% for 3 seconds stacks up to 20%.
Chain Skill: This does a lot of damage for a skill that heals decrease to 200% DPS so Loraine's is more worthwhile which heals no health but health healed should remain the same.
(Gabriel)-(Actually a Demon) First time I looked at her I knew something was wrong I didn't like that look in her red eyes but that's all I'm going to say about this "Angel".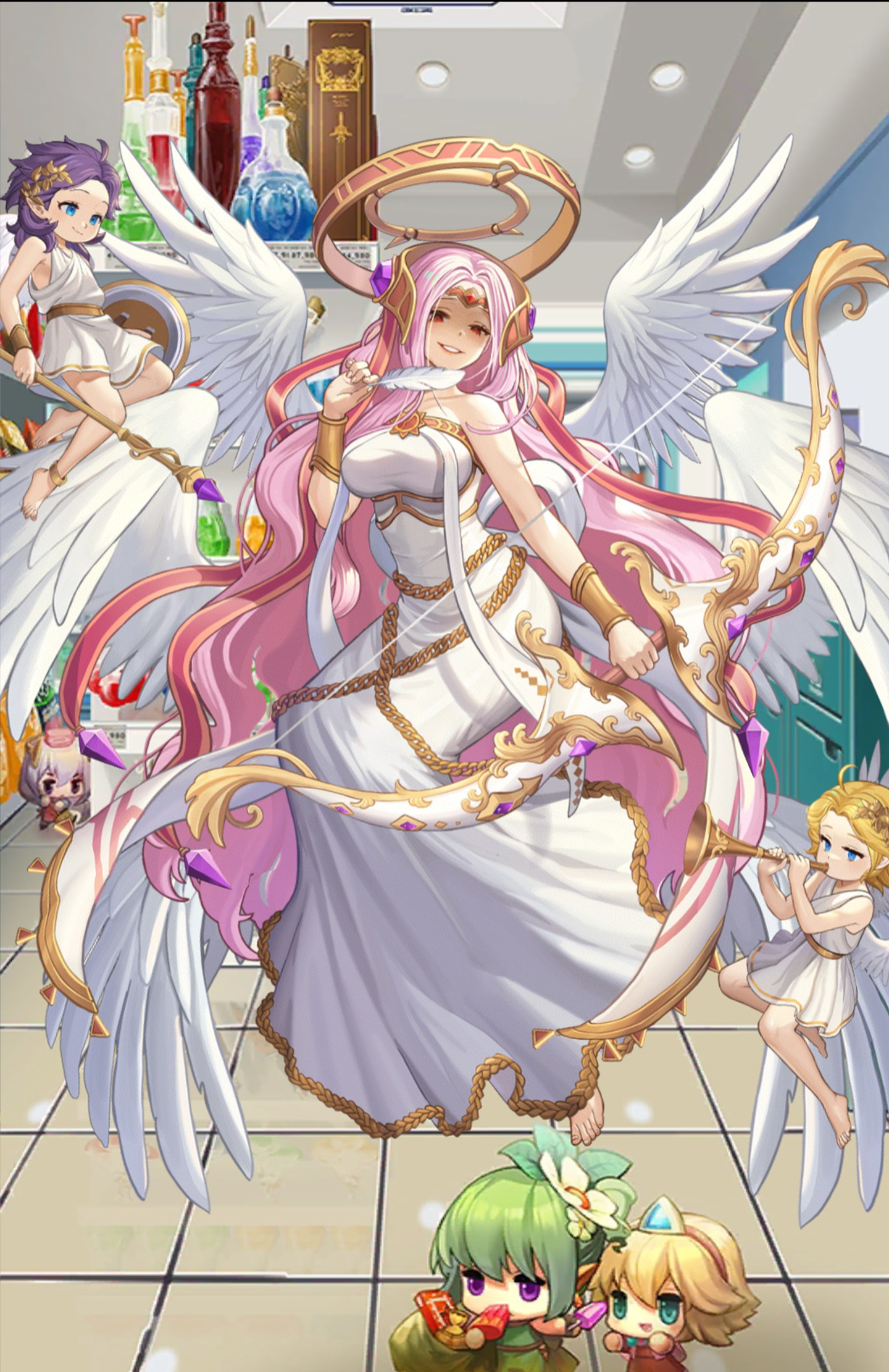 This is the highest damage dealing healer in the game but how is she even a support her damage is close to Garam who is ranged instead of a support but heals much less. She does not even have a healing ability at all only off chain or at 5 stars her final attack heals if not off EX weapon skill. All I can say is decrease her damage if she's going to be primarily a support otherwise she's a light element Garam this is a red alert she is OP she's like the only healer that can straight up out damage you she doesn't care who you are. Crit rate really does hurt.
Normal Attack: Halve her damage and give her a healing ability so she can actually play her role which should increase critical hit multiplier by 20% for 3 seconds to magnify her party buff.
EX Weapon (Magnificat): Remove the resistance debuff it's basically a constant 20% decrease as long as she's attacking. Final Attack should be able to stun enemies with sound and hits in an area like an intterupt.
<(The End)> For Supports Gremory should be here though I have no idea why she is ranged. Again I encourage comments so I know people actually read this feedback is feedback thanks for taking the time to read I appreciate it
- Black Mage for Smash! https://smashboards.com/threads/black-mage-for-smash.506369/#post-24080523
---
---
LOOK WHO CAME:
ABowlOfCereal