MY PROFILE
Hi, my name is Maxwell.
I love the following things: football, football(yes I did type it twice. football is not called soccer), games, spicy food, noodles, and wearing sunglasses.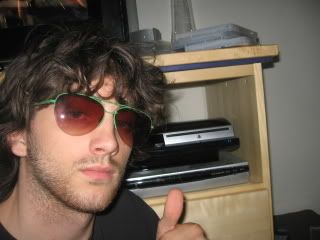 The games that are on top of my list are: Metal Gear Solid (all four are great), the first two Syphon Filter, Pro Evo Soccer, Final Fantasy (9 in particulair), Gran Turismo, Forza 2, king of fighters 98, Star Fox, Spyro(yes the dragon), Resident Evil, Phoenix Wright, and many more.
At the moment I can't play games that are not shoot 'm up. I don't know why this is but these are the only games that excite me at the moment. Games like: Ikaruga, Mars Matrix, DoDonPachi, Thunder Force, and R-Type.
the games im playing now: ikaruga, FF V, maken x (jap), dodonpachi.
I own alot of consoles: sega dreamcast, megadrive, saturn, ps2, ps1, snes, nes, n64, and a arcade machine.
Xfire: maxio098ui
msn:
[email protected]
Skype: Maxio098ui