The wait for Persona 5 was a little agonizing. Just a little. Persona 4 is a great game and I think a lot of people, myself included, were anxious to see how Atlus would follow up. Atlus decided to follow up by making a lot of spin off titles for Persona 4. A rhythm game, two fighting games, and a 3DS dungeon crawler, and an enhanced rerelease all came out before we got the next numbered game. It got a bit annoying, but surely they couldn't milk it forever. Then, finally, after so much waiting, we got a single image.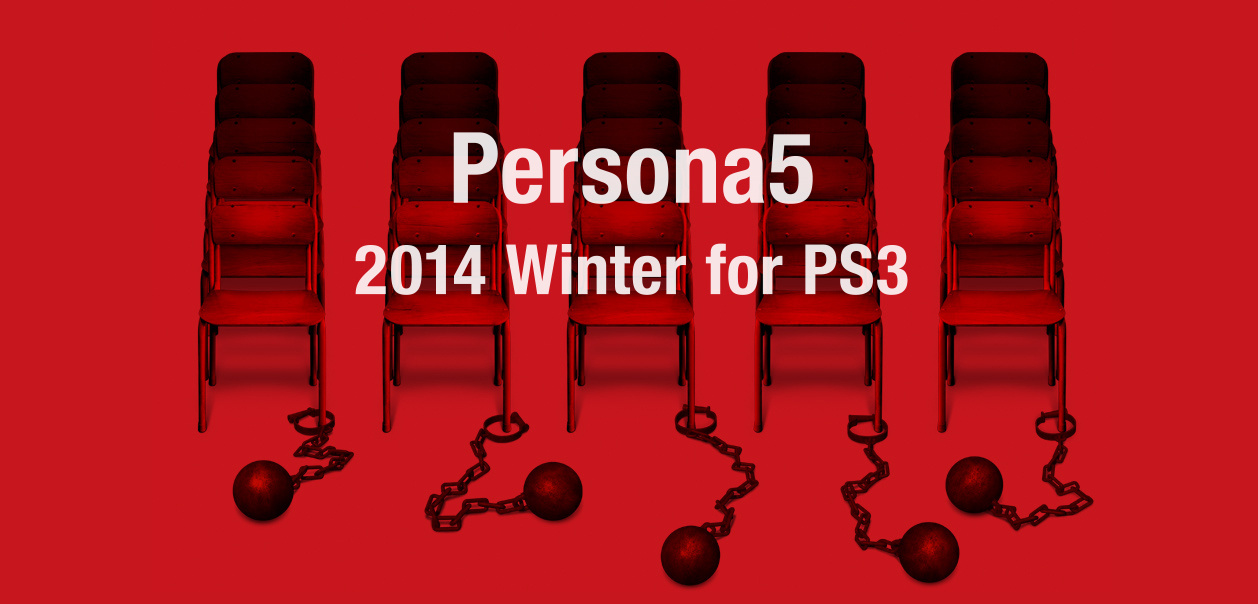 Okay, there was a trailer with it, but it was basically this image with some developer names. Looking back at this image is kind of funny. 2014 wasn't quite when we would end up getting it. Before long (but it certainly felt long) Atlus West posted the same image with one significant difference: they pushed it back a year for western fans. This wasn't surprising, most Atlus games take a while to get localized, but it was still disappointing to know that it was going to be such a long wait.
Persona 5 didn't come out in 2014, or in 2015 even. As you can see in the above image, it was announced for the PS3, but the PS3 was already on it's way out in 2014. The PS4 was out now, and it seems like Atlus wanted to release their new shiny game on the newest system. In Japan the game was delayed to 2015, which meant that everywhere else probably wasn't going to see it until 2016. The wait was made simultaneously more bearable and painful by the release of a new trailer.
It's interesting to watch the trailer again after having played the game and seeing little things that changed in the final release. It looks like the all out attack was going to be a lot longer for one, or they were just trying to be cool for the trailer. This was an exciting trailer to see, and we were all looking forward to the game. Surely it would only need the one delay right? ...Right?
So it was delayed again in Japan to late 2016. Ouch. That meant that we probably wouldn't get it until 2017 and wow that original image was so wrong. Eventually Atlus West announced that Persona 5 would be coming to the west on Valentine's Day, and offered the "Steal you Heart" special edition to go along with the holiday. Finally, something concrete. Localizations surely don't get delayed, we'll definitely be able to play Persona 5 on Valentine's Day!
As Valentine's Day approached, the news dropped that the game was being delayed to April. I guess localizations get delays after all.
For real, Ryuji. Thankfully that was the last delay the game experienced, at least in America, I'm not sure what happened in Europe, but I assume their wait was probably just as long, if not more so. Even though the game came out three years later than initially planned, and on the next generation of consoles (though the PS3 version did still release), I think it was worth the wait. I loved my time with Persona 5, and waiting for as long as I did wasn't enough to ruin my experience with it when I finally did get to play it. At least with it's enhanced rerelease, Persona 5 Royal, there weren't any delays.
I don't know what all was going on in the background through all those delays, but I am super happy with the end product. Now, if we could just get some news about Persona 5 Scamble for the rest of the world, that would be great.
---
LOOK WHO CAME:
LaTerry
Shoggoth2588 24
JuIc3 15