Looks like there was another big Gen 2 Pokemon leak dumped on 4chan. This one appears to be Gen 2 source code and multiple undiscovered builds between the Space World '97 demo and the finished versions. The files are still being sifted through though.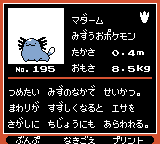 - Day 369 of unemployment.
---
About D-Volt
one of us since 10:51 PM on 06.28.2012
I like writing words sometimes. Do you like reading words sometimes? Then we should get along just fine.