2020 has inarguably been a blessing and curse for the gaming industry. On the one hand, more people are coming together through the power of the internet to play some games and just forget that they can't leave their house. In contrast, gaming events - E3, GDC, QuakeCon, etc. - have been forced to delay, scramble to figure out how to keep the steam rolling or outright cancel. Now, the latest to see the issue of delaying game releases is Wasteland 3.
The game, which is being developed by inXile Entertainment and published by Deep Silver, released a statement on Twitter expressing that they simply don't think the product is in its best state. They did give a new release date of August 28.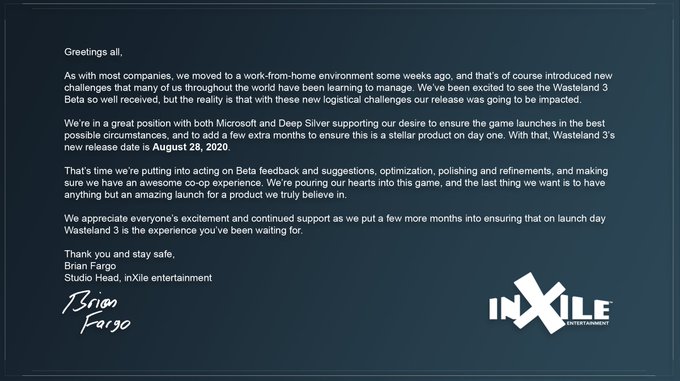 Until its new release, they'll be working on improving the game, acknowledging the bugs found in the game's beta and adding fixes, polishing, refining, and taking suggestions and/or looking over feedback.
This release date change comes as they changed how its employees work. Much like most companies in the industry, inXile went to a work-from-home layout for the safety of its California-based team, leading to a bit of scrambling to figure out how to do such a thing effectively. It's easier for a team to work in the same room, after all. All it takes to know what someone is working on is just asking the from across the room or upstairs. But, when the work is taken home with the person, it takes a phone call or message to find that out.
They also wanted to make sure it was going to be a good time to release the game. Let's face it, they probably looked at the state it's in now and thought a post-apocalyptic game isn't the best game to release right now. Wasteland 3 is now going to release on August 28, 2020.
---
LOOK WHO CAME:
GC StanfordReisinger
absolutfreak 20
Agent9 10
Wes Tacos 1