Usually, I never admit to having questions, because... often, I have all the answers. But, sometimes... I get a soft side going, and I somewhat care what you might have to say... and thus. I ask myself... and you... a veritable bevy of questions.
Well, OK, just a couple...
And Some... are nothing new:
How come all 3 Major Consoles' Names Rhyme?
...XBox 3
60
, PS
3
&
Wii
...
How come if the Mario Bros. are Italian, there's NEVER any reference to their delicious cuisine, maybe even their enjoyment of it?
And speaking of...
Who is Luigi supposed to Hook up with? Is it Daisy?
Would Master Chief ever try to Hook up with COOKING MAMA, by claiming he is instead Master CHEF?
Sometimes I wonder...
Do gamers who are into Humiliation ask for their partners to call them N00Bs, maybe even have them teabag on Halo?
If licensed games suck so much, why do these developers STILL have jobs?
If the latest Disney TV show is so awesome,
Why not HIRE Miyamoto to design the DS title?
Who was the Brilliant Team behind the PS1 Resident Evil opening, and why have I not seen NEW work from them?
Is casual gaming a lot like casual sex?
Cause if it is... I want to know, I like feeling used in the morning... or better yet.
Will my Wii tell me, instead of taking a break, to just go ahead and Leave?
... Maybe I can get it to give me a call whenever it feels like having me play with it.
Do you like your games like you like your women?
XBOX - Gets hot really quick... Wii - a LOT of fun... PS3 - Asian...
Speaking of racism...
Are games failing at pissing you off because there's not enough of it to complain about?
Are you still reading this?
I don't know about you, but...
Are we really forgetting about the magical wonder of 1-Ups?
You guys actually pay 60 dollars PLUS tax for new Next-Gen titles? - Do you get angry when they suck?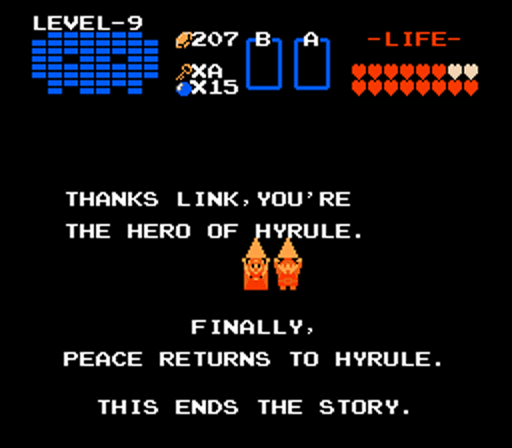 Remember...
WINNERS DON'T DO DRUGS
.
So it pays to lose every now and then I guess
.