I have no time for gaming, so what's the solution? Buying more games, of course! There is certainly some thrill in finding rare or strange games, hunting for deals, and filling my shelf space. These are my findings in the last weeks: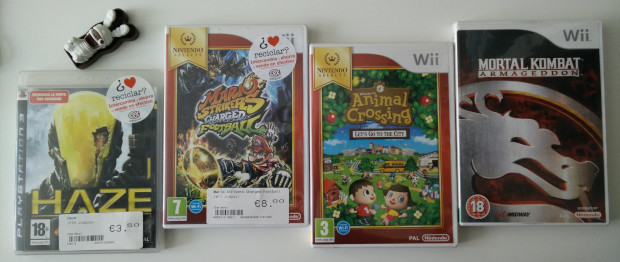 Mortal Kombat Armageddon: it's one of the few fighting series I enjoy, probably because I'm terrible at fighting games, and the MKs are considered terrible fighting games. I had played the classic trilogy, tried V and then skipped all new releases until the recent reboot, so I was curious about the "missing games" in the middle. Besides, it's a weird game to have on the Wii, which makes it more interesting. And it comes with a karting minigame!
Animal Crossing - Let's Go To The City: the last main entry in the series, and a compulsory game in any Wii collection, in my opinion. It seems they removed the NES games from this one, which makes it objectively worse than the GameCube release, but it's still cool to have.
Mario Strikers Charged: I don't enjoy sport sims in general, but I'm in for any arcade sport game, and the first Strikers was a blast in the GameCube. Sadly, I didn't like this one so much (I don't remember why, it's been a decade since I tried it!), but what's a Nintendo game collection without its Mario spin-offs?
Haze: A terribly reviewed game from the early days of the PS3! I'll put it together with Lair on a shelf and label it "the games that killed my favourite dev studios". Haze authors, Free Radical Design, and Lair's, Factor 5, seem to share a taste for four-letter titles, in addition to the fate of having worked on cancelled Star Wars games.
What do you think, am I crazy for getting these games? Should I continue reporting what I get, or should I shamefully hide my terrible shopping decisions?
---
LOOK WHO CAME:
iacobus magnus
Boxman214 96
AtomicBanana 7
Fivefinger Delta 1