Getting home yesterday, I was happily surprised to see a package had arrived for me.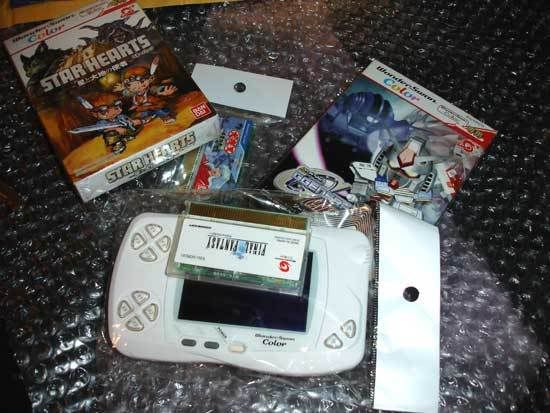 I'd like to take this moment to thank the illustrious
DVDDesign
for taking time to on
his trip to help get me a WonderSwan Color and a few games.
While I can't understand a single word or character presented to me in the games- I do
have to say I'm enjoying it quite a bit as I fumble poorly with the controls and take 5
minutes to figure out how to adjust the volume.
Thanks again dude. Its fucking awesome.
To ensure this post contains a bit more context then a thank you, I'd like to help share a
small glitch in 'Castlevania: Symphony of the Night' that is in Dracula X on the PSP.
(Sorry, super blurry)
For those who have played it on 4-5 different systems and want to play the game in a...
more expedient manner this time around- you can use this to keep Alucard's ridiculously
powerful items.
Go to the right and enter the room where you first meet Death in the game. While the
screen is still black, hold down left to exit out of the room as soon as it loads. You should
be in the previous room but the game's music should stop. Afterwards, you can proceed
normally without the event occurring and keep all your items! I've tested this on my own
PSP and it does actually work (though I had to restart once because I wasn't paying
attention and didn't actually hold down left the first time around).
Source:
Castlevania Encyclopedia