If I'm correct, there was an episode of Retroforce Go recently, which went on about ScumVM games and adventure games in general. What I'm doing here is joining in, and trying to raise more awareness of some cool looking DS adventure games, which are available on import, coming soon in english or I've seen while messing about or whatever.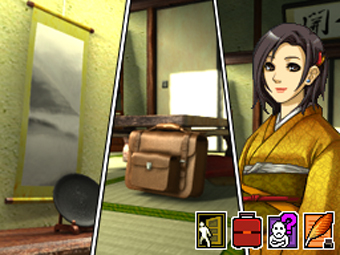 First up is Tecmo's DS Nishimura Kyotaro Suspense Shin Tantei Series: Kyoto Atami Zekkai no Kotou - Satsui no Wana. This game I found the short video for over at Game Trailers. Even though the trailer is short, what's clear is that like Hotel Dusk, the DS is ripe for this game to be translated into english. I have no idea if Tecmo have plans to translate and release this series (since they are focused on Ninja Gaiden DS), but I do feel the DS could do with it. Surely, its doing well in the japanese charts for a reason. Please someone pick this up for western release. It looks like a great detective style game.
I'd like to point out that there's been a few detective graphic adventure games on DS, since its been out in japan, like a Detective Conan game, based off the japanese manga, plus others. Perhaps its a shame we will not get to play most of them.
For those of you who know some japanese, if you trot over to the japanese Tecmo website link below, there's a little browser that lets you sample part of the game. Check the Keep Out section.
http://www.tecmo.co.jp/product/nishimura/
The second is known as Project Hacker Kakusei. A nice looking game, you play as one of two hackers, where the player uses the DS to hack firewalls and stuff, for the greater good of the government and the anime based spook style story. This is done via mini games, possibly in a similar way to those hacking exploits in Bioshock, but most likely more varied and stylus based. Another cool adventure title that I've heard nothing about a translation, but i'll keep my fingers crossed. Browse more screens at the official game website.
http://www.nintendo.co.jp/ds/adhj/index.html
Kabu Trader Shun, from those lovely, talented folk at Capcom. After the success of the Phoenix Wright series, Capcom couldn't go far wrong with this little Wall Street style adventure. Sure, fiddling with stock and shares can't be fun, can it? If you know nothing about shares, trading and stuff (i know I don't), I pray Capcom translate this not only as a cool game, but also as a guide to a world we all avoid. We might all learn something valuable along the way too. I love the way Capcom can make boring stuff fun.
http://www.capcom.co.jp/shun/
A late addition to this post is Runaway 2: The Dream of the Turtle. A DS version of a point and click PC game of the same name. This ones created by french developer Cyanide, is on course for a U.S release 2nd quarter of 08, and looks really sweet. Had probs with pics for this one, but follow the link below.
You can find the video for Runaway DS over at www.gametrailers.com
Along the two Professor Layton games on the way, Phoenix Wright successor Apollo Justice, euro adventures Sinking Island and Undercover: Dual Motives alongside Myst DS etc, 2008 could well be the year DS adventure games make a real impact. I just hope some nice publisher out there checks some of the above titles for release. Otherwise I'll have to importing them, but I can't read japanese. Either way, its all looking good.
Thanks for reading.