Look, I drink...
And I think to myself, there are plenty of others here on D-Toid that do the same. I thought, wouldn't it be nice to share some sophisticated drink recipes with fellow adults? Tonight's drink is one of my own invention and was found by accident and necessity.
Happy Cola
There I was at a buddy's house party gettin my drink on playin some pool, after my game I got a shot of Jagermeister set it down and forgot that I had it. I went over to the Iced Kiddie Pool and grabbed myself a regular flavored Smirnoff Ice. Before the next game could get started I discovered my other drink sitting next to me being lonely. I didn't want to double fist it that night so I poured the Jager into my Smirnoff Ice. The taste is amazingly similar to these things: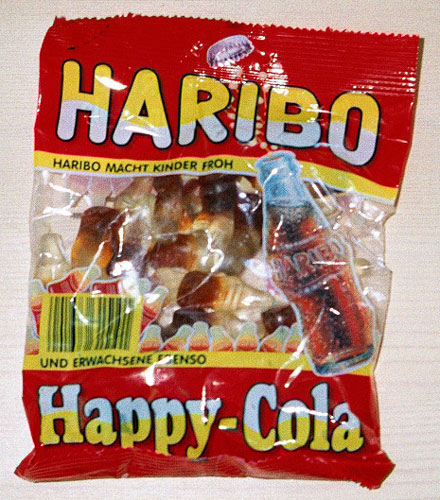 The basic recipe is:
1 Bottle Smirnoff Ice
2-3 Oz. Jagermeister
Open the Smirnoff, take a sip, pour your shot into the bottle. Ta daa!
There you have it, Happy Cola. This makes a decent and delicious Haribo Cola like sipping beverage, though you aren't likely to get wasted having these. You could probably have a whole sixer and just barely catch a buzz. Though it is very tasty, enjoy!
*Note* Destructoid assumes no responsibility for the drinks posted by Excremento, neither does Excremento.
Well, I hope you guys all like it, please let me know what you think!