The year 2017 brought us an almost absurd number of great games. There has been something for everybody, from single-player experiences like Persona 5 and Nier: Automata to the online multiplayer sensation PlayerUnknown's Battlegrounds. That said, you can find lists of those games scattered across every corner of the internet by now. What you will not see on many of those lists are games that feature local multiplayer. The age of sitting beside your friends and battling it out on the same screen continues to shrink into the past, but there's still hope! Dust off that second controller with the wonky joystick, it's time for my top 12 local multiplayer games of 2017. No particular order, because isn't there enough judgement out there already?
Overcooked
Okay, I know Overcooked technically released last year, but it did launch on the Switch this year, and it's still one of the best local multiplayer experiences around. Up to four players can step into the kitchen and work together to cook up increasingly complex meals before the timer runs out. With each level, the kitchen throws more obstacles at the players, requiring a combination of teamwork and precise movements. It's difficult to capture in words just how hilarious and fun this game can be, but if the idea of making burritos on a space station with your friends doesn't appeal to you, then I'm not sure what will.
Divinity: Original Sin 2
Probably the only game on this list that you will see on other "Best of 2017" lists, Divinity: Original Sin 2 deserves every accolade it's received. A very legitimate contender for Game of the Year, Larian Studios' latest epic RPG is a must-play for any fan of the genre. But, Divinity: Original Sin 2 and its predecessor are an especially great option for those who have always been interested in Dungeons & Dragons and other tabletop RPGs, but could never get past the daunting pile of rulebooks, time commitment, and required gathering of people. With full-controller support and drop-in multiplayer, it's easy for you and a friend(or three) to explore a vast world filled with enough lore and excitement to keep you glued to the screen for 60+ hours.
Crawl
There were a few years where it seemed a new retro-styled dungeon-crawler roguelike released every two days. If that brief frenzy culminated in the creation of Crawl, it would be worth it. Crawl is easily the most unique game on this list, but its concept seems so simple, I wonder how it wasn't made years ago. On its surface its a basic dungeon-crawler inspired by classic arcade cabinets like Gauntlet. Except in Crawl, your three local multiplayer pals aren't battling alongside you, they are controlling the monsters trying to kill you. Kill the hero as a monster, and you take over as hero. That level of rotating back-stabbery adds a directly competative element that I haven't experienced elsewhere in that genre.
Gang Beasts
Gang Beasts casts you and three friends as four drunken jelly-boys and drops you into one of the varied stages in Beef City. After that, it's up to you to fight, fling, and aggressively ragdoll your way to victory. With character customization, multiple modes, and clever stages that change each round, Gang Beasts is a party game that won't get old any time soon.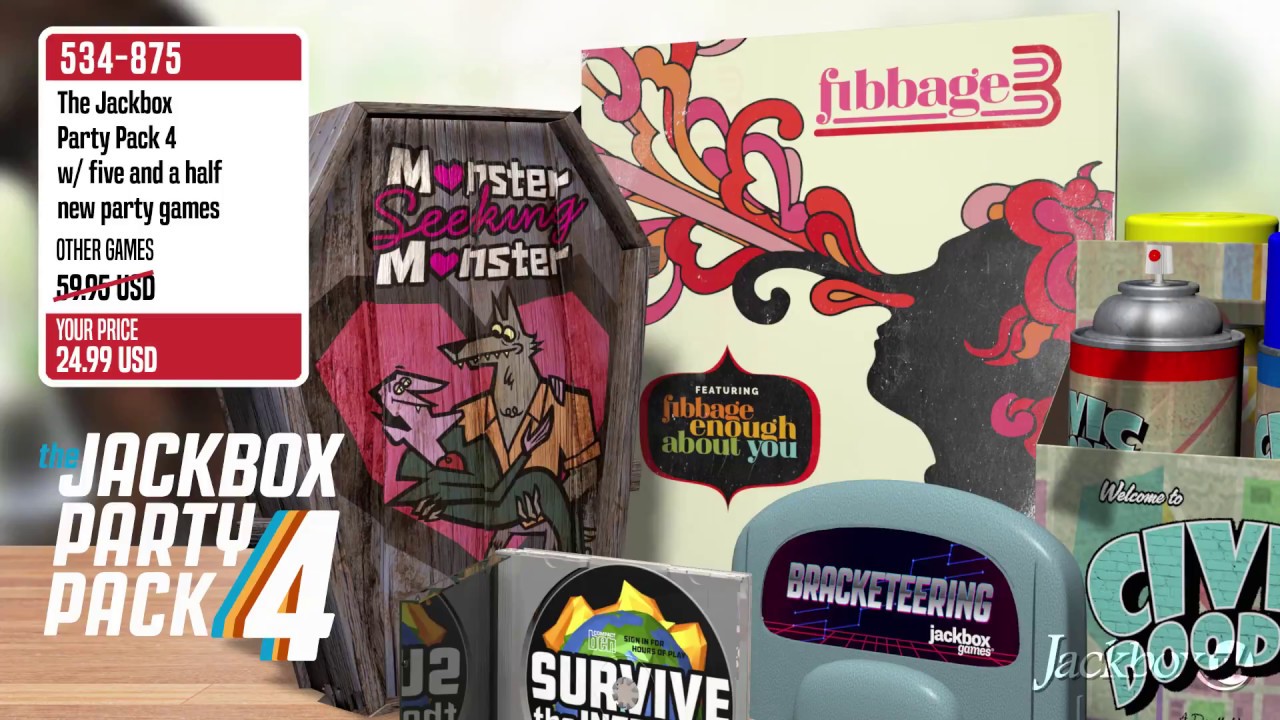 The Jackbox Party Pack 4
I have purchased every Jackbox Party Pack in the past, and the fourth edition is no exclusion. These continue to be the pinnacle of party games as this year all five games can accomodate at least seven players, and one of them as many as sixteen. On top of that, you only need one controller to start the game, and everything is smartphone-based after that. This year doesn't feature my series-favorite Quiplash, but sees the return of Fibbage and adds some very relevant new games like Monster Seeking Monster, a sort of Tinder-meets-Dead by Daylight.
That's You
That's You was the first of PS4's new PlayLink program, which are games made to be played in a party-setting where players can use their phones instead of controllers. Essentially it's a Jackbox clone where you and up to three friends have to answer questions about each other, make assumptions, and draw all over pictures of each other. It's a fun way to bring together a group of unfamilar party guests or longtime friends. While it lacks the variety of a Jackbox, it's Wes Anderson-meets-Life is Strange visuals and laidback host are a welcome respite from Jackbox's often grating personality. It was also free for most of the year as part of a PlayLink promotion.
Cuphead
Honesty time: I have not played Cuphead. Normally, I wouldn't endorse a game I haven't sunk my own teeth into yet, but this seems like a safe bet. I've watched a fair amount of other people play the game, and you'd be hard-pressed to find a negative review from a reputable source. Its visuals are unlike anything on the market, and from what I hear its difficulty makes it tough to put down. Definitely on my list for early 2018.
Injustice 2
Injustice 2 is a fighting game that released this year. I played it and it was cool, I guess. If you like fighting games, you might like Injustice 2. Let me know when the next Soul Calibur comes out.
Road Redemption
Road Redemption is probably the closest thing to a proper new Road Rash game that we will ever get. For the uninitiated, Road Rash was a popular Sega Genesis motorcylce racing series in the '90s, though it was actually more about hitting other racers with tire irons than racing. Road Redemption takes that concept and escalates it to suit our 21st century maximalist palates. Full 4-player splitscreen makes this game a solid choice for anyone who would like to push one of their friends into the path of an oncoming truck.
Nidhogg 2
Nidhogg 2 has had something of a muted launch and reception compared to it's award-winning 2014 predecessor, and I'll admit, even I was skeptical when I first saw the grotesque and undeniably fleshy new art style. I was a big fan of the first game, and of it's clean minimalist art style. However, simply put, Nidhogg 2 is a better version of Nidhogg. The new style, while jarring at first, is well executed and creates a tone that's fitting for what is essentially a local multiplayer party game. The core gameplay is unchanged, but three new weapons have been added to offer alternatives to the standard rapier. The bow is probably the most interesting of the three, adding a new ranged element that changes how you approach each match. Whether you like the aesthetic or not, Nidhogg 2 is a fun time that only improves upon the formula of the first game. Isn't that what sequels are for?
Brawlhalla
Brawlhalla is a free-to-play platform fighter clearly based on the Super Smash Bros model. You choose from a cast of interesting characters, each with their own weapons and play styles, and stack damage on other players while trying to knock them off the platforms. The art style looks a bit like an old flash game in my opinion, but the animations themselves are smooth. Some balancing issues aside, it's a great choice for anyone who would like to play a Smash-esque game on their PS4 or PC. Local multiplayer supports up to four players.
Fire Pro Wrestling World
When 2017 began, I had not thought about Professional Wrestling since I was literally a child. It ended with me having met Dan Ryckert at a Progress Wrestling show in NYC, randomly taking a picture with Seth Rollins on my way to work, and now writing about Fire Pro Wrestling World. It was a strange year. But there is nothing strange about Fire Pro Wrestling World being on this list. Featuring up to 8-player local multiplayer and limitless customization of everything from the wrestlers and the ring to the match rules and tournaments, this is the definitive wrestling game. Whether you want to personally create every detail yourself, or just want to tap into the resources of the massive Steam community, there's nothing stopping you from piecing together any situation imaginable. On top of that, it features a deep grappling system that showcases everything the WWE wrestling games have been doing horribly wrong for years.
Honorable Mentions:
FIFA 18 and Madden 18 - Both long-running EASports franchises continue to deliver great local multiplayer experiences, but no improvements big enough to warrant a spot on the list. If FIFA ever brings back co-op online Cup Tournaments I will shout it's praise from the rooftops.
Pyre - This is another one of those games that I'm ashamed to say I haven't gotten around to yet. As a big fan of Supergiant Games, I'm sure of its quality. It also misses the list because its local multiplayer mode is more of a side-mode than the main fare.
Call of Duty: WWII - I personally left the CoD series behind years ago, but its latest rendition does include splitscreen, both offline and online. I haven't played the game, but in a world where splitscreen in AAA shooters is rapidly nearing extinction, I commend them for carrying the torch. Come on DICE...
Well...
It seems 2017 was a pretty solid year for local multiplayer. As a little brother and permanent Player Two with the wonky controller, it was my pleasure to bring this list to you. If I missed any of your favorites from this year, please let me know. Hell, I'd love to hear about your favorite local multiplayer games regardless of when they came out.
Until next time, thanks for reading words!
- Are you still here?
---
---
LOOK WHO CAME:
Michael Arrietta
Kevin Mersereau 89
Boxman214 33
absolutfreak 14
AvtrSpirit 11
kevlarmonkey 9