So I'm sure everyone that was waiting for Team Fortress 2 last night was going mad along with me. It was horrible! Valve is the biggest
cock tease
ever! So after not only 11 years of waiting for this damn game to finally come out, they keep pushing it till nearly 11:59 and even through that whole time my damn game kept re-preloading and updating over and over! So anyway, when they FINALLY release it, the game is starting up and then I get this...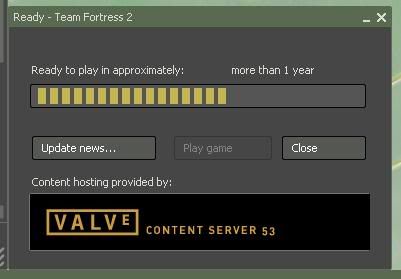 MORE THAN 1 YEAR!!!! What the hell! Why would that even be in there? Valve teasing me... bastards.
Anyway, at the end of the night it finally works and I was finally able to hop into a game and play at about 3am. So once I got to play, it was all good.
Here's a screenshot I took while in game after Yashoki killed me, the odd thing is that TF2 auto-named the file "Yashoki is looking good!"
Here it is: