Hello and welcome to the final installment of 31 Days. I hope you all have enjoyed this as much as I have. The Final Song is:
Return to the Graveyard – Medievil 1
Like many other unfortunate mascots of the 5th console generation Sir Daniel will have to settle for his in game status, a legend. A relic of times since past. It's such a shame too since his last major appearance was PSABR and he really wasn't all that good. Regardless Medievil is a classic for good reason. Despite its poor camera the game had a good plot, lots to explore, funny dialog, and secrets to explore (Most of which we're intuitive rather than super obscure or random).
It was hard to pick just one song from here, as like other great titles this game has some great music to go with it. Ultimately I chose "Return to the Graveyard" because I felt it captured that Halloween feel. It's a piece that teeters on whimsical/mysterious and spoopy.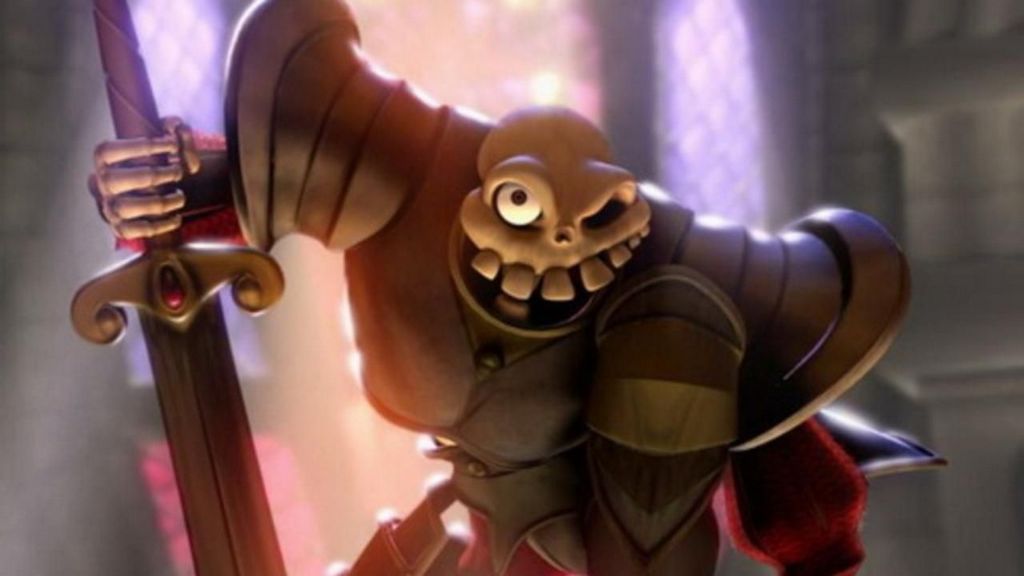 As a child I never participated in Halloween for a great number of reasons, so Medievil pretty much was my Halloween. Still not a bad Halloween I guess. While I didn't get much in the way of candy I shared many an adventure with the skeletal knight and in the end I wouldn't have it any other way. Each year I would take my share of the candy from the candy bowl, sit down and play some Medievil. Like Majoras mask which was another title I play at the end of each year I would play this to completion (for the most part).
The idea with playing Majoras mask to completion at the years end is simply for what it all signifies when the game is wrapped up. A new day, a new beginning, a fresh start for the world of Termina, and myself. Medievil had the same effect. You're a fallen knight looking for a degree of redemption, trying to be the hero everyone thinks you are even though you're not. In relation to Halloween it's like wearing a costume, the onetime where you get to be "extraordinary" or simply be something you'd like to be. You face down Zaroks forces and defeat them one by one until you get to the big cheese himself. Once your done peace is restored and your revered as the hero you we're meant to be. It's like cutting through the night and flying forward into a new day (if that makes sense). This is how the game made me feel at least. A night dedicated to the macabre and you slide right on through, through the darkness and terror that is tightly woven into the Holliday. To then see Tomorrow and the subsequent "calm" that seems to come with it.
A rather Grandiose idea isn't it. Perhaps even a bit silly if I'm being honest, but that was how I spent my Halloweens. I've moved a lot, more times that I would have ever liked. Because of that I never really had friends to keep for more than a year or so, and as such I don't really carry many fond memories of "friends". The only things consistent in my life were my family and the games I had, so I made do. I suppose that's why I revisit these games yearly.
Even further while on this site I've developed a new ritual, the very series your reading now. As I've said before this is a series in which I generally like to give back in some capacity to the community. Even if only one person gets something out of it I'm happy.
All that said I do wish Medievil 3 was a thing as Sir Daniel still has life in his bones (ironically enough). For now I'll reminisce on my time spent with this game while I pelt eager children with candy (because I can).
Now some of you probably skipped right to this bit where I talk about dispensing codes. Yes folks I will be dispensing codes for free but you'll have to work for it. I'll list every game I've got. All you have to do to get one is share with me a fond Halloween or Harvest festival (or whatever you do/did) memory along with your choice of game and a runner up choice. If I like it enough I'll send you a PM with the code and you can add that title to your ever growing backlog.
It goes without saying that if you don't follow the rules, I won't bother with your post.
Enjoy Folks:
Bloodborne (PS4)
Until Dawn (PS4)
Pokémon Yellow (3DS)
Kirby Planet Robobot (3ds)
Hitman Absolution (Steam)
Resident Evil 0 (PS4)
Freedom Planet (Wii u)
Super Mario 3d Land (Wii u)
Tomb Raider 1-3 (Steam)
Titan Souls (steam)
Hyrule Warriors Legends ( New 3ds)
$20 PSN code
$20 Microsoft code
DMC HD (PS3)
Shantae and the Pirates Curse (Wii u)
The Last Remnant (steam)
Darksiders 2 (wii u)
Gyromancer (steam)
Disclaimer and shit
Nobody put me up to this and Destructoid is in no way affiliated or responsible for the keys and their distribution.
Be aware that the more entrants there are for any given item, the lower your chances are. Please limit it to one game you really want, and throw a second one in there as your runner up. 1 per person, no redo's, no swaps. You get what you get and if you lose it that's it. Please be aware that I live in the US and so all codes are generated here, therefore some may not work if you live overseas, like the PSN card for instance.
These codes are new. I bought them and never redeemed them. Most where bought for this very event. That said they all SHOULD work. If the code genuinely doesn't work I will attempt an inquiry on your behalf provided region locking is ruled out as the cause. I will not buy another code so don't ask me to. As much as I love you guys I'm not made of cash.
Codes will be delivered as soon as I can, which means it may take a few days because I both work and go to school. Rest assured I won't forget you and I will up-vote every post that I manage to read (so you know that I at least saw your post).
---
LOOK WHO CAME:
Agent9
Occams 11
Kevin Mersereau 10
LaTerry 6
PhilKenSebben 5
ShadeOfLight 5
Kerrik52 3