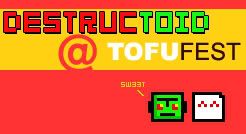 So this weekend a few of us are going out to Little Tokyo for the annual
Los Angeles Tofu Festival
! I'm not a huge fan of tofu, but just the fact that it's a whole festival just about tofu makes me want to go see. Also, apparently there is tofu in forms you can't even imagine! It's like a magical tofu-land! Okay... I might be getting a little tofu-crazy. But anyway, we have a strong army of 4 going out,
Colette
,
mid3vol
,
-Blank-
, and I. Then right after TofuFest comes
Penny Arcade Expo
! This week is going to be lots of fun! I'll be sure to update with photos from TofuFest!
P.S.
If you're in the LA area shoot me an e-mail(
[email protected]
) and join us! It's only $3 to get in!