When you think Rob Zombie, you probably think bloody, dirty, metal and horror flicks. While that is certainly a big part of Mr Cumming's personality, the man is much deeper and varied than you'd expect.

Robert Cummings was born in Haverhill, Massachusetts and from day one his life was rather unique. During his early childhood, Rob grew up in a carnival. During that youth there was a large riot and the carnival tent was lit on fire. Robert has said he can still recall seeing a man have his face smashed open with a hammer while the man was trying to help Rob's family. His parents decided that it was probably not a great idea to stick around and moved on. They apparently didn't move very far as Rob attended Haverhill High-School. Haverhill isn't exactly a particularly large city, the 2010 census put it at only ~60,000 people.

After graduating high school in 1983, Rob Cummings attended the art school Parsons School of Design. It was here that he met Sean Yeseult, who ended up becoming his girlfriend. Rob had actually asked Sean if he could teach her to play bass the when they had met. Obviously, she was a good student. Together they formed what would become White Zombie, named after Bela Legosi's 1932 horror film.


That's right, White Zombie is a band started by art students, not exactly what you'd pictured when you know that Rob has a solo album called "Hellbilly." Before White Zombie had much success Rob worked as a production assistant for art direction on the classic 1980s children's show PeeWee's Playhouse.


Drawing on his art background, his love of horror, and heroes such as Alice Cooper and Stan Lee, the live shows of White Zombie were a spectacle of a live band. On April 28th, 1986 White Zombie made its first live performance, performing at the famous CBGB club. In 1987 White Zombie released their third EP, Psycho-Head Blowout. A heavily punk sounding album.
That year they also released their first full length album, Soul-Crusher. This album in later years has been praised greatly as one of the best albums of the Noise Rock genre. Soul-Crusher also saw the birth of Rob Zombie, Cummings having decided to drop his previous moniker, Rob "Dirt" Straker.

The buzz of Soul-Crusher would be the moment the band started to emerge and appear on people's radar. In 1988 the band signed with Caroline records, and shuttered the doors on their own indie label which they'd been releasing all of their previous recordings. Despite the critical praise Soul-Crusher was not much of a commercial success.

Soul-Crusher may have given hints of some of the concepts of White Zombie's sound, but it was their next album, 1989's Make Them Die Slowly, that would start solidify them into the heavy metal genre people know them for.
Sean and Rob broke up as a couple in 1991, yet not all would be a downer, Sean and Rob would continue to work together in the band and this would be the moment White Zombie hit it big. Signing to the major label Geffen Records meant that White Zombie had finally "made it." Releasing their third album, La Sexorcisto: Devil Music Volume One, in 1992 the band had a huge hit with their single Thunder Kiss '65. In 1993 the music video caught the eye of Beavis & Butthead creator Mike Judge who featured it on MTVs hit animated show. White Zombie would also go on to work with Mike Judge on his 1996 movie, Beavis & Butthead do America. In 1994 Sexorcisto managed to sell 2million units in the US, enough to certify it double platinum.
Sadly, even having really found their sound and landed their success on the previous album, 1995 would be the release of their final album. Astro Creep: 2000 featured the hit song More Human Than Human, unquestionably the bands biggest hit of all time. More Human would appear in tons of games, tv, and movies. The song was nominated for a Grammy, though it ultimately lost to Rage Against The Machine.

More Human would be the first music video that Rob would direct, he'd go on to direct every other music video for the band, hinting at his future interest in film. The video features actual clips from his childhood with himself, his cousin, and his brother Michael Cummings, front man for Powerman 5000.

In 1996 there was a release of remixes titled Supersexy Swingin' Sounds, but no actual new material. The band would finally go their separate ways in 1998. There has been hints of a reunion this year with Rob Zombie performing Astro Creep live at a concert, but nothing has been stated by any members of the band.

The band may have broken up, but this didn't mean Rob was done, he went on to have a fairly successful solo career, releasing six albums between 1998 and this year. His first release in 1998, Hellbilly Deluxe, managed to go triple platinum, outselling White Zombie's Astro Creep. This was the only solo album that managed to approach the success of White Zombie's final two albums, but several others almost went platinum.
I need to point out what appears to be a "Night at the Roxbury" reference in the music video
He is still directing all of his music videos, as far as I know. This is one from 2013.
This one from his new album has a fun little three minute intro, and the song itself gives me a kind of Primus tinge at times. That isn't really how the other songs sound, but I thought it was a cool difference from his normal style.
This one is a bit more traditional:

Though Rob has never stepped entirely out of the musical light in 2003 he decided it was time to really stretch himself artistically. Using his experience directing music videos he wrote and directed the cult film, House of 1000 Corpses. A throwback film to 1970s horror films, Rob having specifically cited Texas Chainsaw Massacre as an influence.

In 2005 the sequel was released. The Devil's Rejects fared critically about as well as House, middle of the road views at best, it did manage to be a minor success having made just under 20million of it's 7million dollar budget.

2007 would give Rob a chance to touch an established franchise, and one that had inspired Rob's music and look. The remake of John Carpenter's Halloween would end up being the highest grossing entry in the entire series, though also critically panned. The 2009 followup, also written and directed by Rob Zombie, would be less of a success but still making over double its budget, and also being critically panned.

2013 would see Rob return to original material, writing the film The Lords of Salem, like seemingly every film Rob creates it recieved mixed reviews. The film was much less of a success than anything else he had worked on up until that point. The film ended up breaking even, though only barely.
Regardless of the tepid reaction to all of his films, and the lack of success on Salem, Rob Zombie managed to crowd fund a new project this year. The new 70s throwback horror film, 31, was yet again mixed to negative reviews. I don't think this really matters, Rob Zombie's films are targeted to a specific audience for a specific type of entertainment and as long as that audience exists I think he'll continue to be able to make these films.

Remember when I said Rob Zombie was deeper and more varied than it seems on the surface? Well, it sure sounds like all of that came at the start of his career with PeeWee Herman and his art school origin. Here, 30 years later, we take another left turn. Rob Zombie's next lined up project is to direct a film currently titled Raised Eyebrows, the film is based on the life of Groucho Marx. Hopefully Harpo doesn't get disemboweled.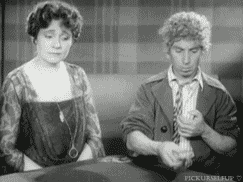 ---
LOOK WHO CAME:
Khalid Eternal Nigh
Wes Tacos 24
RiffRaff 8
Gajknight 7
absolutfreak 5
Funkotrons Finest 2