Video games and television have rarely been a winning combination in the UK. Arguably the most successful and long-running show was GamesMaster, which lasted for seven series back in the nineties. Since then, there have been many attempts to merge the two mediums together. None have really succeeded. Go 8 Bit is yet another attempt, only this time merging the comedy panel format with video games.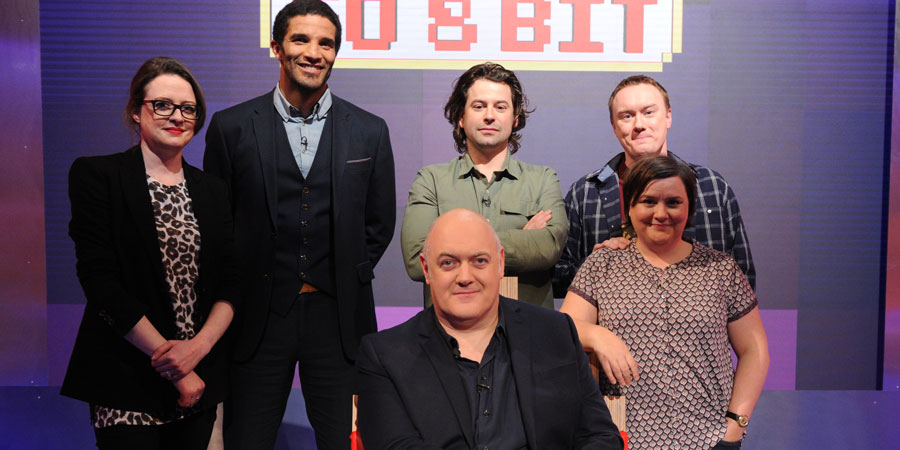 Go 8 Bit began as a show at the 2013 Edinburgh Festival Fringe. It was created by Steve McNeil and Sam Pamphilon who apparently couldn't think of anything else to put on for their act. The pair led two teams that played video games against each other. The loser had to do a forfeit. Their live "act" was so successful that eventually their idea was turned into a TV show, with comedian Dara O'Briain as the host and video games journalist Ellie Gibson as the resident expert.
For the first episode, team captains McNeil and Pamphilon were joined by comedian Susan Colman and former England goalkeeper David James. Each round begins with Gibson giving the audience and viewers some background information on the game to be played. Then the audience would vote on which team would win. There are five rounds altogether:
• A classic video game, played by all four players.
• The favourite games of the two guests, with the guest playing against the opposing team captain.
• A current big hit game.
• A humorous take on a more unusual game.
Go 8 Bit was surprisingly good. Dara O'Briain is the perfect choice for the host of the show. He kept the atmosphere warm and lively, and the jokes were very light-hearted, laced with the occasional unintentional innuendo. There was a variety of games played such as Tetris, Chuckie Egg, Tekken and Star Wars Battlefront. A good mix of retro and modern. The guests got to talk about their favourite game and then play against each other. There was smack talk. The Tekken 2 match was surprisingly tense, with the audience shouting and cheering when someone won.
Also Sam McNeil's game face while button mashing. And yes, he's wearing Ellie's shirt from The Last of Us.


Most of all the show was fun and silly. It tries to strike that balance of appealing to gamers yet keeping the show accessible for non-gamers. There's a round where the team captains have to play Tetris blindfolded while the guests shout instructions in their ear. The final round involved playing Bust-A-Move with a custom Makey Makey controller that involved people. Specifically, people dressed as Chun Li, Dr Eggman and Zangief. Oh, and Cher.
It's hard to explain.
But will this show succeed when all the other attempts to combine TV and video games have failed? It's hard to say from one episode. Back when it was a live show it attracted non-gamers as well as gamers. Now, as a TV show, if it can do the same, then it just might have a chance.
---
LOOK WHO CAME:
Infinitestrike
Tohsaka 12
Larx 9
Scrustle 4