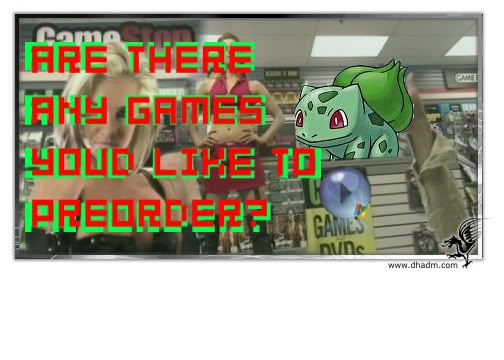 come on, preorder from bulbasaur he needs to keep this job. he hasn't had a good one since fire red/leaf green.
do you want to be the very best, like no one ever was? is catching them your real test, and training them is your cause? do you think your the poke master? well on july 21st gamestop wants you to see the amazingness of the wii by holding a pokemon battle revolution, Pokemon Tournament. just show up with your DS and copy of Diamond or Pearl and you can wipe the floor with all the lil 10 year olds and become a true pokemon master.
first place gets Pokemon Battle Revolutions and a Poketopia t-shirt.
second place gets the t-shirt
and since no one is a real loser in the game of life you get a free special gift just for showing up.
click the link for more basically the same information plus to find out which of your local gamestops are participating, then talk to your "friendly" gamestop employee for the time
http://www.gamestop.com/gs/pokemonbr/default.asp
is anyone else thinking about doing this? i was thinking we should form a team destructoid and sweep the nation in this pokemon tournament. plus if we find neat ways to advertise our team thats good advertisment for the dTOID