Since this is my first year posting the BOOTY Awards on Destructoid, I think an introduction is in order. Each year, I pick the Best Offerings Of The Year in a variety of categories. First are visual awards, then auditory, then genre, and finally (my favorite) special awards. These lists are obviously based on games that I played during the year so don't be upset if your favorite isn't included.
The rules:
games must be released between January 1st and December 31st 2015
games must be released for the first time in 2015; no ports, remasters, or remakes quality for top GOTY awards (sorry Tearaway!)
best console games are chosen solely based on exclusives; no remakes qualify for best of specific console awards
And now...
BOOTYS YOU CAN SEE

Best Visuals: The Order 1886


I can't deny that this was an excellent game to look at. The key word there being "look".

Best Art Direction: Bloodborne


Let me tell you all the reasons why this game has incredible art direction. Actually, maybe these pictures should do the talking.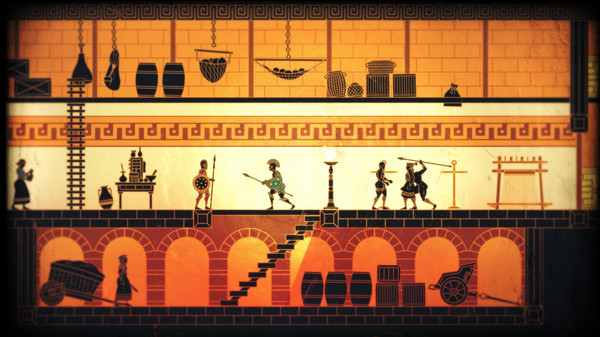 They made the game look like Greek pottery art. Let's give a medal to the guy who thought of that idea.


Worst Art Direction: Halo 5


Halo used to look awesome. Remember when Halo looked awesome? Now it looks like this.


The "Arts 'n Crafts" Award: Kirby, Yoshi, Tearaway, and Armikrog


They keep making games out of art materials!


Best Use of Neon: Ori and the Blind Forest

Most Colorful: King's Quest ep. 1


This game was literally painted by hand. My eyes have rarely glimpsed such beauty.


Most Depressing: Tony Hawk's Pro Skater 5


Something about the visuals of this game make me sad.


Best Explosions: Just Cause 3


The colors in the game make the explosions even more striking.


Ugliest Characters: Xenoblade Chronicles X


No offense, but these character designs are just downright ugly.


Best Cutscenes: The Order 1886
Considering about 90% of the game is cutscenes, they better be good.
BOOTYS YOU CAN HEAR
Best Soundtrack: The Witcher 3: Wild Hunt and Xenoblade Chronics X (tie)



In all my years of the BOOTY Awards, I've always been able to pick a clear winner for best soundtrack. There are often many amazing scores but one that stands above the rest. This year, I simply can't do that. Both of these RPGS have absolutely incredible music. Both of these games deserve recognition for their unique and incredible musical landscapes.
Most Improved Soundtrack: Halo 5

Giving Neil Davidge the boot in favor of Kazuma Jinnouchi was the best thing 343 has done for Halo so far. Although they were the ones who hired him in the first place...
Most Relaxing Soundtrack: Yoshi's Woolly World

Yoshi's New Island raped my ears last year, but Woolly World has come with the lotion to sooth my aching ears.
Most Unique Soundtrack: Splatoon

Ever heard of squid-rock? Now you have.
Most Epic Character Creation Music: Xenoblade Chronicles X

Making a character has never felt so awesome.
Least Memorable Soundtrack: The Order 1886

I'd write something about this, but I honestly don't remember much except that Austin Wintory composed the main theme. Unfortunately, that's the only track he worked on.
Best Sound Design: Bloodborne

You hear that horrible screeching wail in the distance? It's probably coming to kill you.
Worst Soundtrack: Boxboy

I love Boxboy as a game, but the music is just grating. It's repetitive, composed of unpleasant sounds, and gets annoying very quickly. I ended up muting the game so I could finish it.
Catchiest Theme Song: Super Mario Maker

Nintendo: theme song geniuses since 1985.
Best Performance: James Clyde as The Bloody Baron
The one character from 2015 I'll never forget is the Bloody Baron. James Clyde's excellent performance really brought such a complex character to life.

The "Totally Ruined" Award: Super Meat Boy
Compare, as an example these knockoffs:


to the amazing originals:


Because somebody involved is apparently a tremendous asshole, the entire (excellent) Super Meat Boy soundtrack was replaced for the PlayStation release, thereby ruining the game. What a lousy way to celebrate the game's 5th anniversary.
GENRE AWARDS
Best RPG: The Witcher 3
Also, one of the best RPGs ever made.

Best fighting game: Mortal Kombat X
I don't even recall another fighting game coming out, besides DBZ.

Best 3rd Person Shooter: Splatoon
Yes, it totally counts. Feels good to give Nintendo this award.

Best Mobile Game: Steven Universe: Attack the Light
Probably the best mobile game I've ever played, actually.

Best Puzzle Game: Boxboy
Looking past the terrible soundtrack, the gameplay of Boxboy is both clever and fun.

Best Platformer: Yoshi's Woolly World
I have actually been waiting for this game since Yoshi's Island, I just never knew it.

Best 1st Person Shooter: Halo 5
I give this award to Halo 5 based on the way that it plays. When the multiplayer works, it really works. Shooting guys in this game is fun, and I'll leave it at that.

Best Action Game: Transformers Devastation
Platinum made it so of course it's going to be the best action game. They could make a game about fighting potatoes and it would be amazing.

Best Multiplayer: Splatoon & Rocket League (tie)
I just can't pick. I usually hate playing games online with strangers but both of these games have me hooked.

Best Indie Game: Rocket League
I have rarely, if ever, had as much fun playing a game online.

Best Sports Game: Rocket League
I have rarely, if ever, had so much fun playing a sports game.

Best Xbox Game: Halo 5
Honestly, what the hell else was I even going to pick? It was pretty much this or Tomb Raider, which I haven't played. And that's not really an exclusive anyway.

Best PS4 Game: Bloodborne
It was a pretty barren year for the PS4 as well. Luckily, Bloodborne rocks (especially considering the alternative is The Order).

Best Wii U Game: Super Mario Maker
On the other hand, there's the Wii U that had so many fantastic games in 2015 that it's difficult to pick just one. Ultimately, Mario Maker's endless replayability and ease of use make it Nintendo's best of the year.

Best 3DS Game: Code Name S.T.E.A.M.
3DS did not have the greatest year. I wish I could give this award to Majora's Mask, but alas it does not qualify. At the very least, Code Name S.T.E.A.M. is a pretty good game.

Best Vita Game: Tearaway again
For the third year in a row, I name Tearaway the best Vita exclusive game because there are literally no other Vita exclusives and this game is just so damn good.

Best DLC: Geometry Wars 3 "Evolved" Update
Not only was this completely free, but it almost doubled the amount of content in the game.

Best Console Port: Elder Scrolls Online
It plays just like you hoped it would.

Best Rerelease: DmC Definitive Edition
This was a great port, complete with tweaks that made the game better.

Best Remake: Majora's Mask 3D
It wasn't the HD version the game deserved, but it was still surprisingly beautiful and had plenty of additions and improvements.

Best Remaster: Tearaway Unfolded
Does this even count as a remaster? Whether it's a remaster or reimagining, it's amazing!
SUPER SPECIAL AWARDS DIRECTOR'S CUT HD EDITION

First Game of the Year: Whoa Dave! for PS Vita, released January 6th

The "Gear of War 2 Award" for Best Sequel: The Witcher 3

The "Fable 2 Award" for Worst Sequel: Batman: Arkham Knight

Best Earthbound: Undertale

Best Climbing Simulator: Grow Home

A Game That Exists: Ironfall: Invasion

Creepiest Moon: Majora's Mask 3D

Least Gameplay: The Order 1886 Button Prompts

Weirdest Name: Under Night In-Birth Exe:Late

Work-in-proggress Name Nobody Bothered to Change: Code Name S.T.E.A.M., Project Cars

Punnies Title: Starwhal: Just The Tip, OlliOlli 2: Welcome to Olliwood, Catlateral Damage, Splatoon, Galak-Z, Darksiders 2: Dethinitive Edition

Game That Sounds Like it Could be Either a Metal Band or Biker Gang: Helldivers, Screamride

The "Sega Saturn Award" for Shortest Time from Announcement to Release: Five Nights at Freddy's (10 days from official announcement to release)

Most Forgotten: Battlefield Harline

Best New IP: Splatoon

Most Costumes: Super Mario Maker

Best Spartan: Spartan Locke

Biggest Clusterfuck: Amiibo wave 3

Best Pooping Horse: Metal Gear Solid 5

Game Most Opposed to You Having Fun: The Order 1886

RIP Light: Dying Light

Most Clever Logo: Evolve

Sequel That Apparently Came Out: Blade Kitten 2

Game Whose Title I Always Read Wrong: Final Fantasy Typo HD

Most Brutally Difficult: Bloodborne, Super Mario Maker

Most Generic Sounding Game: The Awakened Fate Ultimatum, Worlds of Magic, Legend of Legacy

Wish I'd Heard of it Sooner: Grand Theft Pizza Delivery

Best Tower: Tower of Guns

Crummiest Game: I Am Bread

The "Shadow of Colossus Jr." Award: Titan Souls

Best Game Named After an Awesome Song: Roundabout

Most Hated Game: Hatred

The "Lame Excuse" Award: Adding letterboxing to The Order 186 for "cinematic effect"

Better Check Those Claims With the FDA: Dr. Mario Miracle Cure

Late to the Party: Zombi

Best Moment of the Year: Having Codsworth call you Mr. Boobies in Fallout 4

Best Detective Vision: The Witcher 3's witcher sense

Best GoW Rerelease: God of War III Remastered and Gears of War ultimate Edition

Port Nobody Asked For: Legend of Kay HD

Most Badass Elephant: Tembo The Badass Elephant

Best Sonic The Hedgehog Game: Freedom Planet

Most Games in a Single Collection: Rare Replay

This Game Seriously Came out in 2015: Garfield Kart

Game that Sounds Like an Incomplete Thought: Until Dawn

Bloodiest Baron: The Bloody Baron

Best Avalanche Game: Just Cause 3

Happiest Home Designing: Animal Crossing Happy Home Designer

Most Disappointing Entry in a Popular Franchise: Animal Crossing Amiibo Festival

Most Gruesome Moment: Murdering innocent fluffin puffin chicks as Yoshi

Best Supersonic Acrobatic Rocket-Powered Battle-Cars: Rocket League

Most Complicated Game: Xenoblade Chronicles X-treme Micromanagement

Maddest Max: Mad Max

The "Didn't Help At All" Award: Xbox One UI update

Most Disappointing Werewolves: The Order 1886

Best Use of Abe Lincoln: Code Name S.T.E.A.M.

Most Disturbing: Witcher 3's Crones

Most Helpful Ally: Fallout 4's Mysterious Stranger

Worst Story: Halo 5

The "US Wins Again" Award: smaller New 3DS is released

StarFox Void Filler: Mario Tennis Ultra Smash

Most Bat Shit Insane: Devil's Third

This Game Hasn't Been Out For Years Already?: PlanetSide 2 for PS4

The Collection Award: Homeworld Remastered Collection, Borderlands: The Handsome Collection, Mega Man Legacy Collection, Uncharted: The Nathan Drake Collection, Alien Isolation: The Collection

The Edition Award: Darksiders 2: Dethinitive Edition, Divinity: Original Sin Enhanced Edition, Don't Starve: Giant Edition, Gears of War: Ultimate Edition, Dishonored: Definitive Edition, Gauntlet: Slayer Edition, Devil May Cry 4: Special Edition, Payday 2: Crimewave Edition, Skills of the Shogun: Bon-A-Fide Edition, Puzzle & Dragons Z + Super Mario Bros Edition, State of Decay: Year-One Survival Edition, Resident Evil 5: Gold Edition, Trine: Enhanced Edition, DmC Definitive Edition, Duke Nukem 3D: Megaton Edition

Last Game of the Year: Trine 3: The Artifacts of Power, released December 22nd
Stay tuned for my top game of the year picks, my least favorite game, and predictions for 2016!
- A witty saying of some sort.
---
---
LOOK WHO CAME:
Fuzunga
Occams 43
Gajknight 20
LinkSlayer64 18
Agent9 16
ikiryou 15
CelicaCrazed 6
Rad Party God 6
Anthony Marzano 6
Scrustle 5
Larx 4
Elsa 4
AvtrSpirit 3
Axarrey 2
JPF720 2
Batthink 1
Cynric Cyning 1
Wes Tacos 1
Ben Davis 1
NakedBigBoss 1