Have you seen the recent trailer for Mad Max: Fury Road? I did, and it somehow made me shed some tears due to the beauty within all the awesome carnages.

It's pretty amazing when you think about it. A mere exploitation film starring an unknown young American-Australian actor, directed by a medical doctor-turned-director on his first feature film 38 years ago, managed to form a massive franchise that help popularized the post-apocalyptic genre across various medium. There are definitely more philosophical apocalyptic books and movies that deserved to be enjoyed, but the problem is that Mad Max series made the genre so damn cool, that when one think of post-apocalypse, they'll instantly think of Mad Max instead of anything else. In short, without the popularity of the Mad Max series, there will be no Terminator, no Saw, no Wasteland, no Borderlands, no Fallout and of course, no Fist of the North Star.

So for this week, we'll take a look at the movie that starts it all: the original Ozploitation (Australian exploitation) film starring Mel Gibson himself, and directed by series director George Miller under A$400K at that time. Also, I'll put up some allusions towards Tom Hardy's career which foreshadow him taking over the role of the Road Warrior throughout the franchise review.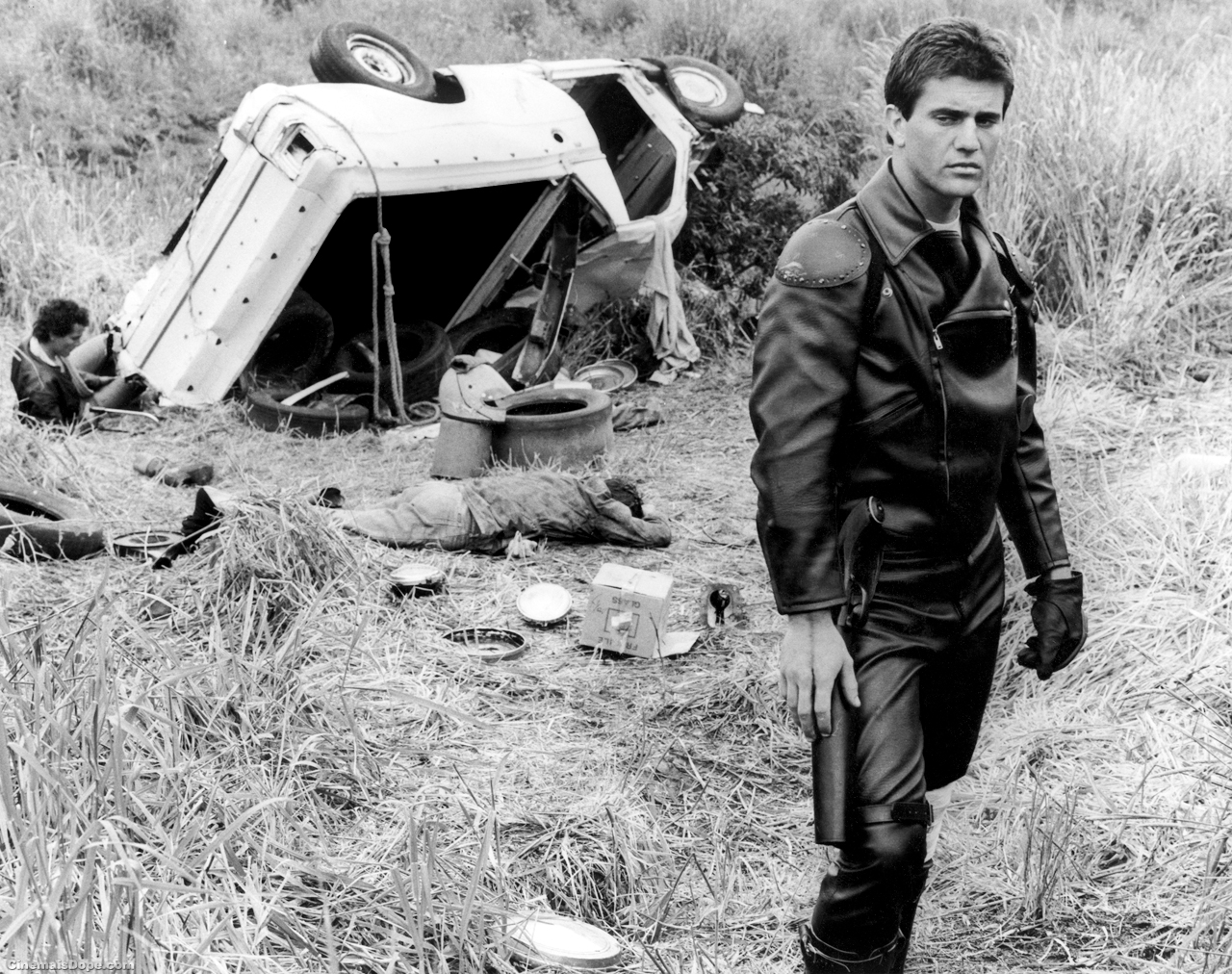 The face of a man with nothing to lose.
Mad Max is set in 'a few years from now', where Australia became a dystopian country due to a major oil crisis. Civilization is becoming non-existant as each day passes by, the Main Force Patrol are hopelessly trying to tame the lawless Outback, and motorcycle gangs terrorize the highways with brand-new Hondas and Kawazakis. In the opening you are treated with a furious car chase between the MFPs and an escaped and high gang member driving in a stolen Holden Monaro. Unsurprisingly, the MFPs are not competent enough to apprehend the suspect, other than one fellow MFP officer, Max Rockatansky. Unlike the other officers, Max managed to catch up with the suspect, while scaring the living daylight out of him, before getting the Monaro into a nasty explosion which involved a rocket booster during the making of the scene. The spectacular opening alone tells you just how bleak and dangerous the world Max lives in.

Outside of his job, Max enjoy a rather normal, peaceful life with his family. He wants to quit the force to get away from the madness he faced at the Outback, but the MFP refused to let him walk out of the door as he remained the best pursuit officer available. Meanwhile, Max's recent killcounts attracted a dangerous motorcycle gang lead by the insane Toecutter, which might endanger everything he hold dear in this godawful place. And he gets an awesome car in the end.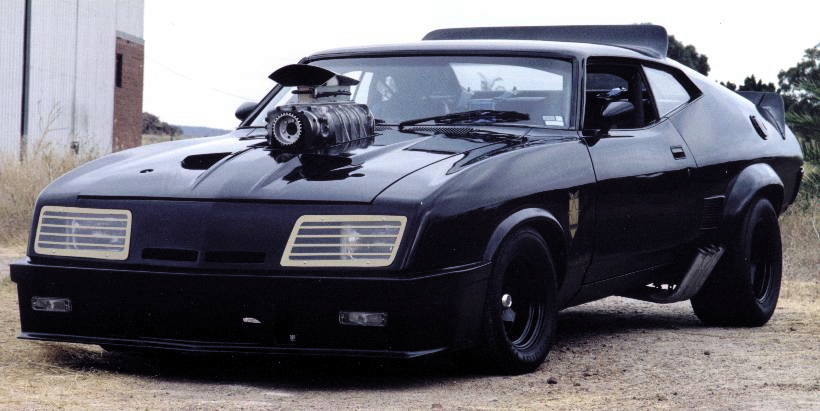 The last of the V8s. What a modified beauty.
Oddly enough, despite being an action Ozploitation film, I found the movie to be rather slow. It may be because I didn't watch many exploitation films to begin with, but the movie takes quite some time for us to get to the good stuffs. The only car action scenes you'll see is at both the opening and the climax, and most of the time you'll see is some dramatic scenes, and poor innocent people getting hurt, raped and pillaged and stuffs.

Another issue I've had with the movie is that the movie doesn't seem to focus on the protagonist himself. Max's life throughout the movie seems fine until the outlaws threatened his family. But then again, the outlaws only start their troubles with Max's friend Jim "Goose" before proceeding towards Max himself. If there was a chance to rewrite the script, I would had Max as a fierce yet competent officer whose reckless actions towards the motorcycle gangs will have serious consequences towards anyone close to him. Cliche, but much more effective storytelling, in my opinion.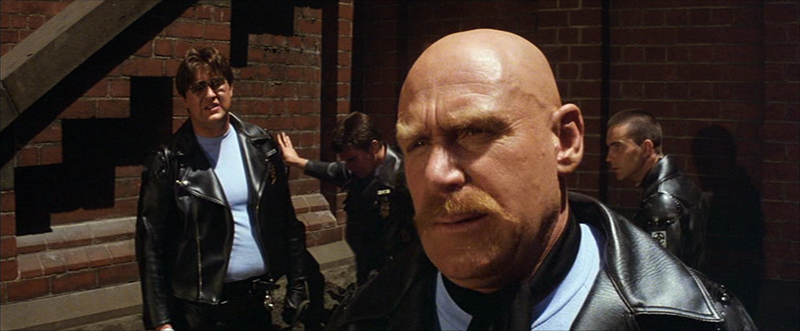 "Fifi" Macaffee, or Charles Bronson?
That's not to say the whole movie's a total slog to watch. For one, you get to experience the empty yet beautiful side of Australia without the dangerous wildlifes, as the cinematography in this film is simply astounding.

The overall cast aren't bad in spite of its budget. Steve Bisley did good as Goose. The motorcycle gangs are pretty decent. Indian-born Australian Hugh Keays-Byrne was very hammy as Toecutter, which somehow made him much more memorable than the rest. No wonder George wanted to cast him again as another villain in Fury Road.

Toecutter is his name. Remember him when look up the night sky. With your mouth open.
The only cast that felt off, for me, is Mel Gibson. Nothing wrong with his performances, he did an adequate job at that. It's just that no matter how many people keep telling me, I still can't convinced myself that baby-faced, handsome looking guy is Mel Gibson himself! Just look at the face comparison between him at Mad Max and at the end of Mad Max 2!



He doesn't look like Mel Gibson I know, which is the one I've knew after Mad Max 2. Personally, I'm very convinced that Mel had some alien face surgery technology that make his younger face vastly different than his older face (Or maybe Mel did age pretty quick.).
The most important stuff, is of course the action scenes. Throughout the movie, you can see that George Miller do know how to capture exciting car chases. He's great at knowing how to get the best action shot, he's even better at capturing car crashes, which is pretty evident throughout the rest of his career.

You can't get better car crashes than this back then.
In the end, despite the brief but great action scenes, I wouldn't say it's an essential watch for everyone who's interested in the franchise. It's still a great movie, but the sequel Mad Max 2: The Road Warrior had pretty much have his basic backstory covered in the intro for clarification. If you're really interested in Max's overall history and the world he lives in, it's worth watching while wait patiently through some dull parts to know the conclusion. If not, it's safe to skip to the sequel.
P.S.: Here my crappy artwork of a gender-bender crossover between May Rockatansky and a certain Atlus character. Turns out I draw better on a paper than on a tablet. Still needs major improvements though.


---
LOOK WHO CAME:
Rudorlf