Before reading this review, I have to say that I'm very sorry for delaying the reviews of the sequels for so long. I was a bit hesitant about watching them, but today I've just watched Part II, so here's the "long-awaited" review.
Back to the Future Part II begins from the ending of the first movie where Doc (Christopher Lloyd) invited both Marty (Michael J. Fox) and Jennifer (Elizabeth Shue) into the Delorean, and time travel in the future at 2015 (Oh yeah~) to save their future children. During the events, the old Biff Tanner (Thomas F. Wilson) found out about the time machine and decided to use it to save his past, so that he will never ever learn not to be a bad person again. (Tsk tsk tsk.)

Punks loves red eyes, watch Die Another Day 3 times a day, and wear nifty tin-foiled hats. The future is indeed bleak.
If you haven't guess it yet, BTTF Part II's theme is all about the effects and consequences of time travel, should someone decides to misuse it. At first, Marty decided to misuse the future to win money at the present, but after Doc found out and talk him out of it, Future Biff Tanner heard them and decide to take advantage of the situation.
For the most part, the movie is really solid. The BTTF 2015 is both retro and advanced. The alternate-1985 looks appropriately grim, given who's in charge there. Both Fox and Lloyd were still pretty good at their own respective roles. The jokes are still effective, even if some of them are recycled. And of course, the cool action scenes, especially when there's hoverboards involved.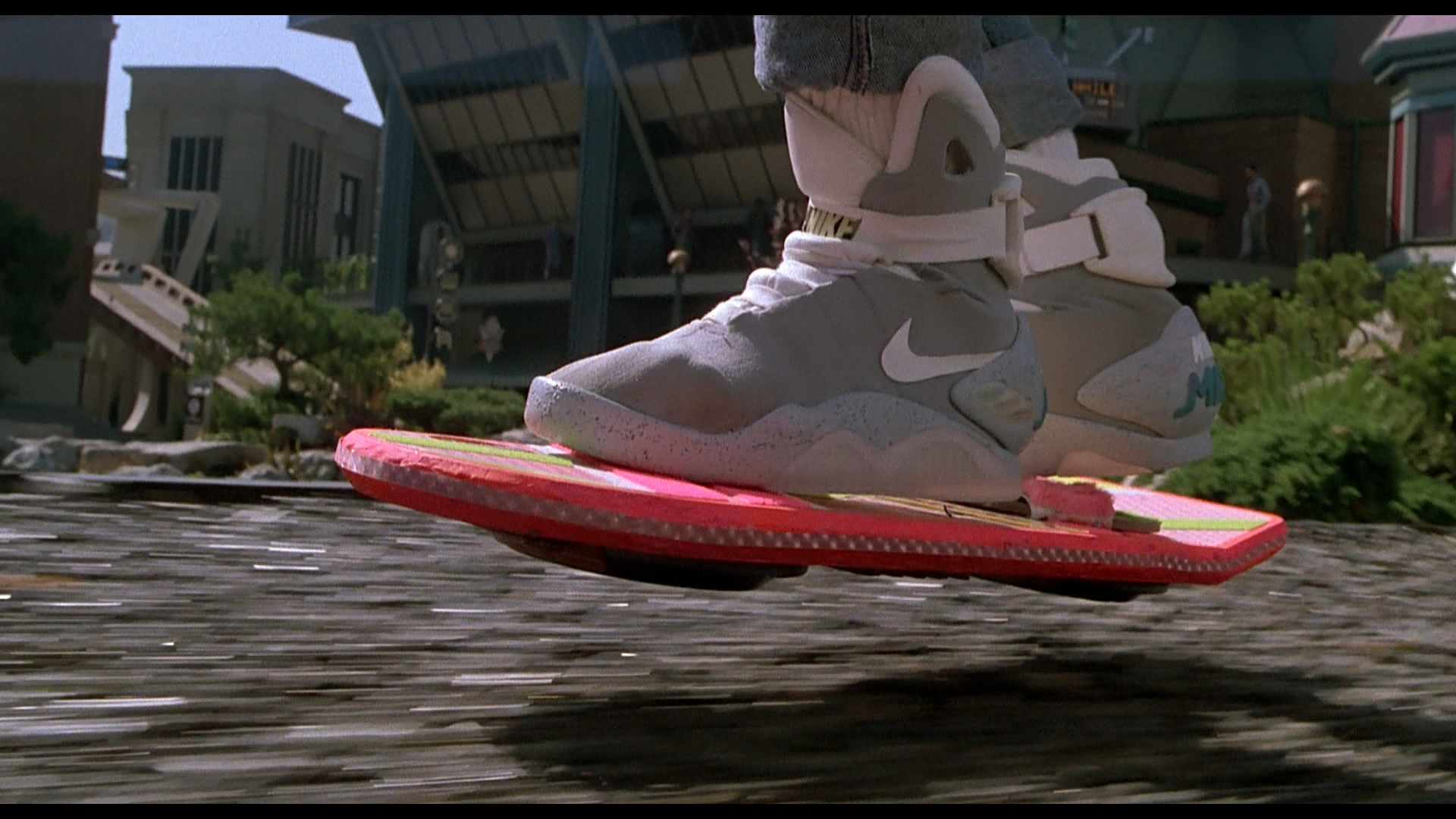 Mutha-effin' hoverboards, man. Coming to your nearest stores at another 50 years.
Now here comes the bad ones. Jennifer were pretty much exist in the film for no good reason other than for the sake of continuation from the last ending. Some of the recycled jokes don't work for me. It also lacks the magic of the original film, as that film makes mucking around 1955 by accident so much fun to watch. Oh, and the setup ending for the next sequel kinda lowered the satisfaction after watching this one.
And here's the ugly one. Be warned that this is going to be loud, disappointing, and sarcastic. So WHERE'S OUR GODDAMN FUTURE?! FOR HEAVEN'S SAKE, REAL WORLD! 26 YEARS HAVE PAST SINCE THIS MOVIE, AND I DON'T SEE SELF ADJUSTING CLOTHES, HOLOGRAPHIC SCREENS, FLYING CARS, AND GODDAMNED HOVERBOARDS! I'M SOOOOOOO DISAPPOINTED IN YOUR TECHNOLOGICAL ADVANCEDMENTS, REAL WORLD! WHHHHHHHHYYYY~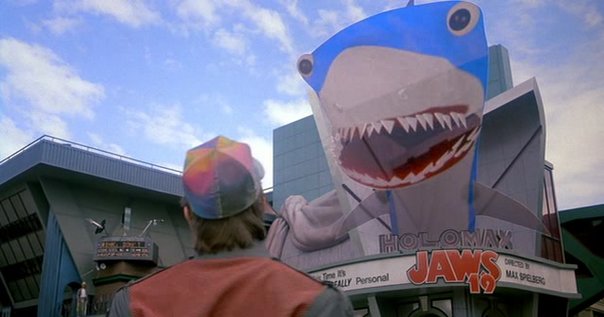 Except holographic 3D and Jaws 19. BTTF 2015 can just keep 'em.
In the end, despite not as great as the original film, this sequel is still a good watch.
(The Back to the Future Part III review will be posted tomorrow.)
---
LOOK WHO CAME:
Rudorlf