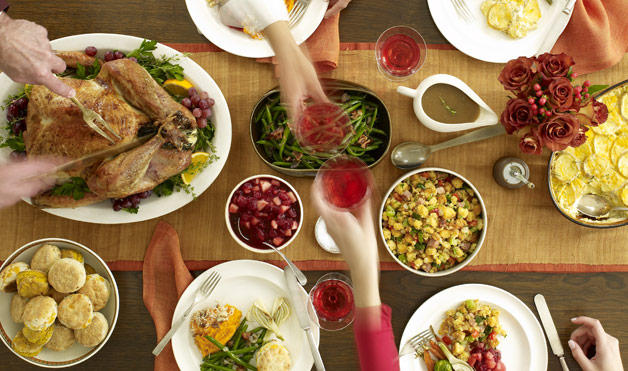 It was Thanksgiving yesterday, and my sister hosted at her new house this year. Our flight was delayed 3 hours, then only 20 minutes, then 2 hours over the course of 6 hours. Already a fun time. I had to help cook because I was the only one here who was allowed to help. WOO. But omg everything that was made was the most delicious things I had ever eaten. Real cranberry sauce is incredibly easy to make, and waaaay better tasting than the stuff in the can.
Still here, I kind of wanted to leave today (because we are driving back) but the car we were taking is/was broken and it was left at my moms house, 2 hours away. Nothing is ever simple with my family.Kymiko
Welcome to the Playstation side of Friday Night Fights! Every Friday, members of the community get together online to play games and all you need to join is a user account. Down below, you'll find a list of games that we'll play tonight along with the times they'll start, the people that you should hit up for invites, and any other information that you may need.
If you want to play, leave a comment with the games from the schedule you want to play and your PSN name. You should also send a PSN friend request to the host and mention your username here in the message so they know you're one of the cool people and not just some random friend request.
If your favorite game isn't on the schedule, host it yourself! You just need to give us the game, start time, and your PSN name so people know what, when and who. It's also wise to list DLC requirements, game or server names, and anything else people might need to join just so you don't need to message it to everyone individually. Last minute additions in the comments here are fine, but games can also be added earlier in the week by visiting the forums and finding the thread with the coming Friday's date. Adding a game there ensures it's on the blog from the moment it goes up.
Little Big Planet 3 Nanners AKA Nanashi AKA BaNanners 7:30pm Nanashi707
The Last of Us: Remastered Nanners AKA Nanashi AKA BaNanners 9:00pm Nanashi707
Destiny The Defenestrator 11:00pm ThDefenestrator
Warframe Trev 1:00am ElZilcho
Drunk Kitchen!!
---
LOOK WHO CAME:
PS FNF
M Randy 1
nanashi 1