To be a Dragon you've gotta be strong. Humble, never braggin'!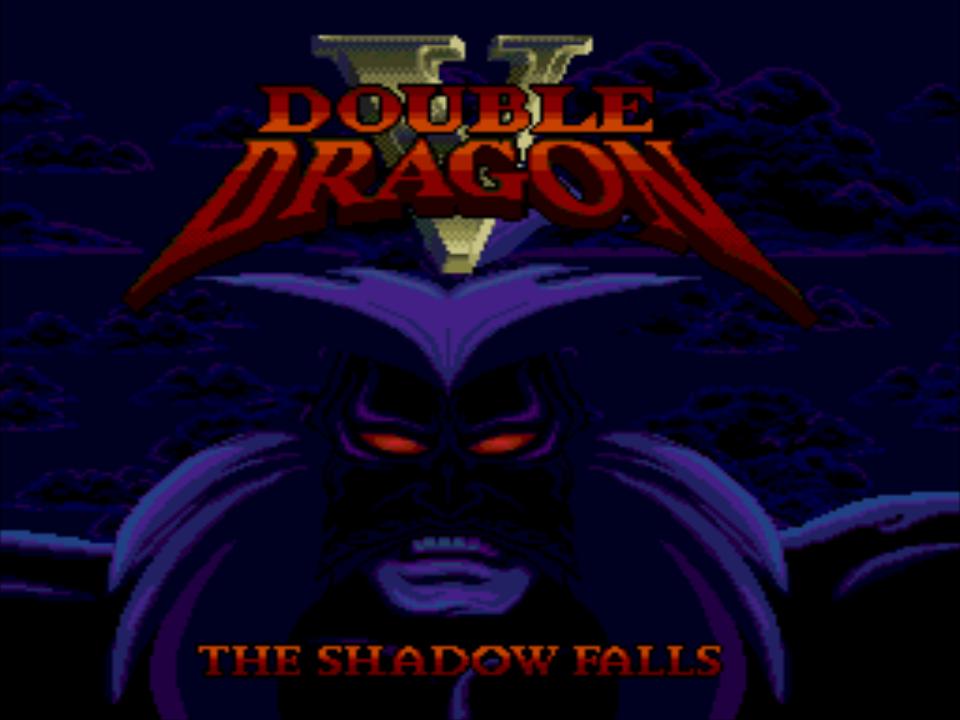 Cross promotion used to play a much bigger role in video games when I was younger. It wasn't entirely uncommon to see cereal, toys or even cartoons based on video game characters. Case in point, in the early 90s DiC made several cartoon series based on popular franchises to limited success, one such series was Double Dragon. The television series itself was a mixed bag. The show was offered as a loose adaptation of the plot from the original home console port on the NES. Ultimately, I feel the show was big on ideas but low on the funds to properly execute them. Regardless, the show was popluar enough to be renewed for a second season and it even saw a video game tie-in on home consoles. That's right, the television series based on a video game was to recieve it's own video game adaptation. What a world we live in. As if to further compound the silliness, the game wouldn't be a side-scrolling brawler, instead it was decided to be turned into a one-on-one tournament fighter in the hopes of cashing in on Street Fighter II's recent success. TradeWest, who had published most home versions of the original games in America, would hand development for this new title off to their newly founded and short-lived internal development studio, Leland Interactive Media.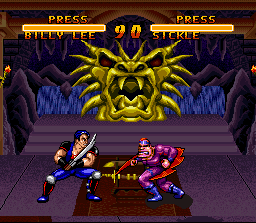 The 90s certainly wasn't suffering from a lack of fighting games. Following the release of Street Fighter II and Mortal Kombat, 16-bit consoles saw an influx of tournament fighters all hoping for a fraction of their success. It's no wonder then, that Double Dragon V would be viewed with some much deserved cynicism. Afterall, this game is one of the most transparent corporate cash grabs of it's time. This falls into the same boat as other shameless endeavours like Primal Rage, Cosmic Carnage or Clayfighter. However, for what it is, Double Dragon V is pretty darn good. For one, the controls are spot on. It's easy to pick up for the first time and executing special attacks is relatively straightforward. It's easy to discover special moves without too much trouble and the designers have strayed away from cryptic commands. Also, the AI offers a challenge without being as relentless as Eternal Champions or Mortal Kombat II. It's not impossible to complete the game's modes with just a little effort.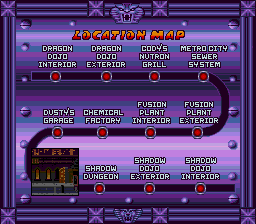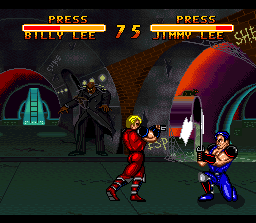 It should be said, despite all it's flaws, I really enjoy the cartoon series. I'm certain that your mileage with this title will vary depending on how much you enjoy the show as well. The game offers painstakingly recreated locales from the series. The environments are colourful, animated and populated with familiar toys vehicles. The cast of characters is also populated with the brothers' rogues gallery and special mention has to be given to their fluid animation. It feels like you're playing the cartoon and it feels great to play as Billy or Jimmy and make short work of these thugs. The game also features a "quest mode" that plays like an abridged episode. A few plot points have been taken from the show and it's a lot of fun slowly working your way towards the Shadow Dojo to defeat the Shadow Master. I do wish however, that characters like Abobo and Machine Gun Willy made an appearance. Admitedly they only had a brief presence in the show but it would have gone a long way to connect this game to the past ones. Even the dominatrix-esque character Dominique feels like a missed opportunity as the developers could have simply named her Linda.
Regardless, Double Dragon V manages to avoid many pitfalls commonly seen in the "me too" fighter crowd. The game is full of colour and plays surprisingly well. It's an obvious copy-cat but it's and obvious copy-cat that had some serious effort go into it. The designers clearly spent a lot of time on this project and it would be a shame to have all that work be forgotten simply because it's something different in the series. More work could have been done to better connect this title to it's roots but as it stands, Double Dragon V is a great fighting game, especially if you've played the classics to death. Lately, I've been feeling particularily nostalgic for those halcyon days when your favourite video games were simply everywhere. It was nice to go back for a while with this relic from the past.
Double Dragon V: The Shadow Falls is available on Sega Genesis, Super Nintendo Entertainment System & Atari Jaguar. This overview was written after completing the game again on Sega Genesis.
---
LOOK WHO CAME:
segastardust
Roberto Plankton 1