About a year ago YouTuber TotalBiscuit created a video asking "Have single-player FPS gone backwards?" and his premise caused me to take pause. The first-person shooter genre is one that I had largely ignored in recent years despite their dominant presence in the industry. However, there was a time when I enjoyed shooters as much as any other game on my PC and I can even remember being excited when high-profile shooters were announced. I've spent the past year playing a large variety of classic FPS titles I remember from my childhood. Games like Wolfenstein 3D, Rise of the Triad, Quake & Half-Life. However, none of the games I played completely rekindled my love for the genre quite like Brutal Doom.
For those not in the know, Brutal Doom is a modification for the Doom series that decidedly cranks all of the game's best elements up to eleven. It's an assuredly juvenile good time that revels in copious amounts of testosterone-fueled violence & gruesomely depraved gore. Brutal Doom has been making it's rounds on the internet for a while now and has seen a level of unprecedented popularity in the Doom community. After recently gathering my collection of iD Software games I decided to finally see what all the fuss was about and I was more than pleasantly surprised. After installing the mod with my copy of Ultimate Doom I made short work of that title's four episodes, then I installed Doom II, followed by the Master Levels for Doom II and then Final Doom. I was abolutely hooked, Brutal Doom isn't simply the best FPS I've played in recent memory, it's the best FPS I've ever played.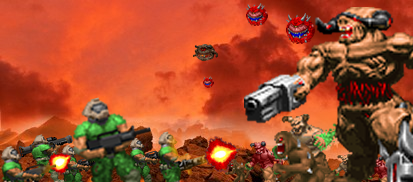 This is, in part, due to the mod's 90s sensibilities. Doom is, at it's core, the antithesis of the modern shooter and Brutal Doom successfully upgrades all aspects of the game's core mechanics. The mod's new features compliment the original design without detracting from what makes Doom so great in the first place, all while slightly modernizing the experience (for the better). In short, Brutal Doom is a gore mod but leaving it at that would do a major disservice to all the hard work that's gone into the project. Do not write it off as a simple novelty, Brutal Doom also increases the number of monsters, the game's speed, difficulty and adds new melee attacks. However, it would be impossible to convey just how much of an improvement it actually is by simply listing it's new features because so much of what it adds is in the smaller touches. Like how the new weapon effects make your attacks feel more powerful or how monster blood, guts & flesh cast across the walls & ceilings of the corridors. The end result is a more visceral game that aims to be everything Doom can be without betraying what it actually already is.
I believe much of what TotalBiscuit mentions in his video is true. FPS games from their golden days in the 90s expected more from the player. Even without a modification like this you could still expect yourself to be surrounded by more enemies than you would in a newer release and with fewer supplies. You needed to minimize the damage you took because there was a limited amount of health packs but there isn't any cover around. Levels weren't linear, instead the player is faced with a labyrinth of corridors and passageways. It all adds up to make a gameplay experience I find to be much more engaging. And now, after having played through the entire original Doom collection I have sunk more time into this game than any other released in the past five years, and I've already played through these levels in my childhood. It stands as a testement to the original's excellent design that Doom can still manage to be this engaging after all these years.
---
LOOK WHO CAME:
segastardust
EdgyDude 1
M Randy 1
Retrofraction 1
Dango 1