There comes a time where, as a consumer, I feel it's necessary to put up or shut up. Among gaming circles throughout the internet it's become a widely adopted philosophy to vote with your dollars to see the change you want in the industry, to show financial support for enjoyable and innovative ideas. For example, I adamantly refused to pay for cable television until the provider in my area offered the chance to pay only for the channels I wanted. When I received a flyer in my mailbox advertising just such a service, I felt the need to put my money where my mouth was and pony up the dough. I wasn't actually shopping around for cable providers at the time but it was a service I had always wanted nonetheless.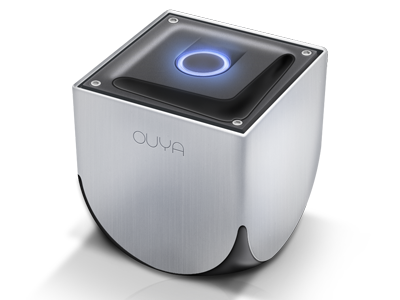 During Christmas I found myself in a similar scenario. While I had intended on supporting Ouya since it's inception a year and a half ago, I had been unable to pledge my support due to owning an SD television. Everything about the product and Ouya's philosophies regarding indie development, game distribution and a low-barrier open platform deserved my support but I was unwilling to upgrade my television to do so. However, my father gave me the gift of a brand-spanking new 42" HDTV and I felt it was once again time to put up or shut up and I found myself purchasing an Ouya the very next day. I was planning on writing this blog shortly after but I've been (surprisingly) too busy actually playing the damn thing to find the time. I didn't want to write a hardware review for the device until I was convinced I had played all the top-shelf games available for the console. Now that I feel I have, I'd like to share my experience with the Ouya.


The hardware itself is rather unassuming. Looking about as small as a Rubix Cube, the Ouya will have no trouble finding a place among your home entertainment system. The console sports a Tegra 3 chipset, 1GB of RAM and 8GB of storage (16GB in the most recent revision). Most commentators have lamented Ouya's implementation of the Tegra 3 over it's successor, but the inexpensive chipset allows for a small price point and significant performance for your dollar. Much has been said about the Ouya's controller, and while I can't say I've experienced any of it's well documented shortcomings, I do feel like I should point out that a firmware update was released the day I hooked up my console that supposedly addresses these issues. Installation is about as simple as a modern-day console can get and setup is similarly a breeze. In no time you'll be browsing the Dicover store and trying out new software.


Likely, the Ouya's greatest standout feature is the implementation of the Apogee software model across the entire platform. Everything is free to try and while it may seem like such a small point, it's particularly empowering once you realize that all of these developers have to prove themselves to you before they can see a dime of your hard earned cash. In practice, you'll find yourself trying out games you probably wouldn't have otherwise and skipping titles that you may have thought would've been a good buy in a more traditional retail environment. The console already has a wide variety of games (almost 700 different games at the time of writing this article) covering a wide variety of genres and while Ouya suffers from one of the worst good:bad ratios in hardware history, it's small selection of standout titles really shine on the platform.

A common misconception regarding the console is that it's library consists almost entirely of mobile ports. While a few of the Ouya's titles were originally released on iOS and Android devices, the bulk of the Discover store's selection is much different than you would expect. In fact, the selection is wide and diverse enough that I believe there would be a little something for every type of gamer. Whether or not the Ouya (or any microconsole for that matter) is a good fit for you will depend entirely on what kind of experience you're looking for. The games available for the Ouya right now are largely proportionate to the size and cost of the console itself. I'm of the opinion that a console like Ouya would greatly complement anyone's console collection.
---
LOOK WHO CAME:
segastardust
pedrovay2003 1