My dad's a gamer. He's just naturally into them. We bought Mike Tyson's Punch out back in 1988 and I soon learned that I could not stand next to him while he was playing or I'd get a right hook to the face, years before Wiitards made this normal.
My mom on the other hand- not so much. 
I tried the usual suspects: the cute animals, the puzzle games, the brain games, the digital board game adaptations. Everything. Ipads. Facebook farms abandoned. No ropes were being cut. Birds would not fight pigs with anger. Nothing worked. Even when I'd instigate Sunday afternoons with Wii Sports nobody would ever pick it up on their own. Meanwhile, my dad freaking beat Mario Galaxy. He's 63 years old, people. The disparity was killing me.
One day I came across a tacky stupid-looking jigsaw puzzle game in the bargain bin casual games isle  and BOOM -- gotcha!  This game is Adventure Inlay by Gamehouse Games, a title we would never cover on Dtoid. Ever. The game is crap. It has two stars on Amazon and goes for five bucks. There's also Magic Inlay and a billion other variants I'm sure.  Some kid probably wrote this game in middle school.
Somehow, this was the one she liked and played for months straight. I can't explain it.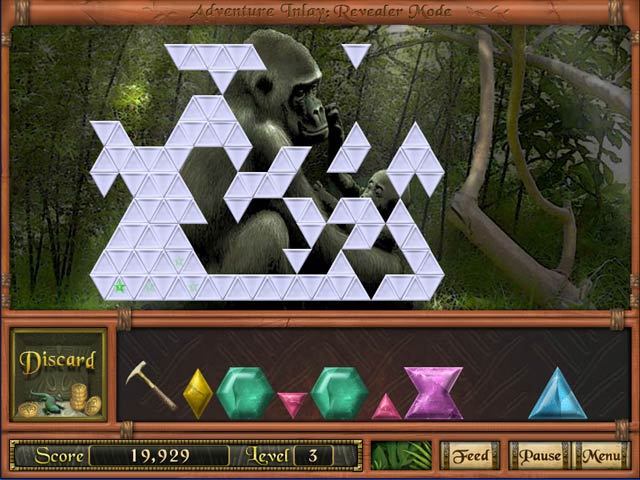 Adventure Inlay works like this: a stream of puzzle shapes scrolls in at the bottom that must be picked up and rotated into the board above. There are various editions of this game, including a "safari" edition where you drop pieces into animal shapes or weird shapes around them.  The "inlay" games have been cloned by other devs for Android as well, and they look even worse but appear to have higher review scores. Maybe they're more fun with a touch interface. 
What the hell is happening in the picture above?  It looks like some spiked dungeon you must build around the monkey.  Don't think too hard about it. 
You can blow through 50 levels of this game in an hour, and that's probably what makes it addictive: The game is so easy and almost challenging that novice players will get sucked into it.  Eventually this craptacular casual game was the gateway to things like Bejeweled and "Find the Hidden Object" type games.  
As our parents get older they end up on the sofa more often, and I'm obviously one who believes that videogames have a positive effect on the brain.  Just wanted to share this embarrassing game recommendation for anyone who is trying to get their senior parents into something a little more interactive.
- It takes a lot to make a stew
---
---
LOOK WHO CAME:
Niero Gonzalez
Batthink 1
Firion Hope 1
RenaudB90 1
ooktar 1
Seagull King 1
pk fire 1
Marcel Hoang 1
vxxy 1
Ramminchuck 1
Handy 1
Retrofraction 1
PhilKenSebben 1
Occams 1
Elsa 1
Chris Carter 1
crackity jones 1
Y0j1mb0 1