tldr - I hate fightan' games or something
It's that time of year again folks! No, not Christmas. Better.
Evolution Championship Series 2013 and just like it did last year, and the year before. It falls on my birthday weekend, what more could a fighting game fan ask for?
So let's get this hype train rolling, for those of you uninitiated check out the "How to Watch" guide which also explains a little bit more about that Evo is: 
http://evo.shoryuken.com/2013/07/09/how-to-watch-evo-2013-a-viewers-guide/
If you've never tuned in to an Evo before I highly recommend that you give it a go, it's so exciting even if you don't know too much about fighting games and the level of commentary nowadays is pretty top notch. I recommend scrolling down to the schedule below and tuning in for at least some of the UMVC3 pools and KOF semi/quarter finals, as well as the KOF, UMVC3 and SF4 finals on the Sunday. 
For those of you who are initiated, I don't need to explain that this is the biggest, hypest fighting game tournament of the year and every single year without fail there is some surprise exciting moments nobody saw coming, last year we had MameSpider's Spiderman bringing the house down, and then the full power Genki-Dama that was the King of Fighters 13 Grand Finals between Cafe Id MadKOF and IGL Bala, which if you haven't seen you should watch. It was so incredible it actually completely changed my mind about the game. As well as the Super Turbo Tournament of Legends and a whole host of other awesome stuff. Oh, and on top of that a marriage proposal! Too much hype.
"Reset the bracket!"
This year we've got a plethora of world class players across a huge number of games, whether you want to see CDjr take down a slew of Scorpion players (In both MK9 and Injustice), or Daigo reclaim past glory at SF4 (or Super Turbo!) or ChrisG cry his eyes out because he's going to get bopped at Marvel, there's going to be something for everyone.
What's that, Nintendo fans? I forgot to mention Smash Bros? Well that's here this year as well, with the 3rd biggest set of participants no less. I often hate on Smash Bros. and it's community, but there's no denying they earned their place at Evo this year with their generous charity donations, and I'll be expecting great things from players like Mango and Armada. Thankfully Nintendo decided to let the game be streamed, and I'll be looking for it to be as hype as can be.
Even the anime fighter fans have something to look forward to this year, with Persona 4 Arena taking the stage, although unfortunately not getting much stream time, it's sure to be exciting regardless. I cannot wait to see what BananaKen and LordKnight have up their sleeves.
The game selection this year is bursting at the seems, there's so much that it can't adequately be covered across three separate streams over two entire days (plus the finals on Sunday)
That's 7 whole days of content across just 3 days. That's a fuckton.
Sadly, not every game can get a huge amount of stream time, but for those of you disappointed by the schedule the community has you covered as well. There's going to be additional streams for Street Fighter x Tekken, The Super Turbo Games as well as Tekken Tag Tournament 2, all detailed in the "How to Watch" guide I posted at the top. Amazing stuff from the community this year, 6 different streams and I'm hearing mention of at least another 2 that are going to pop up for various side-events.
I'm getting hype already and I'll be tuning in tomorrow to try and catch every inch of the action. I'm between houses at the moment so I'm sat here with a rather precarious setup involving my PC, a really old monitor and a guitar amp as a speaker. Nothing will stop me watching Evo this year!
This year I have 2 friends attending the event as well, SleepsJR who's already overconfident that his brackets are 'free', and Cheap/Cheech/Quiche Wizard, who has actually made waves at Evo previously, coming Top 32 back in 2011 at vanilla Marvel 3. He's hungry this year and has a heck of a road ahead of him with Viscant standing in his way to get out of pools. Can he do it? I'm gonna be cheering for him and hoping to see his Magneto/Morrigan/Dr. Doom on stream.
Get Ready
As well as that I'm hoping to see a lot more, notably I want to catch as much of the ST Games as possible, the ST Revival crowd ran a fantastic even last year with the Tournament of Legends and while it's a shame ST won't be getting any main stage attention this year it should still be able to provide some incredible matches. Kusumondo's Honda was an absolute delight to watch last year.
I also want to see some upsets in Marvel, this is the world stage, I want to see ChrisG losing to Filipino Champ, and then Filipino Champ losing to somebody else after that, somebody unknown. That would be the perfect end to their reign of terror.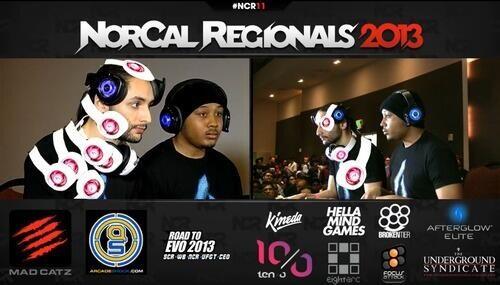 Will we see ChrisG's final form this year?
From Smash and P4A, I just want to see some hype matches, I'm going to be really excited to see what those communities have to offer particularly the Smash crowd as this is the first time they've been at Evo for a long time and hopefully they'll put on a good show for us.
Whatever happens we're going to see some amazing stuff on every stream and it's going to be impossible to catch all of it. I cannot fucking wait for tomorrow, I'll be nursing a hangover from my birthday outing tonight and getting hype for SF4 and Mortal Kombat pools, I might tune in to some Smash pools as well if my friend SleepsJR pops up.
What about you? What do you want to see? Are you going? Who do you want to see win what games? I wanna hear what you are hype for this year. If you want something to watch to get your hype meter up, I highly recommend either the KOF13 finals I posted above, or the
Super Turbo Tournament of Legends Top 8
, incredible play from everyone involved.
My Project X Zone post has been delayed due to all sorts of things happening this week. I'll probably get around to it next week. Also apologies for some of the formatting, I just couldn't get it to work properly.
---
LOOK WHO CAME:
Adrian Leigh Gordon
Ramminchuck 1