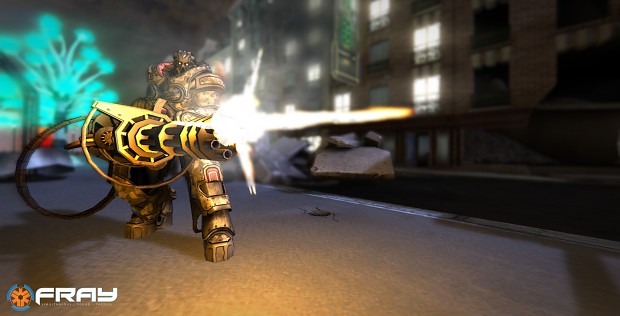 We have come quite a long way since the Alpha and we are really happy with how the game is shaping up. With Beta, corrections to the game will be much more graphical, as we tune and polish animations, trailshots and SFX, camera movement, and of course reduce as much as possible bugs that may arise.
Your feedback as players is what we are most looking forward to, so please share with us your likes and dislikes, don't hesitate to come chat with us and let us know what's on your mind!
In the next few weeks we will be distributing Beta keys on our website, and we'll have full game giveaways with partner sites. You can get keys here (500 available, more later):
http://fray-game.com/en/other/join-beta/
You can of course pre-order the game to support our sweet and chewy team (does puppy dog eyes), you will receive a free CD Key to share with someone, and will keep your player stats after release.
What's coming next for Fray?
Although the game is feature complete, there is still a lot to do in terms of improvements. Major changes will be eye candy, so look forward to new SFX, particles and animation tweaking. We are also preparing a new environment that will be available in a few weeks, CronaMind Labs. This environment is a closed space, inside a CronaCorp facility, where you will get to hide and surprise your enemies in tight corridors and large experiment rooms. We will also be correcting the last bugs in the game, so if you encounter anything problematic in the game, please let us know in our Forums.
We are preparing a cinematic trailer for next week and a gameplay trailer once some of the final FX are in the game.
So enjoy the Beta and remember:
Make war, not love.
---
LOOK WHO CAME:
Brain Candy
Elsa 1