I have sworn many, many times that I would slow my collecting down to focus on other things. I've also said that because I literally have no more room in my place to hoard all of this stuff and I think I may have to actually get a storage unit somewhere until I move to a bigger place.
As seen in my last
Haul Blog
, my intentions of slowing down have, let's just say, not been fully realized. I try though, I really do.
Enter
OccamsElectricToothbrush
, or as I like to call him; "My Enabler".
Occams has slowly become my go to guy for harder to find gems and games. It seems like at least once a week I get a DM from him asking if I am interested in X, Y or Z game. The thing is, nine times out of ten I AM interested in what he has, and that's not helping my situation any.
In this episode I will highlight some of the gems that Occams has found for me. Oh and there's a bunch of other stuff as well.
______________________________________________________________________________________
As usual, I will start with the older stuff and then move on to the newer games/swag/items.
First up we have:
Wildfire Electronic Pinball
Now I already have one of these in the box but the actual game has several scratches on it, this one however (the one pictured above) looks brand new and doesn't appear to have ever been played (although I'm sure it has been).
Anyone who know's me knows that I love old school, classic consoles. I'm not talking NES/Atari stuff, I'm talking about those weirdo, obscure consoles from the 70's early 80's. Kind of like this one!
Unisonic Tournament 2000
. I found this little fella sitting on a shelf in a Goodwill that I frequent, I'm not sure why I didn't take a picture of the box as well but rest assured It had one.
So that's pretty much it for the "older" stuff. Time to move on to the PS1 & PS2 games!
As a young gamer (in the 90's) I absolutely LOVED anything put out by
Working Designs
, that's why I was overjoyed when I stumbled upon this gem:
Alundra - I remember playing this when It initially released and am happy to finally have it back in my collection.
Hey, remember that whole thing about Occams always finding games for me?
.//Hack Rebirth, Reminisce and Redemption, all courtesy of Occams. dot Hack Infection was found at a used CD store I believe.
Shadow Hearts Covenant (Another Occams find) and Shadow Hearts From the New World
Wild Arms 3, 4 & 5 - also courtesy of Occams.
See what I mean? Here I am, trying my best to slow my collecting down and what does Occams do? He finds these awesome games that he
KNOWS I HAVE TO HAVE
! =)
Here are some Non-Occams finds:
Atelier Iris Eternal Mana as well as 2 & 3
Hey look! Some Atlus games!
Baroque, Magna Carta, Shin Megami Tensei Nocturn and ChoroQ
Here we have; Fatal Frame, the hard to find Jurassic Park Operation Genesis, Working Designs Growlanser Generations and Dragon Quest VIII
Grand Theft Auto III, Ghost Recon, X2 Wolverines Revenge, Tekken Tag Tournament, Soul Calibur II and Gran Turismo 4 - these were all found as a bundle at Goodwill. I love Goodwill bundle games, they're always so cheap.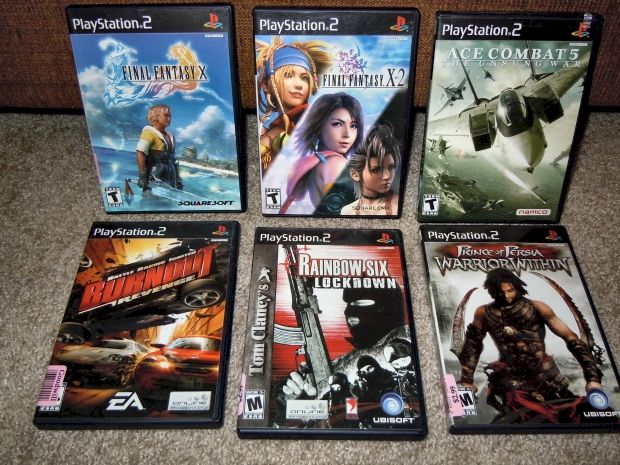 Final Fantasy X, X-2, Ace Combat 5, Burnout Revenge, Rainbow Six Lockdown and Prince of Persian Warrior Within - another Goodwill bundle
Prince of Persia Sands of Time, Manhunt 2, Medal of Honor Frontline, 007 Everything or Nothing, True Crime Streets of L.A. and Mercenaries - the last of the Goodwill bundles for the PS2
I can thank
Funktastic
for these next few, he talked me in to going back to the store to pick up Grandia Extreme, while I was there I also found Grandia II and Grandia III
Here we have Viewtiful Joe 1 & 2 - one day I will get around to playing these games.
Zone of the Enders and Dragon Ball Z Budokai 3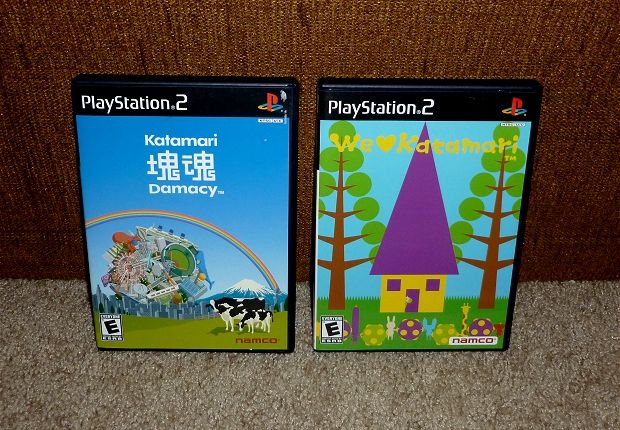 Everyone loves Katamari! Right? Well if not you can still enjoy these pics of Katamari Damacy and We Love Katamari.
And last, but not least for the PS2 games we have the
crème de la crème
- Metal Gear Solid - Subsistence Limited Edition. I literally walked in to my local Gamestop one day and bought this, one of the guys I know who works there had it behind the counter for me. For you collectors out there, you don't want to know how much I paid for it (psst..it was under 25 bucks).
Well that's enough of the PS2 hogging all the limelight, it's time for the PSP to take it's turn on the catwalk!
Here we have; Patapon 2, the tough to find Monster Kingdom Jewel Summoner, Blade Dancer, Legend of Heroes III, Me & My Katamari, PoPoLoCrois and Maverick Hunter X
Next up is; Final Fantasy Tactics, Harvest Moon Boy & Girl, Kingdom Hearts Birth by Sleep, Patapon and Shin Megami Tensei Persona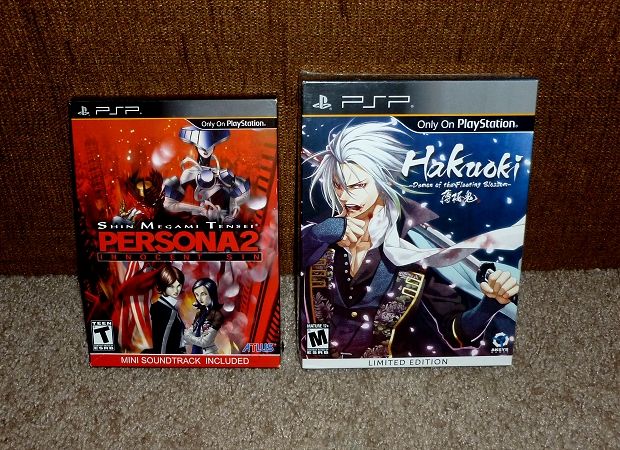 And finally we have; Shin Megami Tensei Persona 2 Innocent Sin & Hakuoki Demon of the Fleeting Blossom
Moving on to some PS3 goodies we have;
The Sly Collection & Resistance 3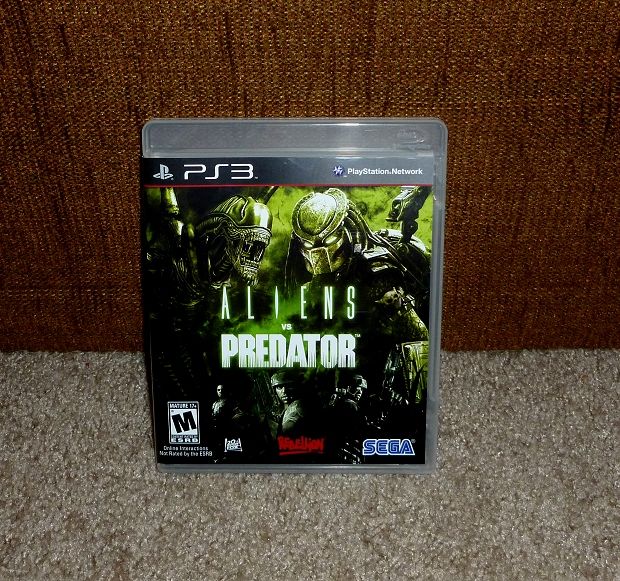 Aliens vs Predator
InFamous 2 Hero Edition
Uncharted 3 Collectors Edition
Here's a neat little thing that I saved from dumpster hell:
Twisted Metal in-store Sweet Tooth Ice-Cream truck display
Oh and then this thing I stumbled upong
PlayStation 2 in-store display light. It lights up, that's pretty much all it does.
I think that just about does it for this haul blog, I do have a couple more things to share though before I go.
If there's one thing that I absolutely love to collect it has to be art books. You know who else loves to collect art books? Occams Electric Toothbrush. Know what else Occams likes?
Warhammer stuff.
Warhammer Online Artbook (cover and inside art)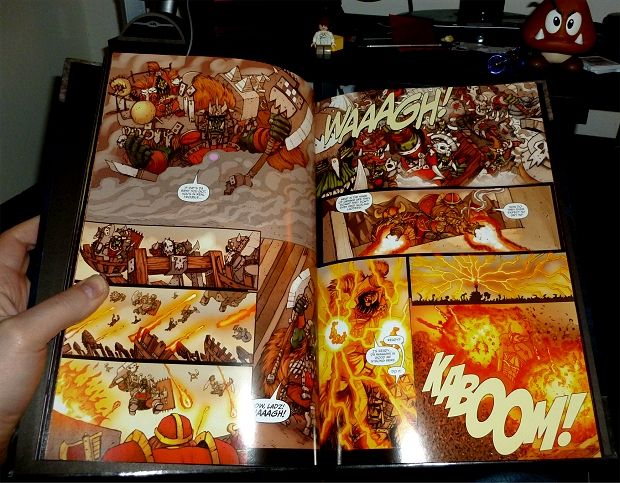 Warhammer Online Graphic Novel (hardbound edition - cover and inside art)
Oh, and while I was typing all of this up I had a knock at the door. Wonder who and what it could have been?
Another Occams package!
Hey look, it's a .//Hack Rebirth USB Hub!
Thanks for always looking out for me Occams, I really do appreciate all of your help.
And thank all of you for stopping by today, I hope your stay was a pleasant one.
Until next time!
Say What?!
ChillyBilly
---
LOOK WHO CAME:
ChillyBilly
Jon Bloodspray 1
VenusInFurs 1
Ben Davis 1
falsenipple 1
Phoust 1
Nova Prime 1
Stephen Turner 1
M Randy 1
Occams 1
Elsa 1
Chris Carter 1
SuperMonk4Ever 1
Kraid 1
manasteel88 1
ZombiePlatypus 1
Alasdair Duncan 1
CelicaCrazed 1