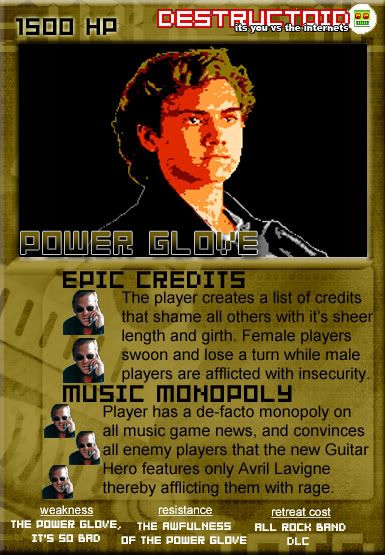 Hello, Dtoid community, my name is Andrew, as you can obviously see by the username. I did go by another name on this site for around 4 and a 1/2 years, power-glove. I run the the New York/New Jersey based Dtoid NY and help manage big events like PAX for the Dtoid community as a community coordinator.
I did a post a little while ago as an introduction before PAX Prime and I think I should do a quick repost of it because it felt it was pretty good and gives a good sense of how I got started here.
Hello, ladies and germs, this is your friendly neighborhood video game accessory coming live into computer screens through the magic of text and a series of tubes. For those that know me, how goes it? But for those of you that don't, which is definitely a great deal of people on here now, here is quick intro. I am power-glove from NYC. Yes, my username is based on the original NES accessory that was used to elevate the careers of Jenny Lewis and Fred Savage and not the power-up for Bomberman by the same name. I first started out as a guy who just happened to find Dtoid through a Rock Band video, a game which was one of the things that I became synonymous with here on the site, done by Daniel "Husky Hog" Lingen and Tiff Chow.
After a while on the site, I attended an tech show known as Digital Life. Over the course of the show, I had a lot of fun, and even got the opportunity to meet Gabe Newell but that was not the highlight of show for me. Towards the end of the event, I noticed an individual who was wearing the famous GuitarAtomik "STFUAJPG" shirt. I decided to say hello,, then introduced myself and talked with a fellow Dtoid member until the show ended. The fellow Dtoid member went by the username "Bronxbomber21" but you may know him a little better as Samit Sarkar, the main Sports man for the site. After hosting several 360 FNF sessions, posting countless news blurbs and doing tipster work (and a lot of Rock Band news), I began to become great friends with the users and the staff on Dtoid. This led up to my first major Dtoid New York event as Phist invited me to hang out with Lauren "Atheistium" Wainwright, who you may know as on of the people on the old Podcastle show, and the rest of the Dtoid New York crew.
A month or so after the event, I was asked by CTZ to help out with a very special project which asked certain Dtoid members to help organize and coordinate events in their local areas. This was the birth of the Dtoid City Groups and began my epic journey with the wonderful members of Dtoid New York. From NYCC to Blipfest and all of our parties in between, it has been an amazing ride throughout. I am proud of the way that DTNY continues to grow on a regular basis with diverse group of individuals who come together for one reason: to have fun. Please if you are in the area, please get in touch with me for some possible fun in the area.
And now, I coordinate efforts to make some of the big public events such as PAX, a more engrossing experience for our community and its members. It has been an honor and privilege to this for you guys and gals. I have to thank Niero, Hamza, the former EIC Nick Chester, and Samit and all of the members of this great community for helping to make my time on here very special. It has gotten me through some very hard times and I can never thank you people enough for your support over the years.
I have been very busy lately with a very tough family situation as of late but I will have an update for you guys on what Dtoid will be doing for PAX East tomorrow. Thank you and have a great evening.
Here's to more great years for the old Dtoid army.
---
LOOK WHO CAME:
Andrew Benton
smurfee mcgee 1
knutaf 1
Gobun 1
M Randy 1
Occams 1
Funktastic 1
Daniel Carneiro 1
Alasdair Duncan 1
nekobun 1
CelicaCrazed 1
TheToiletDuck 1