The PSVita has released and I got to spend a
little
time with it.
The PSvita is the next generation of Sony's Handheld market. Meant to be better than the PSP, Sony is hoping to have a bigger success than their past PSP systems. What I noticed was the analog sticks; It felt like I was using a brand new Dual Shock Controller. If you ever played with a new Playstation controller, then you know what this would feel like. I got to play the painfully short Uncharted: Golden Abyss Demo. The game looks fantastic. It feels like an Uncharted game. You can move Drake the way you would in the Playstation 3 games. For some reason the sound wasn't working, but I think that has something to do with the store. The touch screen stuff is pretty nifty; if you chose to use it. Unlike the Nintendo handhelds where you need your stylus, you don't need one on the PSVita. Your fingertips are fine enough.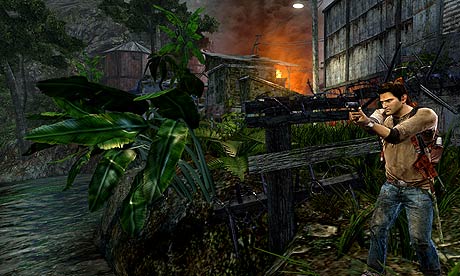 It does look DAMN good
I only used the touch screen as an option just to see how it works. If Drake needs to climb somewhere you can just swipe your finger across the yellow ledges and he will follow. This makes the game play for itself; and I would never use it because of that. Part of the fun of Uncharted is going to one section to another without knowing if Drake will fall or not. I would tell you about the shooting, but the demo ends before you can do the rest of the Uncharted stuff. It doesn't even tell you when the demo ends, it just start over.
The screen itself is amazing. If they can make a handheld Uncharted look this good, there is no telling what it will look like when the system is figured out. There are a few other demos; ModNation Racers and Gravity Shift, but haven't got to them yet. As sleek as it is, it's hard to know if it's worth the $250 price tag. The only game that seems to take advantage of the technology is Uncharted: Golden Abyss. If I got to play more of Uncharted, and it showed off more of what the system can do, I would have much more to say. Unfortunately, the demo they had set up hasn't convince me to want to get one.
(sorry for being so short this time. I had another topic planned, but that went bust. I knew I had to write something, so I wrote this)
---
LOOK WHO CAME:
BlinkingPixels