Christmas came late this year since I was involved in like Forums Secret Santa n shit and I admit that I've been acting like a huge baby bitch because I haven't received my God damn gift yet.
But I got it.
Yesterday.
Evening.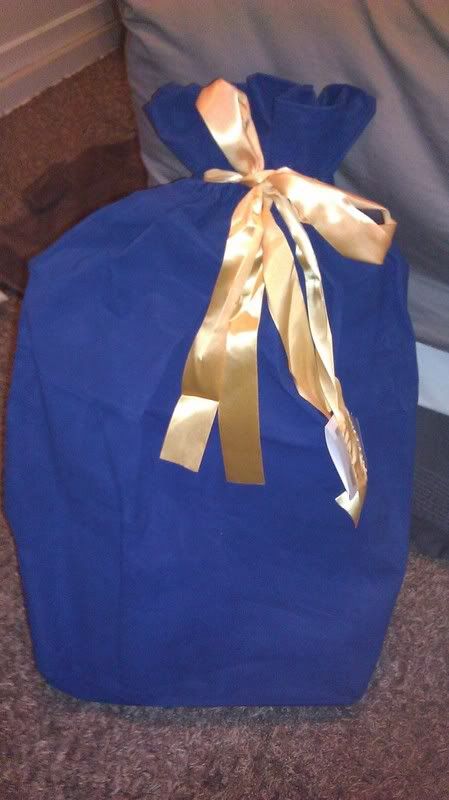 Sheeeeeeeeeeeeeeeeeeeeeeeeeeeit whats this business?
So I totes opened this magic bag up expecting it to be like three hundred Mickey Mouse dolls because the person that got me was the one and only SAXY GATORZ whom we all know loves, eats, sleeps, dreams, creeps, peeps, weeps, smells, tastes, feels, stalks, wears, works at, and is Disney. I'm not insulting either, mother fucker loves Disney. And hes normal. I've met some seriously weird fucking Disney people. There used to be this dude I worked with back when I was like a web manager n shit and we shared an office space with him. Every day, this guy would come up to me with a DIFFERENT Disney pin that he would harness onto his like, little sweater vest thing and he would come up and give me a God damn history lesson on what was on it. One time he regaled me about the first time he saw Steam Boat Mickey and fucking cried a little. It was weird.
Alright anyway, so I cracked that bag open and what was it?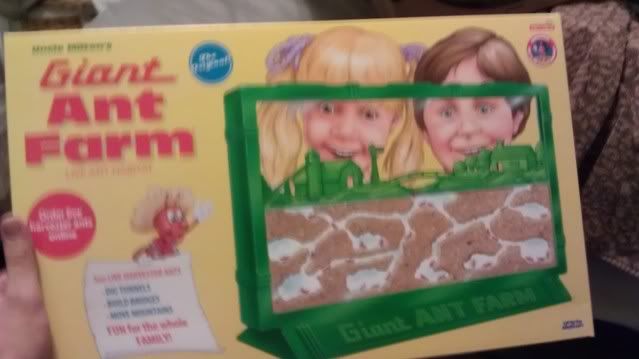 A mother fucking ant farm
I see this thing. My lid flips.
I harken back to a time when I was only knee high and didn't kick any asses. My only friends were the ants and I was too derpy to order the real ants, so I ended up spooning various ants from my neighborhood into my ant farm. This didn't end well because I didn't know that ants from different like nests would fight so I imagined my ant farm looking like Oz or a very tiny gang tussle. Like some ant accidently steps on another ants shoes and it starts some shit. Bullets are flying and mandibles are uhh I guess being gnashed or something. Regardless all them ants died and I was sad.
So what the fuck is this 21 year old gonna with an ant farm?
I'll fucking tell you:
-Raise ants to believe I am their God and Master
-Teach them how to march
-Maybe start a fucking ant circus starring only ant strongmen.
-Get really fat because I'll never half to walk again, I'll just give people the illusion that I'm like floating around, but its really because I got like a fucking million ants carring me around under my shoes
-Teach ants to assemble and form the body of a human male. Like an ant golem
-Teach them how to steal like cheeseburgers or something
Fuck man, who would fuck with a guy who is like an Ant Wizard or an Antcromancer? No one, thats who. I'd be like The Pain from MGS3 but with ants. STRENGTH IN NUMBERS BABY. Who says ants cant fuck shit up? Everyones gotta sleep. All I gotta do is whisper to my lil ant bros to go #occupy someone's lungs and you'll wake up and be like "WELP GOT ANTS IN MY LUNGS CANT GO TO WORK". And thats it, your life is OVER.
Thats it. I gotta go be busy being God or something.
---
LOOK WHO CAME:
Gobun
Daze 1
SxSW 1
Zwoooosh 1
Ramminchuck 1
Alissa McAloon 1
Swishiee 1
AvianFlame 1
Guy Gamer 1
skateallday101 1
Marcel Hoang 1
hushlorentz 1
Nihil 1
Gobun 1
Tarvu 1
Knivy 1
smurfee mcgee 1
Clown Baby 1
Alasdair Duncan 1
ZombiePlatypus 1
Cataract 1
ArcticFox 1
Chris Carter 1
Elsa 1