~And though the holes were rather small, they had to count them all~
I know Iíve been saying this recently with all my personal blogs, but it really feels like a long time since I sat down to write like this.
Kindness
It never ceases to amaze me the kindness of people. When I went to Gamestop last week, T3HM0RR0W asked if I wanted a 2 for 1 game coupon to which I said yes. With that coupon, I was able to purchase
Dead Space 2, Metro 2033
, and
Red Dead Redemption
for a substantial discount. I wonder if people are sad because they have nobody kind around them or if they choose to ignore the kindness around them. Well whatever it is, Iím not nearly optimistic enough to pretend all I see are rainbows and unicorns, but whether if itís giving a person you meet online a chance to play some games or calling out a friend because you care what becomes of them is an important aspect of life.
~Being drunk on their plan, they lifted up the sun~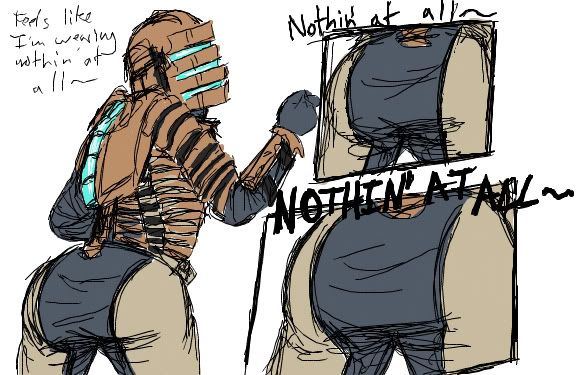 Games
I like
Dead Space 2
. Despite the fact that the game relies on those cheap, OH MY GOD, kind of scares which not only become thin, but downright predictable. Despite this though, the game is filled with great set pieces and amazing moments. Itís always willing to throw something new at you whether it be starting you off in a straight jacket or hanging you upside down, these things make Dead Space 2 like the sci-fi movie I wish my life could be. Couple complaints could be that sometimes I donít know what to do and I end up dying. How else could I have known that I had to open the door with kinesis? I didnít even know it was a door in the first place.
Red Dead Redemption
is really fun. Maybe I just wanted to be a cowboy all my life, but thereís something about dueling bandits, herding cattle, and hogtying people that resonates with me. The voice acting is really good and the story, so far, is pretty cool. I do have more problems with this then I do with Dead Space 2 though. First, being a sandbox game, I need to make a priorities list. Will I get complete freedom after I finish the main story?
Second, I was all set on being the most polite guy in the west. Saying ďhelloĒ to everyone I passed, I thought Iíd be the toast of Armadillo. I then proceeded to walk into a bank wondering what I could do in there. When I went in, the banker came in as well and entered his gated area. Not knowing any better I followed him in as he didnít lock the gate behind him. I was arrested for trespassing. Why would you not lock a gate to a bank if you didnít want people to go in? Also later, a couple of guys were shooting around me and I hogtied the first person I saw. Apparently he was a sheriff or something and I got put in jail for assault. Seriously? If youíre shooting at me, then you must be a bad guy!
Finally,
Metro 2033
. Oh Metro 2033, your story and setting are very compelling and I want to play more of you, but youíre really hard.
~Cause all I want is the moon upon a stick, just to see what is~
Bed
I love my bed. My bed is the best bed. I set my alarm clock for 40 minutes earlier than usual. I now have 40 minutes I never had before and I love it. Though I spend 40 minutes less with my bed, I have 40 minutes to do things. I donít really know what those things are, but it is amazing.
Videos
So over the weekend I saw a series of flash cartoons called
There She Is!!!
. These videos may have been one of the most amazing flash videos of all time. Heartwarming and funny. Youtube it or visit the
Official Website
The End
WaitÖ.Never mind
ďWhat is mind? No matter. What is matter? Never mindĒ-Homer Simpson (Or maybe he quoted it from someone else, I donít know.)
I saw Brick on Netflix over the weekend. I really liked it. When I heard the words Noir and High School, I was expecting campy parody. Then I watched the film and I got a really compelling story and a quality film. Scratch that. A great film. I really recommend it if you havenít seen it and anticipating LA Noir.
I read a bunch of quotes from Bulletstorm. Funny, funny stuff.
The End
WaitÖOne more thing
As soon as I finish Unofficial Official Girl Gamer Week for the C-Blog Interviews, the C-Blog Recappers
are next. Iím saying this so that I can finally get off my lazy butt and write questions for the fine men who work daily to bring us the best, the worst, and everything in between of the C-Blogs. If questions donít go out by next week, HOLD ME ACCOUNTABLE!!!
---
LOOK WHO CAME:
LawofThermalDynamics
Kraid 1
MrMacphisto 1
Rob Morrow 1
rexwolf2 1
Nic Rowen 1
Nihil 1
Kaggen 1
Stephen Turner 1
Occams 1
Elsa 1