FELLOW DTOIDERS!!! Looks like the Official Affordable Gaming Mobo has arrived!
EVGA X58 SLI3
Ive been window shopping for a while to get the next-gen in PC parts, and looks like this is the best value for your buck on a SUPA DUPA gaming Rig.
Just got this email today and let me say wow, specs look impressive and future proofed with 2x / 3x SLI and 2 USB 3.0 for next gen of file transfer.
http://www.evga.com/articles/00571/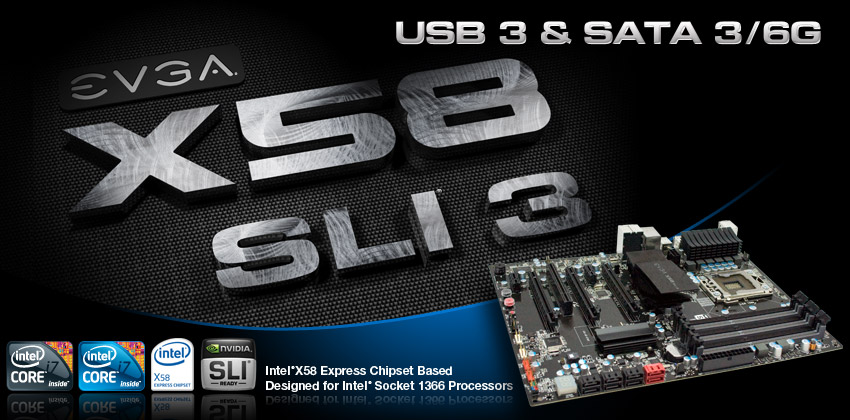 Part Number 131-GT-E767-TR
CPU Support Intel Socket 1366
Chipset Intel X58
Memory Support Dual or Triple Channel DDR3
SLI Support 2-way & 3-way
SATA Header 8
SATA Type 3G/6G
USB Ports 12
PCIE Slot 1 x PCIe x16, 2 x PCIe x8, 2 x PCIe x1, 1 x PCI
Integrated LAN 1 x 10/100/1000
Product Warranty 2 year warranty upon registration
All this for $209.99, Not bad right!?!?!?!
Hey I was even wondering, why get a SSD HD that costs so damn much and instead get a USB 3.0 HDD and install your games there? data transfer will be 5/GBps.
http://www.amazon.com/Western-Digital-Book-3-0-WDBABP0010HCH-NESN/dp/B0031RG2JC
See for $130 you can get 1T of usb 3.0 space and have something as fast as a SSD HD but with the much needed space?